Emerging markets are starting to get a bad rap in the financial press. More and more articles are surfacing, highlighting the great run that most emerging markets have had and essentially declaring that the bull is dead, or at least wounded.
Why?
The most talked about reason is that many emerging market countries have been forced to undertake an aggressive fight against inflation, and the primary weapon in their arsenal has been interest rate hikes. Just this past week alone, we've seen rate moves and/or tightening measures in such name brand emerging market countries as China, South Korea and Thailand. The 'Pavlovian' response of markets, generally, has been to sell equities when central banks start hiking, and for good reason. The attack on inflation does, indeed, run the risk of slowing down the respective economies too much and as a result, corporate earnings and equity valuations would be expected to suffer.
While the emerging market bears definitely have some solid ground on which to stand, there are other aspects to the issue that are worth considering. As always, while it's not the place of this article to provide investment advice, and each investor is responsible for opining and deciding for themselves as to the relevance of anything said in this article to their unique financial profile, risk tolerances and portfolio goals, it is an appropriate forum in which to offer up some thought-provoking ideas that investors can weigh in the mix.
For starters, I'd point to my recent article entitled, "Brazil No 'One Horse Wonder' on Emerging Markets Stage". The very first point addressed in that article is the so-called "bull run" of emerging equity markets, and the charts used in that piece aimed to show that the S&P actually outperformed the BRIC ETF in 2010, thereby challenging the notion of an emerging market "bull run".
Below is another chart showing the S&P vs several emerging market ETFs (BKF = BRICs, ILF = Latin America 40 Index, FXI = China, GMF = Asia ex-Japan), again, showing that the S&P came in at the higher end of performance, certainly beating the BRIC ETF (BKF) and China's FXI.
click to enlarge images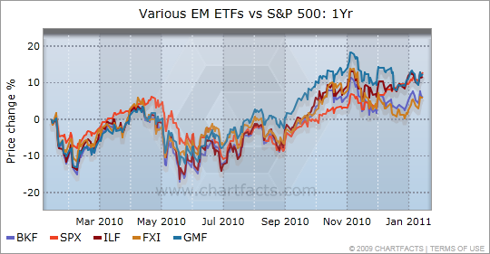 But, to be fair, if we look at a longer history, say a two year history going back to just before the market lows of March '09, we see a different story. The chart immediately below shows that the emerging market countries significantly outperformed the S&P over this past two year period.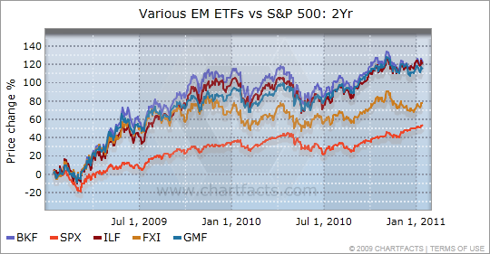 So what's the point of all of this?
Investors might consider that the recent press reports calling for emerging markets to taper off or to underwhelm vs the US, for example, is really something that has already been at play for the better part of 2010. As fears emerged (no pun intended) about China's inflation problem and the subsequent policy responses, the pace of underperformance has accelerated as can be seen in the chart below showing the past month's activity.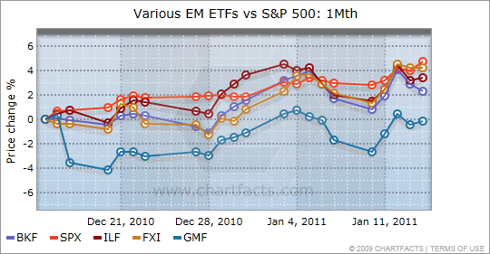 One question to ask is whether the 'inflation fear' trade is already priced in? Or, at what price would one consider the 'inflation fear' trade to be priced in, and therefore open up a possible buying opportunity?
Also, investors should have a look at some distinctions between ETFs that track the larger, more macro, global companies within a country, vs an ETF that tracks more local, indigenous businesses which would be less prone to vulnerabilities of global commodity and currency swings.
In the article mentioned above, "Brazil No 'One Horse Wonder' on Emerging Markets Stage", two ETFs are compared: EWZ, the more global-company ETF, and BRXX, the Brazilian domestic infrastructure ETF. China's ETFs show similar results, as can be seen below in the chart of FXI (large, more globally impacted companies) vs HAO (more indigenous). HAO clearly outperformed the S&P over the past two years, but the S&P caught up in the past few months so that the past one year return is comparable.
Again, a strong 2-year performance by emerging markets with a tapering off over the past 12 months, begging the question as to whether emerging markets are beginning or already deeply in the middle of a 'tapering off' and 'inflation fear' adjustment.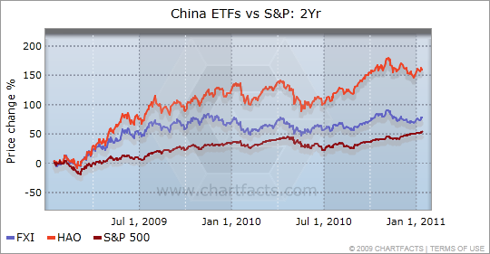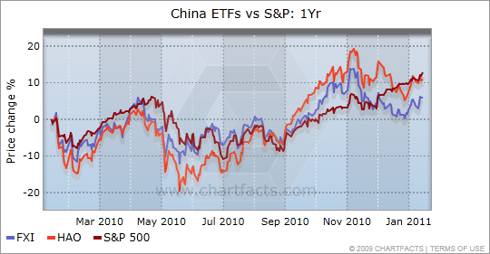 At some point in the analysis, investors should move from the rearview mirror of historical price performance, and consider some fundamental issues related to the global economy and emerging market countries more specifically. This forward looking assessment should focus on whether the recent underperformance is, as already queried, the beginning or the middle/end of a market cycle, the answer to which should help guide the search for what price represents an appropriate entry point.
For one, as has been noted in many of my recent articles, the global economic growth story has largely focused on Asia and Latin America. It's only recently that economic data in the US is suggesting that the US economy is possibly getting a set of legs and might actually recover nicely in early 2011.
A recent piece published by the American Enterprise Institute, written by Dr. John H. Makin, Principal, Caxton Associates and Resident Scholar at AEI, is a valuable read. In it, Dr. Makin presents a very balanced and measured assessment of the global economic picture, citing the following key points:
US economic growth looks promising in the first half of 2011, following the tax cuts in late 2010.

With inflation accelerating in China and the sovereign-debt crisis continuing in Europe, the best hope for sustainable global growth is more US consumption.

Stimulus measures may boost the economy enough to provide liftoff, but if they fail to produce lasting growth, 2012 could be painful

.
Investors should consider the "liftoff" possibility in their plans. If the US economy starts to improve in early 2011, there are many large US corporations who are sitting with hoards of cash and very 'lean and mean' operations that might then be in a position to start hiring. This could help not only US businesses, but emerging market countries as well, as overall global demand from the US would likely pick up.
Alternatively, if investors consider the "liftoff" possibility as improbable, then emerging equity market participants who are already anticipating seeing slower growth and therefore lower demand from China might continue to keep emerging market equity prices capped.
Finally, investors need to consider the "one horse wonder" phrase that has been mentioned above. One has good reason to question whether the growth in emerging market countries, especially in Latin America, has been driven solely by a global commodity boom or whether the growth is more broad based and therefore more sustainable even with a relative slowing in global growth. This very subject was raised in a Financial Times article earlier last week, written by John Paul Rathbone and Javier Blas, namely: "Risk of bust after boom haunts Latin America".
While each country should be examined for its own merits, some general themes, many of which I've written about in past articles, do prevail across several emerging market countries, and serve to provide some insight into that question. In recent years, the combination of inflation targeting monetary policies, more fiscal responsibility (on a relative basis when compared to the past), and floating exchange rates have positioned emerging market countries better for the dynamic, and at times, "shock-filled" global economy.
Again, Latin America stands out as a good example. A recent webcast hosted by Standard & Poor's featured their Senior Director, Sovereign Ratings, Joydeep Mukherji, and Director of Latin America Sovereign Ratings and Latin American Economist, Lisa Schineller. They presented a very thorough, insightful and informative review of Latin America, noting that S&P ratings of Latin American countries have generally improved over the past few years, the bulk of sovereign debt in the region is now investment grade, and that currently, S&P has seven sovereigns in Latin America rated with 'positive outlooks'.
Among other key points in assessing the overall economic picture of Latin America, they cited the improved global demand for commodities, the better fiscal policies, the more effective inflation targeting monetary policies, and the shift in the debt balances from 'external' debt to 'internal' debt which reduces the countries' vulnerability to currency swings.
Furthermore, they noted that though poverty is still a major issue in many countries, there has in fact been some progress in bringing significant numbers of people out of poverty, which ultimately creates additional domestic consumers.
In sum, the Standard & Poor's webcast, while balanced in focusing on both the positives and the challenges of Latin American countries, did go a long way towards addressing the issue of whether the global commodity boom is the only engine of growth. It's clear that commodities are a major driver of growth in the region, but it's also clear that many countries are using the proceeds from that sector to fund and encourage growth in other industries, infrastructure improvements and education.
So are emerging markets deserving of a bad rap? Is the so-called "bull-run" (at least of the past 2 years) over? Are the fates of these countries glued to what happens to oil, copper, soybeans, coffee and the like? Or are they positioning themselves, or dare I say, "emerging" into less vulnerable, more diversified economic entities?
One right answer is certainly, "time will tell"….but the more appropriate answer, at least for some of these countries, is that for every day that the commodity 'windfall' continues, they are one day further away from being 'one horse wonders' and one day closer to more fully emerging. In that sense, you might say, time is on their side. This dynamic argues for ongoing close scrutiny of these equity markets, and a view as to when the price is right for buying (or adding).
For now, the inflation fight is likely to keep upside somewhat limited for most of these markets. But after assessing the historical perspective cited above along with the individual country dynamics towards diversified growth, investors are likely to find some investment opportunities, nonetheless, especially in locally driven businesses. You might say that what is currently getting a 'bad rap' might actually turn out to unwrap some pretty good things down the road.
(Please note: This article is solely meant to be thought provoking and is not in any way meant to be personal investment advice. Each investor is obligated to opine and decide for themselves as to the appropriateness of anything said in this article to their unique financial profile, risk tolerances and portfolio goals).
Disclaimer: Please read and consider important information related to all communication made by Soos Global on this site by clicking here.
Additional disclosure: I am also long many stocks within SPX, QQQQ and BKF. Positions may change at any time without notice.