In this post I will outline three Dow stocks that are attractive at current levels and will explain why I would choose to buy-write them.
The buy-write option strategy is the simplest option strategy; it is simply purchasing at least 100 shares of a particular stock and then selling one option contract against it (standard contracts are in multiples of one hundred so you could sell 5 contracts against 500 shares of stock). This strategy is a way of creating income and for those already holding the stocks with nice gains, it is also a form of hedging (or protecting) to the downside by taking a little profit off the table. The downside is that it locks your shares up and if the stock catches fire you may be called away and miss out on a lot of the upside.
The first stock I find attractive from the Dow Jones Industrial Average is Boeing (NYSE:BA). I feel that this stock is undervalued based on the future of the company and the dividends they pay. The last dividend of 42 cents was paid on November 3, 2010, so it should yield another two dividend payments by May options expiration - therefore I would likely look to write shares of Boeing out no later than the May expiration. I could write the May 75 calls against shares of Boeing for about $2.00 per share, bringing my cost down by about 2.67% to $68 per share. If Boeing rallies and the shares are called from my portfolio come May options expiration, I would have a total return of 11.2%.
One very important thing to note is that Boeing looks technically attractive to me as well. If it breaks through 72, I would take the stock up to 75 relatively quickly, and if it breaks through 75, I believe the stock could be at 80-85 in no time. I may choose to purchase shares and watch how the stock reacts around each of the listed resistance points - 72, 75, and 80 - before I write calls against it. If the stock breaks above 80 I would most likely want to be buying longer dated out-of-the-money calls on Boeing versus selling any. If Boeing fails to break above 72, I would likely choose to write in-the-money calls against my shares and wait for a good time (referring to technicals) to buy them back, because if it fails 72 and drops below 63 it could be an ugly head and shoulders completion (see chart below). With that being said, I would hold shares and cost average down on weakness below 63.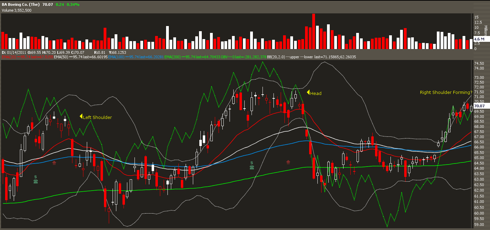 My second stock is Verizon (NYSE:VZ). With the Apple (NASDAQ:AAPL) iPhone news being confirmed, this stock is GREAT for long term investors, but not so much for short term investors as shares may sink due to the amount Verizon has to subsidize the iPhone, and I believe more people will switch and purchase the Verizon iPhone than anticipated!
This is not the reason I am buy-writing the stock, however. I really like the coupon on this stock. Verizon is one of the highest yielding components of the Dow, yielding a whopping 5.5%. The last dividend of 48.75 cents was paid on January 6, 2011, so two more should occur within the next six months. As a result, I would look to write July option contracts against my shares. I could write the July 39 calls against my position for 53 cents per share, giving me a downside cushion of about 1.5%. If shares of Verizon continue to rally and my shares are called away in July, the total return from this strategy would be 14.23%.
The last (but not least) stock that I find attractive is American Express (NYSE:AXP). In my opinion, the financials are set to outperform the market in the first half of this year. This stock will rally with the entire group, but as an added bonus if business spending continues to increase and bounces back better than anticipated, this stock may do better than the average. I would buy-write this stock because it is currently yielding 1.6% and I could clip the coupon two times for about 32 cents a share before July expiration. With that being said, I would look to write my shares out for July. I could write the July 52.50 call options against my shares and receive around $1.10 per share in premium. This would bring my cost (assuming it was purchased at the close Friday) down to 45.15, or save me 2.4%. If American Express rallies and the stock is in fact called away on July options expiration, the total return from this strategy would be 16.6% in just over half a year.
Granted, levels of volatility are very low right now and selling calls may not fetch the premium they do in a higher volatility market, but I believe it's a good entry point and a way to create income, and is certainly better than doing nothing if this market keeps grinding higher.
The ideas outlined above are bullish strategies and should not be considered if you think the stock will sell off in the near future. However, if you feel the stock could move higher in the near future, this strategy could yield a nice gain.
These are just examples and are not recommendations to buy or sell any security; if you're more bullish/bearish, you'll want to adjust the strike price and expiration accordingly.
The reason option volumes have surged in the last five years is because they are a great way to hedge your portfolio as well as create income off of your shares (see chart here). Keep in mind when using this strategy that it is essential that broker commissions are low enough to profit from the position.
Disclosure: I am long AXP.