Qihoo 360 Technology Ltd. (NYSE:QIHU) is a Chinese internet company that specializes in the internet security market, gaming and search. The claim to fame is internet security but have made the shift to gaming and internet search. If you have read anything I have written over the past few months or follow the IWC Stock Portfolio, you will know that two companies I'm extremely bullish on are Qihoo 360 and Baidu (NASDAQ:BIDU). The reason being the developed nations have an internet usage rate of between 75-80% of the population. China has an internet adoption percentage in the 40% range. With a huge population and low but rapidly growing internet adoption rate, this market should double and therefore large internet companies in China (i.e. Baidu, Tencent, Alibaba, etc.) stand to benefit. In the IWC Stock Portfolio, the two biggest positions are Baidu followed by Qihoo 360.
So Qihoo 360 published second quarter financial results on August 24th, 2014. Here are some of the quick highlights from the report comparing the quarterly results from the same quarter in 2013.
Revenue grew 109.6%.
New income grew 18%.
Online advertising revenues up 89%.
Internet value-added service revenue (mostly from gaming platform) up 140% and represent almost 46% of total revenue.
Cost of revenues up 273%.
Gross margin of 79%, down from 88% in 2013.
Operating margin of 13.8%, down from 24.1% in 2013.
Net margin of 12.3%, down from 21.8% in 2013.
For more information, read the full press release with all the financial results, but the main message from the report are two things.
Business is growing rapidly.
There seems to be some pressure with margins.
Typically when analyzing a company, you look at sustainable and growing profits. The point of a company is to supply a good or service and make a profit supplying this good or service. This is my main case against investing in companies that cannot make a profit or lose money. This removes me from investing in exciting young companies like Organovo holdings (NYSEMKT:ONVO), SolarCity (NASDAQ:SCTY) and Twitter (NYSE:TWTR). This is just a personal investing strategy that maybe excludes me from blockbuster companies in the beginning but also protects me from investing in a company that could lose everything. Why does this tangent matter? Because the second part of the investing strategy is when investing in a company that is growing so fast, profit margin consistency is not really a concern over growing the overall business. Qihoo 360 makes money which is great but everything should be put into growing the business, especially Qihoo 360 in this case for a few reasons I will get into soon. Therefore, a decrease in margins is no reason to change my strategy at this point with Qihoo 360. Well, the overall market disagrees with me and it showed with a huge drop after the report and sluggish stock price results the following week or so. Below is a chart showing the stock price performance in 2014 so far.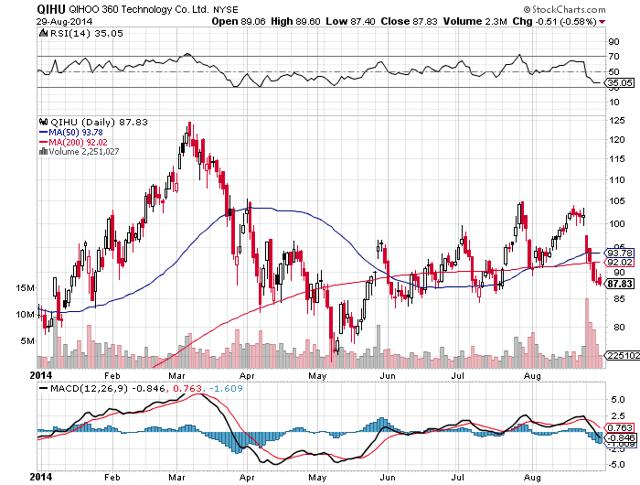 Click to enlarge
The stock price went from a close of $101.75/share at the end of August 21st, 2014, to $87.83/share on the close of August 28th, 2014, representing a drop of almost 13.7%. So it seems profit margins are a big deal with respect to a large amount of Qihoo 360 shareholders.
Continued Growth of the Chinese Internet Search Market
Qihoo 360 in the beginning of 2014 had a goal to achieve 30% of the Chinese internet search market. Well, with four months to spare in 2014 Qihoo 360 has achieved this mark at mainly the expense of Baidu which now sits at around 54%. Qihoo 360's growth in the internet search market is quite remarkable when you consider that it started from basically nothing a couple of years ago to now a strong 2nd place and closing in on the once out of reach Baidu market share. A lot of resources have been deviated from PC internet search to mobile as priorities are being shifted. This makes sense as most of the Chinese people access the internet through their mobile devices.
Currently, search market share growth has been the focus with Qihoo 360 over the past couple of years and they have succeeded in that way. What they have not focused on at this point is monetizing this increased market share. Reading the conference call, which you can find the attachment here, the management seem to have been concerned with increasing market share and protecting the user experience. The aim is for 2015 to begin seeing the monetization of search grow. For perspective, Baidu has 54% of the Chinese internet search market share and derives $1,923 MM in revenue. Qihoo 360 has 30% of the market share but only derives $171.3 MM. Therefore, with over 55% of the market share Baidu has, Qihoo 360 makes less than 10% what Baidu does monetizing search. With management focusing on monetizing moving forward, this could grow revenues immensely and subsequently grow profits and stock price.
Valuation Has Become Very Attractive
With the recent stock price hit, Qihoo 360 now finds itself with a P/E ratio of about 76.2 compared with Baidu having a P/E ratio of 38.9. Based on this ratio, you would think Qihoo 360 is wildly expensive compared to Baidu but the above ratio does not take into account growth. Using the PEG (price to earnings to growth) ratio the results change. Qihoo 360 has a PEG ratio of about 0.83 while Baidu has a PEG ratio of 1.15. Typically, PEG ratios below 1 represent a good valuation. Qihoo 360 is growing at a much faster clip which should command a higher stock price with respect to earnings.
A company with over 100% revenue growth and a PEG ratio below 1 gives big upside potential.
Potential for Strategic Moves in Near Future
Qihoo 360 has seen increased competition from Baidu and Tencent in the internet security business. As of June 30, 2014, Qihoo 360 has $786.8 MM in cash and cash equivalents on the balance sheet. Mergers and acquisitions will be important for Qihoo 360 in the competitive China market. Back in May 2014, Qihoo 360 bought MediaV to improve advertising and boost revenues. With increased competition from much larger companies (i.e. Baidu, Alibaba, Tencent, etc.), more acquisitions may be on the horizon.
Table 1 - Compare 2nd QTR results: Baidu vs. Qihoo 360

($MM)

Qihoo 360

Baidu

Total Revenue

317.9

1,932

Cost of Revenues

66.6

737.6

Gross Profit Margin

79.0%

61.8%

Net Income

39.1

541.1

Net Profit Margin

12.3%

28.0%

R&D Spending

60.3

282.1

R&D to Revenue

19.0%

14.6%
Margin Concerns?
Qihoo 360 management passed of the increase in spending due to one-item events including the World Cup. This makes sense since the World Cup occurs only once every four years. With that in mind, expenses should decrease next quarter with margins back up to normal conditions.
The following graph looks at the spending in three different segments to see if 2014 is in-line with the normal trends or abnormal. The 2014 numbers are an extrapolation (basically doubling the results from the first two quarters). This means seasonal expenses are not taken into account in this analysis.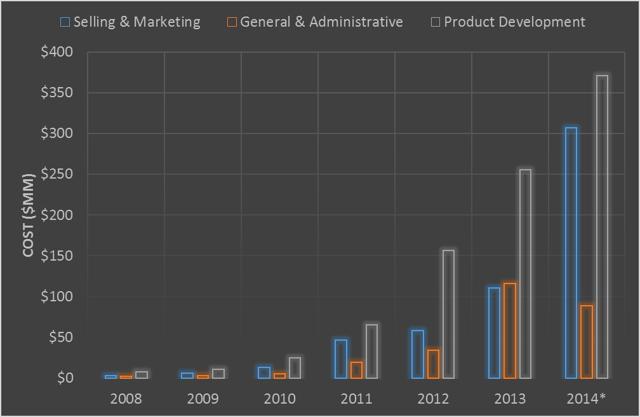 Click to enlarge
Selling and marketing expenses seem to have been bumped in 2014 which gives credence to the one-time expenses claim by management. One good development is the constant increase in R&D spending (product development) with no signs of slowing down. With added competition continual R&D spending is critical. Overall, margin pressure needs to be followed to see if next year continues the trend or gets back to normal levels. A growing company that is spending to grow the business while still turning a profit makes it a good potential investment.
Final Thoughts
Decreasing margins due to increasing spending in advertising and research is different than decreasing margins due to revenue decline. Qihoo 360 is growing but also spending. While turning a profit and growing earnings, the pressure on margins needs to be evaluated over the next year or so to determine the impact the World Cup advertising had on expenses. Growth does not seem to be slowing down any time soon and the China internet wave continues to ascend which means good times for Qihoo 360 moving forward. More competition is to be expected but a strong balance sheet and increased monetization of search will make Qihoo 360 a stock to own in the long-term.
In the near term, margin concerns will put a hamper on the stock price but as the next few quarters pass and expenses decrease back to the norm, margins will increase again. Once this occurs the stock price will again push all-time highs with the growth potential moving forward.
Before ending this post I want to ask people what are your opinions on my bullishness of the China internet market and specifically Qihoo 360. Are you as bullish on Qihoo 360 as I am and if not why? Getting different views is important for every investment thesis and hearing some downsides to Qihoo 360 or Baidu is important so I don't invest with rose-colored glasses. I'm saying that Qihoo 360 has a chance to greatly increase in value over the next year or two.
Disclosure: The author is long QIHU, BIDU.
The author wrote this article themselves, and it expresses their own opinions. The author is not receiving compensation for it (other than from Seeking Alpha). The author has no business relationship with any company whose stock is mentioned in this article.