Google (NASDAQ:GOOG) (NASDAQ:GOOGL) recently told CNET that its new Moto 360 smartwatch is expected to hit the market this week and to be one of many expected updates to Android Wear to be released by the end of the year. The release comes ahead of the expected launch of Apple's (NASDAQ:AAPL) iWatch, which is expected this fall. Perhaps the most notable upgrade to the new Android Wear line will be its ability to perform limited functions independent of an Android smartphone; the need to tether early devices to an Android smartphone was a significant criticism. While there is no doubt that if and when Apple goes to market with its device, the iWatch will be well received - Cupertino will almost certainly release an elegant and functional product - the longer Google plays in the space by itself, the better for the King of Search and the better for the stock.
What is Android Wear?
Last March, Google debuted the Android Wear platform, which is a somewhat modified version of Android, specifically designed for the wearables market: "Google showed off the platform at its I/O developer conference in June, with demos on using the software to order food or hail a ride from a smartwatch." One of the problems developers have faced in the past with producing a viable smartwatch has been the lack of a common platform upon which to build. With Google Android already commanding nearly 85% of global market share for smartphones, Android Wear can solve that problem. Google's engineering director for Android Wear David Singleton told CNET that thousands of apps on Google Play have already been updated to support Android Wear.
A Steady Push Forward
One of the big complaints that users have had about existing Android-based wearables is that they require an Android device, like a smartphone, in order to operate properly. Singleton says that is changing: "Watches with hardware that supports GPS capabilities will also be able to use geolocation data to track their fitness sessions. So, if someone taking a run wanted to listen to music but leave her phone at home, she'd be able to store some songs on her watch, and listen to them through a set of Bluetooth headphones." While the non-paired functionality may be limited, it is a major advance in the segment and should set Google up for success.
Beyond the ability to operate independently, Singleton made clear that Google plans to update Android Wear frequently, regularly pushing its capabilities. While some speculate that Apple will announce the iWatch on September 9 when it debuts the next generation iPhone, I expect the iWatch release to be its own event later in the fall. Regardless of the specific release date, in this space, Google may take the advantage because of its shorter update cycle. If Apple sticks to its once-a-year product cycle, Google has the chance to race ahead and grab market share if its products are worthy.
Android Wear is expected to allow developers to design custom watch faces, but this is merely the beginning. At the June I/O conference, Google said it would like to see the platform make its way to a variety of products ranging from wearables to car dashboards. Each of the potential advances continues to position Google to perform beyond its core search business.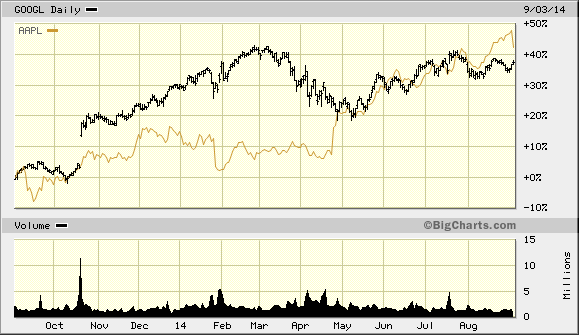 While the stock is up over 30% in the last year, it has room to run higher. Apple's iPhone release is likely to put some pressure on Google shares, so adding to your position around the 9th may provide a good dip on which to buy. Overall, Google continues to look attractive and should be a core technology holding.
Disclosure: The author has no positions in any stocks mentioned, and no plans to initiate any positions within the next 72 hours.
The author wrote this article themselves, and it expresses their own opinions. The author is not receiving compensation for it (other than from Seeking Alpha). The author has no business relationship with any company whose stock is mentioned in this article.