Analyzing the major players in the smartphone industry is particularly tedious: they are spread across a number of different regions and produce very technical products. In this article, I break down smartphone data in an intuitive way to give investors an idea of how well BlackBerry's smartphones are positioned (relative to those of its competitors) in the mind of consumers.
Differentiation by price and quality
Smartphone makers are commonly distinguished by the price and quality of their phones, with the latter in terms of brand and technical differentiation. I've noticed that technically-savvy investors often resort to discussing hardware specifics to argue for the better designed phone; e.g., BlackBerry (NASDAQ:BBRY) fans will talk about QNX's kernel-specific stability features and BES's encryption methods, Apple (NASDAQ:AAPL) fans yammer on about better cameras, device intuition, UI design, etc., and Samsung (OTC:SSNLF) fans heavily emphasize new AMOLED screens, flexible displays, and memory chips. The problem with measuring quality through a technical comparison is that the results cannot be normalized; i.e., there is no way to actually tell which phone is better through these comparisons.
Moreover, unless very specific control environments are implemented, popular benchmarking practices are largely unreliable and more often reflects upon the benchmarking test rather than device performance; e.g., running a badly coded multi-threaded app on a well-designed, multi-core smartphone vs. running it on a single-core smartphone may result in lower performance on the multi-core smartphone because the app interacts ineffectively with multiple cores. More alarmingly, in regards to choosing benchmarks, reviewers will often run an app on iOS or Android devices, and then conclude that the OS that runs the app faster is better. In my experience, this testing is flawed, and is really just measuring the patience and skills of the app programmer in developing apps native to specific platforms.
I believe the best way to measure phone quality is by looking at aggregate ratings data. Consumers pleased with their overall phone experience will naturally rate the phone more favorably. Thus, it doesn't matter if the Galaxy S5 has a quad-core 2.5GHz processor and the iPhone 5S only has a dual-core 1.3 GHz one. As long as users feel a certain phone is faster than another is after continued use, the actual or theoretical qualifications should be negligible. Since we cannot measure all manufacturers' phones, I think measuring flagship product data is sufficient for understanding the rest of a company's products. Given the increasingly expansive ecosystems and increased vendor lock-in generated through OS-specific default app bundles, consumers who own a flagship phone are likely to view the rest of the vendor's products similarly.
Vendor flagship rankings by price
In February 2014, IDC ranked the following OS providers by device ASPs as follows: iOS ($649), BlackBerry ($339), Windows Phone ($265), Android ($247). Although I do think the best way to assess smartphone competition is by cross-comparison of devices assigned to price tranches, the statistics are slightly misleading. It seems as if Apple is at the top of the pack, with BlackBerry as the next best "premium" competitor and lower-class Microsoft/Nokia competing for the remaining market share against Android. To disprove this point, the following tables break down flagship pricing by region.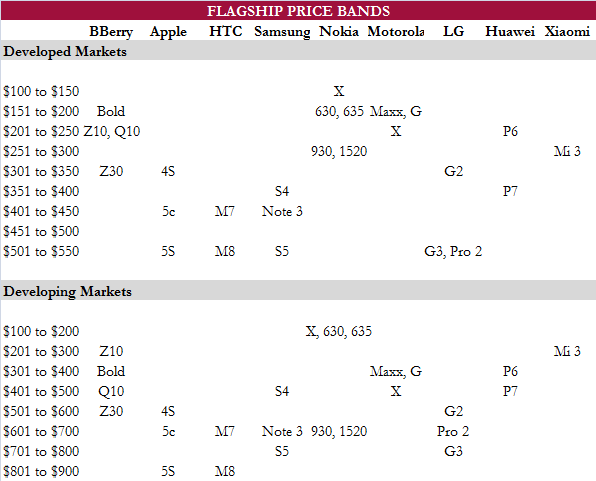 (Source: Developed market price tranches use UK and US market prices as proxies. Developing regions uses market prices in Brazil, South Africa, India, Indonesia, and China as proxies. Market price data is derived from several e-retailers in each region such as Amazon, Rakuten, HiFi, Lazada, etc. Data compiled by the author).
The first thing to notice is that manufacturers price their phones relative to those of competitors, across developed and developing markets at comparable price points. Moreover, we can see that BlackBerry's flagships are far from being the second most premium smartphone. In fact, from a consumer perspective BlackBerry phones compete against those of Nokia, Motorola, Huawei, and Xiaomi rather than those of Apple and Samsung, although this dynamic is different for enterprise users. These relative price tiers are somewhat true when purchasing plan-phones from US carriers; e.g., flagships from Samsung, LG, HTC, and Apple are typically priced anywhere from $99 to $299 depending on the type of discount; yet, BlackBerry's flagships are around $49 to $99. In European markets, carriers often charge extremely similar prices (often free) for this group of manufacturers, but offer a wider selection of plans. In general, the mix of European customers purchasing smartphones from carriers vs. retailers is pretty even; whereas, customers in Asia-Pacific regions purchase phones primarily from retailers.
Vendor flagship rankings by quality
The following table ranks the previous devices, some of which, such as the Nokia X and Moto G, are supposed to offer mid to high range performance at low prices, and are not directly comparable to premium-brand flagships. In particular, we see that HTC and LG produce the best flagships; meanwhile, Samsung flagships slightly outrank those of Apple. Motorola offers mid-to-high end performance and Nokia is split between low and high end phones. Surprisingly, BlackBerry devices rank lower in quality than those of Huawei and Xiaomi.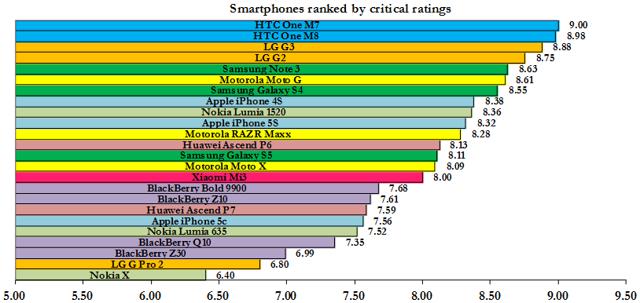 (Source: data from TechRadar, CNET, PhoneArena, GSMArena, and Engadget, compiled by the author)
Bang for your buck
The below table calculates the price-to-quality ratio as price / (rating * 10). Lower ratios indicate better performance for each marginal dollar spent. These multiples allow us to analyze whether affordable range devices are truly performance capable and to study the relationship between lower ratios and brand image; i.e., whether they are priced correctly, similar to a P/E ratio.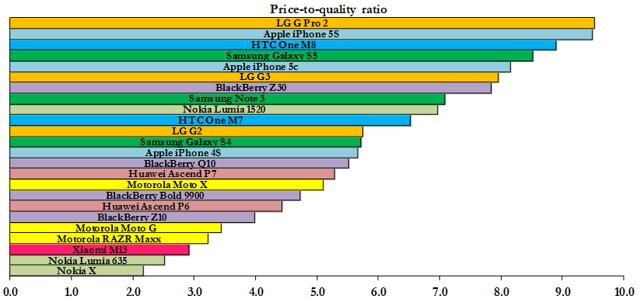 (Source: compiled by author)
Flagship price and quality positioning
In my opinion, lower quality smartphones should be priced lower and higher quality smartphones should be priced higher in the long term; i.e., value and price should eventually converge. Selling a low quality smartphone at a high price point will likely result in long term damage to a manufacturer's reputation. This is because retail consumers are price elastic and will regret overpaying for a low-performance product; hence, they are less likely to purchase future products from the manufacturer due to negative preconceptions. This brand damage is somewhat mitigated by phones offering prestige as a good, since demand for these phones is more price inelastic. On the other hand, under-pricing goods in the long term will result in lower revenue. Thus, prices incompatible with value in the long term ultimately results in lower profits, although firms can play around with prices in the short term to spike demands, skim sales, etc.
BlackBerry's prices are too high
Given the quality of BlackBerry devices, BlackBerry's prices are inflated, especially for its newer Q10 and Z30 lines. If Microsoft, the dominant player in enterprise software with a far better brand, deems it necessary to lower the prices of its productivity-oriented phones and give away Windows Phone OS for free just to fight for market share, surely BlackBerry should also adjust its prices temporarily to compete more effectively?
If John Chen truly aims to create the best end-to-end mobile communications and management solution, he must not ignore the importance of having a high quality and correctly priced smartphone. Moreover, if BlackBerry wishes to regain market share in the high-end mobile devices market, it will naturally need to compete on price like all its competitors, especially since this segment of the market is transitioning into maturity; smartphone penetration is roughly half of all mobile phone users in developed markets. Even in emerging markets, BlackBerry should not hesitate on matching competitors' prices. Since these markets often lack strong intellectual property rights and robust financial institutions, BlackBerry's security differentiation becomes a lot less valuable, although the firm is indeed well-positioned to offer secure mobile banking and transactions services. Thus, price and quality is even more important in these markets.

(Source: Data by e-Marketer)
Can BlackBerry afford to lower device prices?
Clearly, BlackBerry should also focus on improving device quality rather than purely cutting prices, since both methods improve its price-to-quality ratio. However, a cut in prices can be accomplished quickly and yield immediate sales results. The difficulty is determining whether BlackBerry can afford to do this.
Margins declined in the last 3 years primarily due to inventory charges. FY2012 saw a $485 mil. Playbook inventory provision and a $267 mil. charge for BB7 devices. FY2014 contained a $934 mil. Z10 inventory charge and a $1.6 bil. charge across all BB10 devices. Most of these charges stem from bad demand forecasting. The company reported in its FY14 10-K,
"Sell-through levels for BlackBerry 10 smartphones decreased significantly during fiscal 2014 due to the maturing smartphone market [and] very intense competition… These factors caused the number of BlackBerry 10 devices in the channel to increase above the Company's expectations, which in turn caused the Company to reassess and revise its future demand assumptions."

(Source: Data from 10-K's)
However, even after adding back these charges, BlackBerry's margins over the past two years are still negative. Thus, the firm has not only overshot demand, but has also made poor manufacturing and supply chain decisions; e.g,. Hardware COS outweighed device revenue in FY2013, even though the firm did not record any noticeable write-downs. Chen's deal with Foxconn and Wistron should take care of inventory and demand risks; most of a smartphone's components are common parts that electronic manufacturing services firms can reuse in other devices should BB10 devices fail to sell. Nevertheless, BlackBerry must still work on its purchasing process. Chen noted in his Q1'FY15 conference call, "I don't think, people should think that Foxconn is paying the bill. Foxconn is basically -- Foxconn is backstopping our inventory exposure should we be wrong and looks like so far so good…"
Conclusion
In Q1'FY15, the firm reported $393 mil. in hardware and other rev. and $533 mil. in software and service, with $515 mil. for total cost of sales. Applying the 3 year average 85% gross margin for software and service leaves $437.8 mil in hardware cost of sales, which results in a negative hardware gross margin. Given these mediocre device margins, I do not think BlackBerry can afford to lower device prices for the time being, which is also why I keep gross margins relatively low at 35% for the next four years in my margins article analysis. If the firm can afford to cut prices, then it certainly should, as price is one of the most effective determinants for consumer purchases. Mostly likely, as BlackBerry transitions from cost cutting to sales generation, John Chen will need to gain back customers without relying on temporary price competition. He must also significantly improve the quality of BlackBerry devices, and augment device margins by working with BlackBerry's manufacturing partners. These are tremendous challenges, and BlackBerry investors need to analyze carefully the data released over the next few quarters to assess whether Chen successfully solves these problems.
Disclosure: The author is long BBRY.
The author wrote this article themselves, and it expresses their own opinions. The author is not receiving compensation for it (other than from Seeking Alpha). The author has no business relationship with any company whose stock is mentioned in this article.
Additional disclosure: I bought shares of BBRY at $8.99