Uranium is a difficult investment to make. Eric Bolling was on Fast Money a while back and made the comment that only a handful of people on Earth truly understand the mechanics of pricing with respect to this specific commodity. Although I am not an expert, I have followed this sector for some time and will be identifying stocks that look to be good or bad investments going forward.
Most importantly, the price of uranium is still heading upward and until the momentum starts moving in the opposite direction, I will recommend, at least in the short term, to invest. There are currently two websites that post uranium prices. The first is tradetech.com and the second is uxc.com. Both web pages show a sustained upswing in uranium spot market prices for the last few months.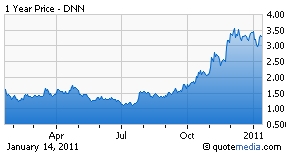 At this time, I like Denison Mines (NYSEMKT:DNN) as an investment. Denison Mines is currently debt free with $78 million in working capital. The company owns two of the four permitted mills in North America. Denison is currently in production, with uranium coming from three mines. They currently are expanding production through projects located in Canada, Mongolia, Zambia, and the United States.
Since the price of uranium oxide concentrate had dropped substantially from its high of $137/lb., so has Denison's stock price. At the peak, Denison traded at a little over $25 per share. It dropped to a low of $.56 in December of 2008. Although it is difficult to know where the price of uranium is going, many think the price/lb. could increase to $75 or $80 by the end of this year. One thing is for sure, if the tightness in the spot market persists, we will hit triple digits before you know it.
Since many of the uranium exploration and production companies are not turning a profit, one way to value a company is the amount of the commodity they are producing.
2010 Uranium Oxide Concentrate Production
In 2010, the top ten uranium miners produced 118.7 million pounds. This accounted for 83% of the world's production. There are 441 reactors operating, and they need 184 million pounds of uranium to operate. 58 reactors are currently under construction. 148 reactors are planned and 331 are proposed. It is important to remember that Russia currently provides 65% of the world's uranium through the dismantling of their cold war nuclear arsenal. They have decided not to renew this contract.
Since many of the big players like Cameco buy off of the spot market to supply fuel for its customers when they are not producing enough to meet contractual obligations of their legacy contracts, they may have to pay significantly more on the spot market. These legacy contracts protect both Cameco and their customers from the large shifts in pricing of uranium. Cameco is able to do this with a very low cost of production. The reason this is important to Denison is how Cameco does this. Cameco has a very low cost of production when compared to other uranium producers. They accomplish this by having sites where uranium concentration is very high. This provides more uranium oxide per pound mined.
Denison recently had a world class size discovery at Wheeler River. They currently own 60% and are the majority operator. This is the type of discovery that can increase operating margins substantially. Denison has made some substantial inroads in improving their operation. They have increased overall resources internationally. Through 9-30-10 they had improved revenue year over year by almost 100%. Their nine month loss over the same time frame was reduced from a $.41 loss to a $.01 loss. Operating cash flow for the first nine months of 2009 was a substantial loss, and this was turned to the positive for 2010.
The uranium price has increased from approximately $40 per pound at the mid-year of 2010 to $66 per pound in the first month of 2011. Most importantly has been the decrease in operating costs. Denison's operating cost as of 9/09 was $66.14 per pound and by 9/10, it was decreased to $38.22. For the year of 2010, Denison earned $47.09/lb of uranium oxide. This number looks to be increasing. Denison is estimating they will be able to increase their uranium production from 1.7 million pounds this year to an estimated 10 million pounds of sustainable production by 2010.
Disclosure: I am long DNN, URG. Additional disclosure: Although I do not currently own, I may trade URZ, URRE, UEC.