PriceSmart (NASDAQ:PSMT) shares started their fall from grace early this year after an earnings miss in January for their fiscal first quarter. Since then, the stock has often been showing up as a Zacks #4 Rank (Sell) or #5 Rank (Strong Sell) and its price has dropped from $115 to under $80 in July.
My colleague Tracey Ryniec wrote about the $2.7 billion company's fiscal third quarter report in July where sales trends seemed to disappoint analysts further. That earnings report may also have brought some capitulation in terms of tired longs who wanted out of the stock, while fresh buyers appeared to have come in demanding shares in the $80s.
Here's how Tracey described the company...
PriceSmart is considered to be the "Costco (NASDAQ:COST) of Latin America" as it operates similar membership based warehouse clubs. Headquartered in San Diego, the company now dominates the Latin American market with 33 clubs in 12 countries and one U.S. territory. Costa Rica is its largest market with 6 clubs. It has recently been expanding in Colombia, where it now has 3 clubs.
Growth Interrupted
PriceSmart looks like one of those growth stories where the stock got ahead of expectations, and reality. A handy visual for this disparity is the Zacks proprietary Price & Consensus chart which shows how analysts have been busy cutting next year's estimates...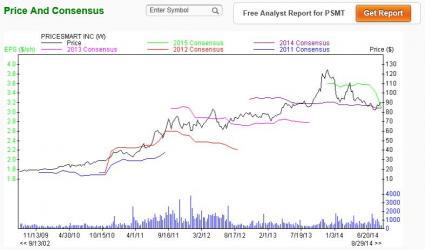 Some investors may find GARP value in PSMT shares trading at 26X next year's projected EPS of $3.42, representing 11% growth if they hit this year's 11% growth target of $3.09.
But until the Zacks Ranks turns around and gives the "all clear," even those estimates could still be in jeopardy.