Vipshop Holdings Ltd. (NYSE:VIPS) is a leading online discount retailer for high-quality brand name products in China, utilizing the online "flash sales" method where special pricing may only be available for a few days.
Offering a wide selection of various famous branded discount products including apparel for women, men and children, fashion goods, cosmetics, home goods and other lifestyle products through its website, the $9 billion company describes its unique approach thus...
"As compared to conventional on-line marketplaces or large-scale multi-category online retailers, Vipshop has successfully created and proven there is a third e-commerce model that can provide tremendous scale and profitability. By providing special offers and deep discounts on branded products, the Company has pioneered the online discount retail model in China and become the expert and leader trusted by our customers and brand partners alike."
I last wrote about VIPS as Bull of the Day in early April when it was trading in the $150s. After solidifying a base above $125, as it survived the spring drubbing for growth stocks, it went on to hit a new high near $230 in August.
Here are some of the highlights of that report as I introduced this powerful growth stock to many US investors who were just becoming familiar with another giant of Chinese e-commerce as the much-anticipated Alibaba (NYSE:BABA) IPO approaches...
Shift From Luxury Pays Off
In a Forbes article from last November, Heng Shao described the company's transformation since launching in 2008...
Founders Eric Ya Shen and Arthur Xiaobo Hong "quickly shifted weight to mass market brands of clothing, cosmetics and accessories, as meager sales proved online luxury shopping to be unattractive to Chinese consumers."
Their approach took some time to pay off even after their March 2012 IPO. Shao notes that "The wind only shifted in late 2012, after Premier Wen Jiabao's visit to Vipshop's Guangzhou headquarters injected a dose of confidence." Revenues climbed to a record $1.7 billion annually in 2013.
"Now a hybrid of time-limited in-season discount and off-season overstock clearance, Vipshop sells $40 dollar jackets alongside $1,000 designer handbags, typically within a time window of four to six days ("flash" sale of luxury products, however, can last as long as 12 days). In late 2010, DCM and Sequoia Capital injected $20 million into the company. Not long after, sales began picking up quickly, with nearly 90% coming from non-tier-one cities where outlets are rare."
What Drove the Shares Up 19X?
Since November of 2012, VIPS has consistently been a Zacks #3 Rank or better. To state that more accurately, in a way that reflects the power of earnings estimate revisions (EER), VIPS has been a Zacks #1 Rank Strong Buy or #2 Rank Buy more than half the time since it was trading $12 over 20 months ago.
To understand why the stock keeps popping up as a Zacks #1 Rank, you need only look at any recent quarterly report where they reported triple-digit revenue and customer growth. For instance, here was the top bullet point in their 2Q earnings release on August 13...
"Total net revenues increased by 136.1% over the prior year period to US $829.4 million, primarily attributable to a 167.9% increase in the number of active customers to 9.3 million from 3.5 million and a 138.4% increase in total orders to 26.3 million from 11.0 million in the prior year period."
And here's an updated visual in early September of the direction and magnitude of EPS revisions that have kept institutional investors buying these shares...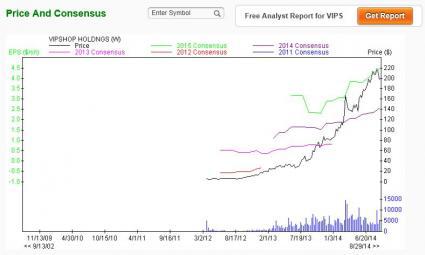 In just the past 90 days, full year 2014 estimates have risen from $2.26 to $2.57 representing 182% annual growth. And 2015 projections have gone from $3.80 to $4.49 for 75% growth. That's the kind of growth that some investors will keep paying over 50X for on the P/E multiple.
Shares Worth $200?
In March, the astute Asia equity analysts at Macquarie reiterated their Outperform rating and not only raised their EPS outlook, but boosted their price target for the stock from $130 to $200. That was smart.
Describing the Vipshop's premium platform for discount retail, the analysts said the guidance for 1Q revenue growth of 106-109% ($640-$650 million) YoY was 12% ahead of their prior estimates and that strong top line growth was largely being driven by substantial growth of active customers.
"With the recent acquisition of Lefeng, a leading online cosmetics retailer, revenue growth and margin expansion should continue. That said, 2014 is an investment year and we raise our estimates of revenue and EPS modestly but recognize our estimates may ultimately prove too conservative. Our $200 PT is based on 50x FY15E non-GAAP EPS due to higher growth and earnings visibility as a result of less competition."
Since the last two stellar reports from VIPS, Jefferies analysts raised their price target from $240 to $280, citing the strong organic customer acquisition, rising shopping frequency, and higher average ticket price on mobile compared to PC. "We see Vipshop's investment step-up in marketing and big data as a long-term positive."
Car Flashing
In a March 10 update, Macquarie analysts talked about Vipshop's latest innovation: selling discount coupons to its customers for buying cars at an offline dealer. "We believe this is similar to Soufun's (NYSE:SFUN) eCommerce business - VIPShop recognizes the face value of the coupon (Rmb 5,000 in today's event) as its revenue. Customers pay the Rmb5,000 upfront and can enjoy a reduction of up to Rmb30,000 from the suggested retail price when they go to designated dealers to buy the cars."
The move into automobile discount events seems like a good one for the company and signals a management team with a creative and aggressive marketing edge, especially in taking on the resident online auto experts in China, BitAuto (NYSE:BITA).
Unlike a normal flash sales event that can last for 2-6 days, the first auto sales flash sales event was designed to last for two weeks. But all the discount coupons were sold out within one hour.
Shoppers Are Social and Fickle
Vipshop will have to continue to be creative and aggressive as more marketers compete for the Chinese consumer. Again from Shao's November Forbes article...
"The 3.3 million followers on its Weibo page speak to Vipshop's popularity: still few compared to the more than 5 million fan base of Alibaba's Tmall or Dangdang (NYSE:DANG), who launched a clearance flash sale site this year, but easily outshines its direct competitors Xiu.com, Jiapin.com, and FClub.cn, none of which has more than half a million fans."
VIPS shares have recently fallen back below $200 and their 50-day moving average as some China-focused investors like John Burbank of Passport Capital took profits. While some shorter-term investors with profits in hand are probably also concerned about valuations at 76X this year's estimates, other long-term investors will be ready to buy again soon as the stock pulls back.
Disclosure: None