The Trouble Asset Relief Program (TARP) was an initiative by the U.S. Treasury to stabilize the 2007-08 crisis. As part of TARP, the U.S. Treasury obtained warrants to purchase equity at a specific price in a future date from financial institutions that took assistance. The U.S. Treasury auctioned off these warrants to private investors between 2009-11 to wind down TARP.
Investors should find these TARP warrants very interesting. The U.S. Treasury, as a public institution, was not in the business of seeking profits. Therefore, it had little incentive to sell these warrants at the best possible price. And, with taxpayers' money on the line, the U.S. Treasury knew it was politically important to negotiate the best terms, such as long expiration date, adjustable strike price from dividend payments, and share buyback protection, to ensure these warrants have a good probability to be in the money. Many financial institutions' tangible book was being marked down by almost half of stated value during that period of time. All these factors were very beneficial for those who are willing to buy and stay patient.
I wrote in December 2011 and again in June 2012 that Bank of America Tip Warrants (BAC, BAC.WS.A) was one of the best investment candidates. Since then, it has gained by more than 200%. In the December 2011 article, I commented that Citigroup (NYSE:C), Signature Bank (NASDAQ:SBNY), and Comerica (NYSE:CMA) would also be great investment choices and each has returned about 160%, 140%, and 300% after the publication date. In June 2012, I also commented that JPMorgan Chase (NYSE:JPM), Lincoln National (NYSE:LNC) and Hartford Financial Services (NYSE:HIG) would also make good investment choices, and each has increased about 100%, 260%, and 210% after the publication date.
Below is a list of publicly traded TARP warrants, with data as of August 28, 2014.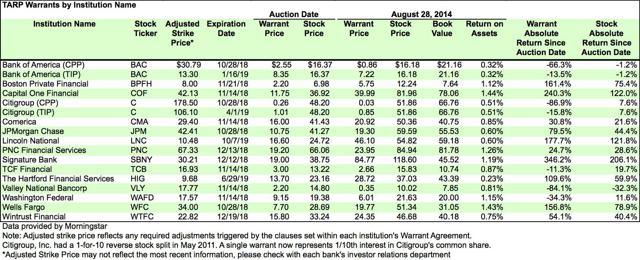 At this point, BAC.WS.A is still a great investment choice among all TARP warrants. Bank of America's (BofA) share price is still trading below its book value, while its peers including JPMorgan and Wells Fargo have traded above book. Brian Moynihan, BofA's CEO, have been steering the company towards the right direction for future success. For example, BofA is closing out many legacy issues, including the most recent $17B settlement with the U.S. justice department to clear litigation into the sales of unsound mortgage back securities, and BofA is increasing its dividend, for the first time in seven year, from 1 cent to 5 cents. These developments should help BofA closes the gap between its stock price and book value. Based on industry peers' performance, BofA should be capable of growing its book value by 8-10% annually. BAC.WS.A is currently traded around $7. When these warrants expire in January 2019, BofA's common share should be trading on par with its book value in the range of $25-$30. BAC.WS.A will be exercised in the money at a profit between $12-17 dollar, which implies a potential gain of 70%-140%, or about 16-30% annualized, if purchased today.
One final thought, Citigroup is trading below book value like BofA. Because of higher leverage factor, Citigroup TIP warrants (C.WS.A) can achieve better returns than BAC.WS.A. However, C.WS.A's exercise price is significantly higher than current share price and book value, and Citigroup only has three to four years left to grow its book value to be near where the exercise price is. Therefore, the probability of C.WS.A expiring worthless is high. As an investor, a cornerstone rule is never chase higher return at the risk of permanent capital loss. Despite the fact that C.WS.A also looks attractive on a return basis, investor should select the more conservative choice of BAC.WS.A.
Disclosure: The author is long BAC.
The author wrote this article themselves, and it expresses their own opinions. The author is not receiving compensation for it (other than from Seeking Alpha). The author has no business relationship with any company whose stock is mentioned in this article.