AirlineFinancials.com
estimates the eight largest US airlines, starting this week, will collectively report $3.95 billion in profits from $122.2 billion in revenues for year 2010. The average net profit margin is projected at 3.3%.
Assuming these projections are somewhat accurate, this would be the highest annual profit in over ten years and the 2nd highest annual revenue ever reported.
For this report, the eight largest airlines are: Delta (NYSE:DAL),

American

(AMR), United (NYSE:UAL), US Airways (LCC), Southwest (NYSE:LUV), JetBlue (NASDAQ:JBLU), Alaska (NYSE:ALK), and Air Tran (AAI). Note: United and Continental merged at the end of the 3rd quarter.
Year 2010 highlights
(based on AirlineFinancials.com estimates):
First time in over ten years the airline industry will have a profit in the 4th quarter.

First time in over ten years the airline industry will have three consecutive profitable quarters.

All of the airlines noted above except for American, will report profits for year 2010 and the 4th quarter.
Including 2010, only three of the last ten years were profitable for the airline industry.

Since 2001, the eight airlines noted in this report accumulated over $35 billion in net losses.

For year 2010, the most profitable year in the last decade for the airline industry, on average, only three of every 100 passengers made up the profits.

The following charts provide year 2010 and 4th quarter revenue, profit, and margin estimates for each airline.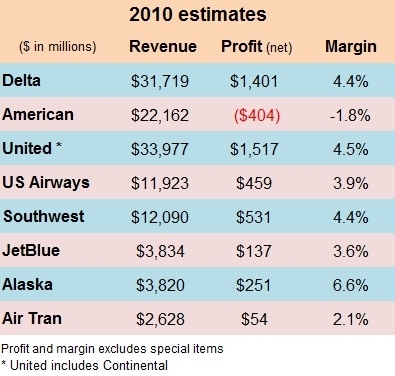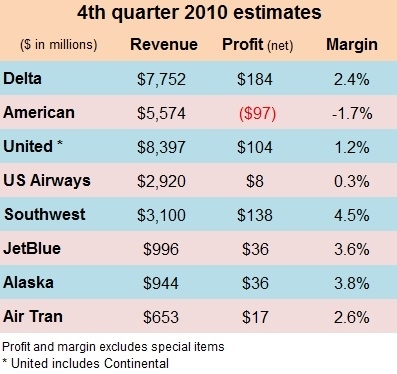 As airlines report their profits over the next two weeks, there will be a lot of media and political attention given to the industry profits. What will get lost in the rhetoric is that US airlines are not a public mass transit system.
Having a stable, safe, and efficient airline industry requires a balance between the cost to fly and acceptance that airlines are in business to make profits for their investors.

Disclosure: I have no positions in any stocks mentioned, and no plans to initiate any positions within the next 72 hours.