Black Box Corporation (NASDAQ:BBOX) is a leading name in the technology industry providing different technology solutions to its customers by designing, building, managing and securing their IT infrastructure. Headquartered in Lawrence, Pennsylvania Black Box Corporation provides unified communications, data infrastructure and other services. The products offered by the company include IT infrastructure, specialty networking, multimedia and keyboard/video/mouse (KVM) switching. The company is operating in four segments: North America Products, International Products, North America Services and International services.
Black Box Corporation's financial performance has been deteriorating over the last few years. The graph below shows that the revenues have fallen from $1,088 million in 2012 to $972 million in 2014, reflecting a decrease of about 3.6% on an annual basis.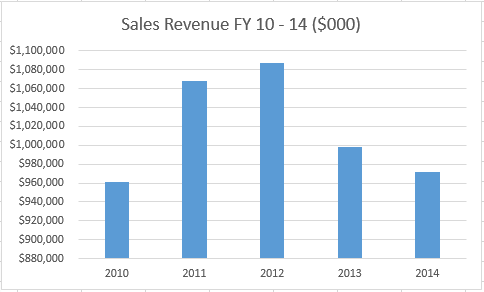 Source: BBOX SEC Filings Form 10K
The gross profit has decreased from $335.3 million in 2010 to approximately $304 million in the fiscal year ending 2014, reflecting a decline of nearly 1.9% on an annual basis. Moreover, the net income of $36 million in 2010 has declined to a net loss of about $116 million in 2014. This declining performance has also been reflected in the stock price.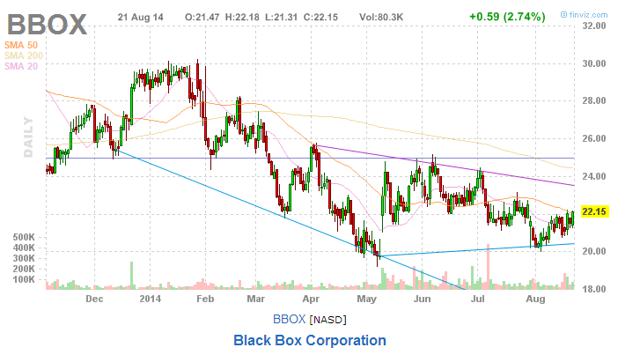 Click to enlarge
Source: Finviz
Black Box Corporation recently reported its first-quarter results for fiscal year 2015, which were not inspiring and failed to please the investors. Let's take a quick look at the recent performance:
Financial Performance
Sales Revenue: This figure was a major determinant of poor margins. Total sales revenue has dropped to $245 million in the first quarter of 2015 when compared to the revenue of $247 million reported in the first quarter of 2013, reflecting a decrease of about 1%.
Let's view each segment's sales performance.
Product segment - The worse sales performance was observed in the products segment, which includes both North American and international sales. This segment has proved to be the main cause of the poor revenues this quarter. The total product revenues have fallen from $48 million in the first quarter of 2014 to $43 million in the first quarter of 2015, reflecting a reduction of about 10%.
The sales revenues of the North American products have decreased from $21 million to $19.7 million, whereas the sales revenues of the international products have decreased from $27 million to $23 million.
This decline was largely because of reduced spending in direct and indirect channels by Black Box Corporation's government customers in North America. Another reason for poor revenues was a non-recurring large order in the International Products segment, which was sold through integrators within business services. The end-users of this order were government clients.
Services segment - The services business has reported increased revenues, and has played an important role in partially offsetting the poor performance in the products segment. The revenues of the services business increased from $199 million in the same quarter last year to $202 million in the recent quarter, resulting in an increase of approximately 1.51%. The sales revenue in North America services has jumped from $189 million to $194 million, whereas the revenue from international services has witnessed a slight decline from $9 million to $8 million. However, overall the revenues generated by the services business were quite good.
The increase in services revenues was primarily due to an increase in core commercial revenues and wireless solutions practice revenues. Moreover, the corporation has been focusing on some growth and restructuring programs that have helped the revenues to increase. The chief executive officer and president of Black Box Corporation, Michael McAndrew, stated:
"I am very pleased with the sequential quarter and year over year growth in North America services revenue and consolidated revenue backlog. These are indicators that our growth programs are gaining traction and our team is delivering desired outcomes to our clients.''
Profit Margin: The net profit margin has decreased from 2.8% in the first quarter last year to 1.61% in the recent quarter. It has decreased from approximately $7 million to about $4 million, reflecting a decline of nearly 43%. Moreover, the recently reported gross profit margin has declined from 31.2% to 30.7%. This has fallen from $77 million to $75 million.
Black Box Corporation's diluted EPS has fallen to $0.25 this quarter, compared to $0.43 in the same quarter last year.
Selling, General And Administration Expenses: Black Box Corporation has reported increased expenses this quarter, which have played a significant role in decreasing the net profit. The selling, general and administration expenses as a percentage of sales increased from 24.7% in the first quarter of 2014 to 26% in the first quarter of 2015. The expenses have increased from $61 million to about $64 million. This increase of nearly $3 million was a result of some investments related to growth programs and an increase in restructuring expenses of about $477 million, which have been partially offset by some cost savings related to restructuring activity last year. These one-off expenses when removed will increase Black Box Corporation's diluted EPS.

Source: BBOX SEC Filings 10Q
The company intends to further invest in these growth programs in the future as well.
"We will continue to invest in our transformation with a focus on efficiently delivering innovative IT product and service solutions to our clients. I am confident that these initiatives will continue to widen our competitive advantage and drive value for our shareholders." said, Michael McAndrew.
Interest Expense: The interest expenses in the recent quarter have increased by $208,000, reflecting an increase of about 23%. The interest expense as a percentage of total sales has increased from 0.37% in the first quarter of 2013 to 0.46% in the recent quarter. This was primarily due to the change in the fair value of an interest rate swap, which decreased from a gain of $457,000 in the first quarter last year to a gain of only $249,000 in the recent quarter.
Cash Flow Position: The cash flow from operations has witnessed a huge slump. In the recent quarter, the CFO decreased from a positive figure of about $21 million in the first quarter last year to negative $6 million, reflecting a decrease of more than 120%. CFO per share went down from $1.31 to negative $0.39.
Moreover, the free cash flows were also lackluster. FCF has decreased from a positive number of about $19 million in the same quarter last year to negative $8 million this quarter, reflecting a decline of more than 140%. The FCF per share decreased from $1.18 to negative $0.52.
FCF shows the cash available from operations after making the necessary capital expenditures. It can be used for acquisitions and expansions, and shows the company's financial stability. Thus, higher the free cash flows / operating cash flows ratio, the more stable and financially strong the company is. BBOX's FCF to CFO ratio shows a deteriorating cash flow position. The ratio has decreased from 0.905 last year to 0.75 this year. This reflects a decrease of about 17%.
Share Repurchases And Dividends: Although the financial results were far from thrilling, Black Box Corporation managed to make its shareholders happy by making pretty decent payments. The company paid about $4.4 million to its investors, which included $1.4 million worth of dividend payments and about $3 million in the form of share buyback transactions. The company repurchased 171 million shares at an average price of about $22.98 per share.
Furthermore, Black Box Corporation has recently announced a cash dividend of $0.10 per share for its upcoming second quarter that will be paid on October 10th.
Investors Can Breathe A Sigh Of Relief!
Though, the recent quarter has failed to entertain the investors, but the management's positive future expectations and some steps recently taken by the company will definitely cheer them up.
Future Outlook - Black Box Corporation has something up its sleeve, as it remains quite optimistic about its upcoming second-quarter results. The company expects to report revenues between $250 million to $255 million. It has provided the guidance for operating earnings per share in the range of $0.50 to $0.55. Moreover, the leading technology solution provider is targeting revenues of $990 million to $1.01 billion for the fiscal year 2015. The operating earnings per share are expected to be in the range of $2.07 to $2.27.
The management might be expecting positive future performance due to the following discussed reasons:
Black Box Corporation Has Enhanced Its Product Portfolio - Recently, in June 2014, the company has added Cisco® Powered Managed Business Video Services to its existing portfolio. Moreover, Black Box Corporation has also renewed its Cisco® Master Service Provider certification for cloud and managed services. These steps taken by the company have enhanced its brand value and its expertise in providing services to its clients. This can definitely help the company in improving its financial position.
These two recent achievements have resulted in Black Box Corporation being counted among the top five partners in the United States who hold such expertise and certifications. This will definitely help the company in improving its future financial performance. The vice president for Black Box Services Network, Chris Tjotjos, has said:
"True to the Black Box mission to provide solutions and services that enable our clients to fully optimize their IT investment, these offerings and capabilities allow our clients to take advantage of new and different options to drive the operational outcomes they are looking for in their businesses"
Black Box Corporation Is Innovative - The company is quite innovative, and always comes up with new and exciting ideas for its clients. In October 2011, Black Box Corporation was named as one of the InformationWeek's 500 most innovative users of business technology.
Moreover, the company has been announced as a top-10 winner of the 2014 channels partners 360⁰ Business Value Awards by the Channels Partners Magazine.
The company once again proved to be innovative, and on June 11th, 2014, it announced the introduction of another new product in its portfolio called "Pay as You Grow", a stackable locker system for mobile device storage and charging. The system is designed for any environment where mobile or e-learning devices are stored. This is an alternative to expensive and high-capacity storage solutions. This can help the company in attracting more and more customers and gaining a decent share in the market.
Black Box Corporation Joined HDBase T Alliance - On June 16th, 2014, the company announced that it has joined HDBase T Alliance at the adopter level. As the company's management explains: "HDBaseT is a connectivity standard for distribution of uncompressed HD multimedia content. HDBaseT technology converges full HD digital video, audio, 100BaseT Ethernet, power over cable, and various control signals through a single LAN cable. This is referred to as 5Play™, a feature set that sets HDBaseT technology above the current standard." The company can increase its operational efficiency by joining HDBase T Alliance. This may also bring in cost savings.
Black Box Corporation Has Won Several Awards - Different products and services being provided by the company to its clients have won several awards this year. This will definitely boost the investors' confidence in the company, and will cause the share price to go up. In June 2014, the company's product, ClimateCab Environmentally-Controlled cabinet won the award for 2014's best commercial integrator. In May 2014, Cyber Defense magazine announced two awards for the Black Box Corporation. The company's "Encryp Tight" was named as the most innovative end-to-end security solution, and the company's "3 series lockable patch cables" were awarded as the best physical security solution. Moreover, the company has been awarded a 5-Star rating in the CRN 2014 Partner Program Guide.
Considering all these factors, I am giving a "Buy" rating to this stock.
Disclosure: The author has no positions in any stocks mentioned, and no plans to initiate any positions within the next 72 hours.
The author wrote this article themselves, and it expresses their own opinions. The author is not receiving compensation for it (other than from Seeking Alpha). The author has no business relationship with any company whose stock is mentioned in this article.