Akebia Therapeutics Inc. (NASDAQ:AKBA) - Sell Recommendation - PT $21.40
Approximately 13.5 million shares of Akebia Therapeutics Inc. are scheduled to become available for public sale on September 15, the end of the 180-day lockup period that began with the firm's March 19, 2014 IPO.
The expiration of the lockup period and the resulting eligibility of more than twice the shares offered in AKBA's IPO for sale on the market may lead to a brief decline in the price of AKBA, as the anemia-focused biopharmaceutical firm's pre-IPO shareholders as well as its directors and executives will be permitted to sell their shares.
Business Summary
AKBA is a biopharmaceutical firm seeking to develop and commercialize therapeutics based on hypoxia-inducible factor (HIF) for patients suffering from kidney disease; HIF is the primary regulator of red blood cell production. AKBA's lead product candidate, AKB-6548, is a once-daily oral therapy for the treatment of anemia secondary to chronic kidney disease (CKD). If approved, AKB-6548 would have significant advantages over currently available treatments for anemia secondary to CKD, which must be delivered through injections and often have dangerous side effects.
AKBA expects data from a Phase 2b trial for patients with anemia secondary to CKD, not dependent on dialysis, by the fourth quarter of 2014. The firm has also initiated a development program for dialysis-dependent patients. AKBA plans to initiate Phase 3 trials for AKB-6548 in 2015, and to submit a New Drug Application to the FDA by 2018.
See our previous article on AKBA here for additional details.
Competition from J&J and Others
If AKB-6548 receives FDA approval, it will compete with numerous other drugs, some of which have already been marketed by established firms with access to far greater financial and marketing resources than AKBA, such as Roche, Amgen (NASDAQ:AMGN), and Johnson & Johnson (NYSE:JNJ).
Several other firms are in the process of developing drugs that may compete with AKB-6548 in the future, including Fibrogen, Japan Tobacco, AstraZeneca (NYSE:AZN), GlaxoSmithKline (NYSE:GSK), and Bayer.
Management Highlights
John P. Butler has served as AKBA's president and CEO since August 2013. Mr. Butler previously served as the CEO of Inspiration Biopharmaceuticals, Inc., and in various positions at Genzyme Corporation, including as president of the company's rare genetic diseases business. He also worked in sales and marketing positions at Amgen and Hoffmann-La Roche.
Mr. Butler received a B.A. in Chemistry from Manhattan College and an M.B.A. degree from Baruch College, City University of New York.
Inconsistent Post-IPO Performance
AKBA's March IPO priced at the high end of the expected range at $17 per share, and investors who managed to get in early enjoyed a 57.1% first-day price pop. AKBA has since performed inconsistently; the stock plummeted below the IPO price to close at $16.86 per share on April 11, but almost immediately recovered to close at $27.04 per share ten days later. The stock peaked with a close of $29.17 per share on June 20, and has since somewhat cooled to close at $22.62 per share on September 2nd.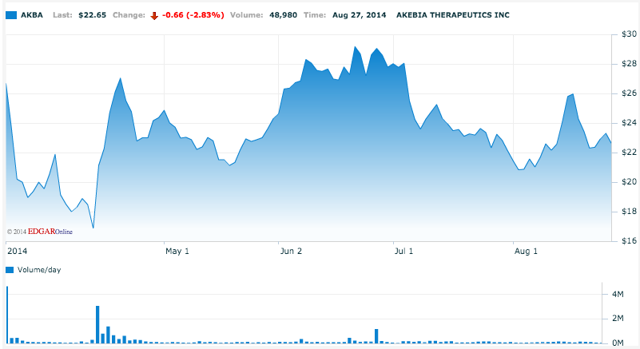 (Nasdaq.com)
13,500,692 AKBA Shares To Be Unlocked; Floodgates Open To VC Firms
The expiration of the lockup period will free 13,500,692 AKBA shares for sale on the market.
The firm's largest current shareholder is Novartis Bioventures Ltd., with 3.2 million shares. Venture Investors Early Stage Fund IV and former Goldman Sachs executive Muneer Satter each hold approximately 1.4 million shares, while Keamy Venture Partners and Novo A/S each hold approximately 1.3 million shares. These major shareholders, particularly the venture capital firms, may elect to sell off their shares while they are still well above the IPO price in order to raise capital for other projects. The firm's executives and directors may also choose to take the opportunity to sell off their shares in the company in order to diversify their portfolios.
Evidence That Lockup Expirations Offer Short Opportunities
Professors at the University of Kentucky, University of South Florida, and other institutions (Bradley, Jordan, Roten, and Ha-Chin Yi) have published empirical studies finding that, on average, lockup expirations are associated with significant, negative abnormal returns, as the sudden increase in publicly available shares (a potential tripling, according to a 2001 NYU study) generally causes a fall in prices. A joint study by Harvard Business School and Duke's Fuqua School of Business finds a price drop of 2%.
Losses are often concentrated in companies with venture capital (VC) backing -- such as AKBA.
In the Journal of Finance (2001), Professors Gordon Hanka and Laura Casares Field find that the losses described above are three times larger in VC-backed firms.
Our own examination of a sample of 242 companies with lockup expirations in 2013 and 2014 (through June) suggests that the largest negative returns (-5.5%) occur within the Day (-11, +9) window surrounding the lockup event (Day 0). These negative returns occur for tech firms who have not completed a secondary offering and whose share prices have increased from IPO to Day (-11) from the lockup expiration.
Thus, the lockup expiration event can often lead to a short opportunity for aggressive investors.
Conclusion: Significant Sell-Offs Could Be In Sight, Along With a Short Opportunity
AKBA has fared quite well, if inconsistently, on the market since its debut in March.
However, we remain concerned with the stock's long-term prospects; AKBA is still a great distance from commercializing any of its product candidates, and even if it manages to receive FDA approval for its products, there is no guarantee that they will be commercially successful.
AKB-6548 would face massive competition even if it did receive approval; that said, the significant improvement in administration method (oral vs. injected) could help the product to make its way into physicians' hands.
The upcoming lockup period expiration could see significant sell-offs, however, given the substantial venture backing that AKBA has relied on.
We encourage readers wishing to join the discussion on IPO lockup expirations to click +FOLLOW above the title of this article - and those wishing for the latest updates to click +Get real-time alerts.
Disclosure: The author has no positions in any stocks mentioned, and no plans to initiate any positions within the next 72 hours.
The author wrote this article themselves, and it expresses their own opinions. The author is not receiving compensation for it (other than from Seeking Alpha). The author has no business relationship with any company whose stock is mentioned in this article.