Canadians are used to being disappointed by our technology companies. First it was Nortel, then more recently it was Research in Motion. But for both Canadian and global investors, Open Text (NASDAQ:OTEX) shares have significant growth potential, despite already posting some impressive gains.
The hardest thing involved in writing an article about Open Text as an investment idea is trying to explain what the company actually does. The best description I found online is as follows:
Open Text Corporation (Open Text) is engaged in providing a suite of information management software products. The Company builds software that allows companies to organize and manage their content, collaborate with business partners, and address regulatory and business requirements associated with information management.
Open Text was founded in 1991 in Waterloo, Ontario (also home of BlackBerry) as a spin-off of a University of Waterloo project. It has made more than a dozen major acquisitions over the past 20 years, including its largest to date, GXS Inc. in January of this year. Its clients include a wide variety of corporations (Honda, Bell Canada, Sprint, Barrick Gold), government agencies (U.S. Air Force, Dutch Ministry of Defense) and institutions (Penn State University, University of Nebraska).
As you can see from the three year chart included below, the acquisition of GXS (announced in November of last year) helped propel Open Text shares higher: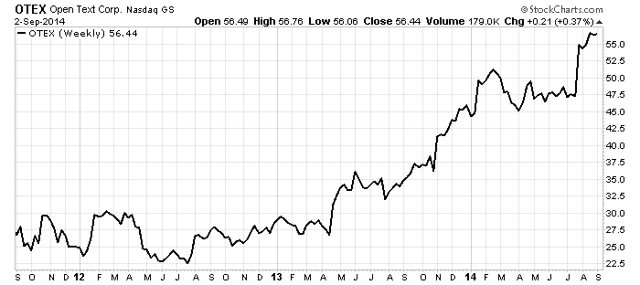 The stock reached its most recent all time high after the firm's second quarter earnings blew past analyst expectations. Over the last three years, revenue has grown at approximately 16% per year while earnings have increased at a rate of nearly 20% annually. The best way to demonstrate the growth of the business is through its various sources of revenue and fortunately, Open Text itself created a chart which illustrates this effectively: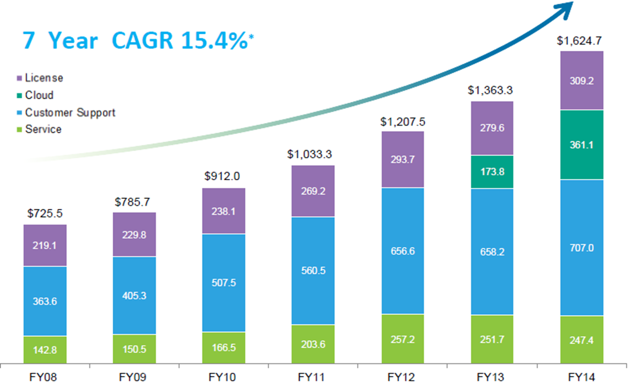 While the License, Customer Support and Service segments are all expanding at a moderate clip, it is obvious that most of the firm's growth is currently occurring in its Cloud segment. The current analyst consensus puts earnings at $3.84 per share next year and $4.19 the following year. Given Open Text's long-term growth history, I would venture to guess that these estimates (especially for 2016) will be increased over time, but even at current levels, the stock trades at less than 15 times next year's project earnings.
Open Text instituted a dividend in 2013 and currently yields a modest 1.2%. Due to the frequency of acquisitions over the past several years, the company's level of debt has increased to approximately $1.3 billion and I would expect it to focus on slowly paying this down before significant dividend increases occur, although free cash flow generation should accelerate once GXS has become fully integrated into the company.
The investment thesis on Open Text is not particularly complicated. This is a corporation with a long history of consistent growth in an industry (enterprise information management) expected to grow at over 11% per year over the next several years according to Gartner forecasts. It trades at a price to earnings ratio similar to the market as a whole, despite a Cloud segment delivering exceptional revenue growth. Open Text is a technology company that global investors need to notice and Canadians need to learn to be proud of.
Disclosure: The author is long OTEX.
The author wrote this article themselves, and it expresses their own opinions. The author is not receiving compensation for it. The author has no business relationship with any company whose stock is mentioned in this article.