Ross Stores (NASDAQ:ROST), the off-price fashion retailer, has been a good buy for investors over the last five years, gaining 235% against a 100% gain for the S&P 500. The company has expanded its store count from 1005 in FY09 to 1276 in FY13, and plans to open 95 stores this year.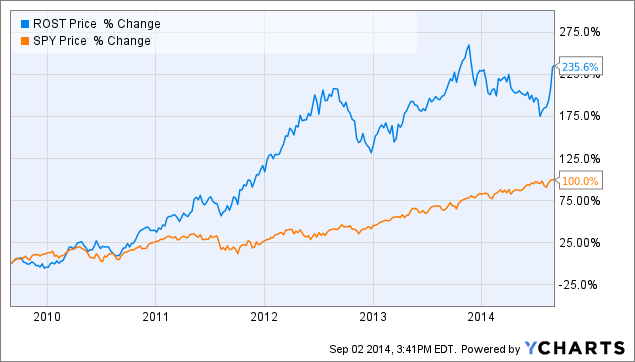 Business Performance
Ross Stores has grown revenues from $7.2B in FY09 to $10.2B in FY13, a CAGR of 9.2% per year driven by the growth in store count (6.2% annualized) as well as a steady increase in same-store sales. The growth has not taken place at the cost of operational effectiveness. On the contrary, the company has managed to increase its gross margin from 25.8% in FY09 to 28.0% in FY13 - what is more impressive is that gross margins have grown every year. SG&A expenses have also declined slightly as a percentage of sales, down from 15.7% in FY09 to 14.9% in FY13. This has led to the expansion in operating margins. The company also appears to be conservatively managed and has been repurchasing shares at a fair clip, as well as offering a (fairly modest) dividend yield of 1.2%. However, its payout ratio is only around 20% of EPS, suggesting that there is sufficient room to raise the dividend in the future. Its debt burden is also easily manageable.
Business outlook and assumptions
For any retailer, store count and growth in same-store sales drive the top line. Ross has been expanding steadily, and actually increasing the rate of store growth in FY14. I expect store count to increase by around 75 stores each year through 2020. Comp growth has also been steady, and I have modeled 3% comp growth, which is at the lower end of what the company has managed over the last four years. Using these assumptions, I model sales growth of 8.2% per year through 2020, which is lower than the past five years. Ross has been successful in increasing gross margins every year, but in my model, I have assumed stable gross margin at 28% and SG&A at 15% of sales.
Valuation
Using a 9% discount rate and a 3% terminal value growth rate, I arrive at a fair market value ((FMV)) of $91 for ROST, which implies a 19% upside to the current share price. Moreover, the implied EPS in my model for FY14 is $4.20, which is in the range of $4.18 to $4.26 that the company has guided to in their latest earnings call. Even if we were to assume flat same store sales from now through 2020, ROST would still be fairly valued at the current price (the FMV in this case would be $76). This suggests that ROST needs to meet a pretty low bar to justify its share price. The complete valuation model is attached below.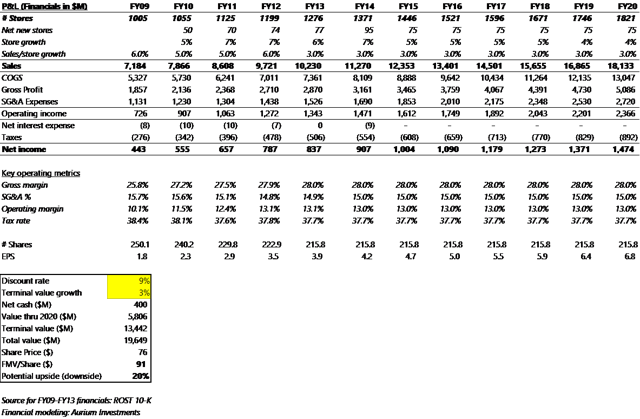 Summary and recommendations
Ross Stores is a sound, well-managed company that has a history of steady growth and shareholder friendly management. The company is executing well and is reasonably priced to boot. I would recommend a buy.
Disclosure: The author has no positions in any stocks mentioned, and no plans to initiate any positions within the next 72 hours.
The author wrote this article themselves, and it expresses their own opinions. The author is not receiving compensation for it (other than from Seeking Alpha). The author has no business relationship with any company whose stock is mentioned in this article.
Additional disclosure: I am short ROST $50 puts.