As I wrote in my weekly preview post, Key Market Drivers January 17-21, Trading Ramifications, EU Spring Meltdown, the EU sovereign debt and banking crisis remains the primary driver of risk appetite and market moves outside of direct intervention by the Fed and other central banks.
Thus, no matter what assets you trade, it's critical to understand how the EU Panic Cycle (hence, EPC) works and thus be able to recognize if we're moving towards a period of greater calm or fear.
Calm allows risk asset markets (stocks, commodities, higher yielding and/or commodity based currencies) to rise because there are no other equally potent threats to the global economy in the near term.
Fear that a sovereign default or restructure is coming soon makes it very hard for markets to rise and can send them lower if there is no other strong countervailing good news.
As we began last week (January 10-14), the financial media was abuzz about the drop of the Euro and whether the coming Portuguese and Spanish bond auctions would fail and ignite a new round of the EU crisis and market panic.
I warned my readers in both tweets and comments on other articles (other obligations prevented me from writing a full article) that this was not the time for new EUR shorts, because we were most likely at the END of an "EU panic cycle" (hence, EPC) rather than at the start of a new one.
I then realized that readers would greatly benefit from a review of the now recognizable (but not widely recognized) tidal patterns of the EU crisis, so that when trading in the markets they can trade with the ebb and flow of this primary market force rather than fight, or worse, ignore it.
We've had a bit over a year since the crisis became recognized in December of 2009, after Dubai's debt troubles awoke the financial media to the brewing threat of sovereign debt default in the Eurozone, and worse, the threat it posed to the stability of the EU banking system that holds most of those bonds.
We've had enough time to see a tentative pattern of behavior develop among EU and global leaders. Understand that pattern and you've a much better chance of anticipating how they will respond at each stage of the EPC, and you can adjust your trading accordingly. At a minimum, you can avoid buying at market tops and selling at bottoms.
The 7 Stages of the Eu Panic Cycle (EPC)
For the sake of brevity and clarity, I've oversimplified the pattern somewhat and omitted chart illustrations.
Stage 1, Calm: No Problems in the Near Term at Least
There is a period of calm if there is no immediate (a few weeks or months) threat of a sovereign default, as markets think mostly in the short term.
If the last panic phase was recent and the EURUSD is thus near annual lows, the Euro (EUR) rises as traders play the 'oversold' bounce. If risk assets like stocks are rising, that fuels the EUR's rise because traders prefer it over the USD in times of optimism because of its higher short term yield.
Stage 2, Fear: Default Risk Approaches
New bad news emerges that one of the PIIGS is at risk of defaulting on its sovereign debt in the coming weeks or months. Yields on the given nation's bonds start spiking higher, especially if a bond sale is approaching (usually the case). Sometimes it's the spiking yields themselves that spark the initial fear. There is no set order as to which of these comes first. Fear increases, as reflected in a drop in the EUR. If the fear is strong, global stocks, commodities, and other risk assets fall as well.
Relevant national and EU officials deny there is a problem. During the Greek crisis these helped for a while, but the past year has eroded official credibility. The official denials that a problem exists have become less and less energetic as all suspect how the game will repeat itself and don't want to look foolish within a matter of a few days or weeks.
Result: Most risk asset markets drop, safe haven currencies (JPY, USD, and CHF) and their government bonds rise. Readers new to forex please note that the term 'safe-haven currency' does not imply these are actually safer stores of value, rather, it means these currencies tend to rise in times of fear for reasons outside the scope of this article.
Stage 3, Calm: Crisis Solved - An Agreement to Have an Agreement
Leaders reach an agreement to create and fund a rescue plan.
Result: Markets rise, safe haven assets drop.
This is where we are with Ireland, by the way. Bailout details are not complete and we have a new government coming that may well opt for partial (aka, restructure) or complete default. That's why Japanese leaders have vowed to buy up to 20% of bonds sold that are used for an Irish bailout. Ireland may not be a done deal.
Stage 4, Fear: Still No Details or Cash, Next Bond Sale Approaches
As the next bond sale approaches, all realize that there is neither sufficient cash nor details to believe a rescue is ready. Who is obligated to provide the funds? What concessions have the debtors agreed to make?
Meanwhile, that next bond sale is getting closer and no one is sure that it will succeed, risking a default because these bond sales are mostly just to pay off maturing bonds to the banks (mostly EU) that hold them.
This is where we could be heading with Ireland, by the way. Bailout details are not complete and we have a new government coming that may well opt for partial (aka, restructure) or complete default. Whether we get a full blown Stage 4 Fear will depend on whether the new government continues the policy of the prior one and accepts crushing austerity measures in order to pay the banks and help maintain global market stability.
Result: Risk assets drop, safe haven assets rise.
Stage 5: Alternating Hope and Fear
The EU then produces alternating hope and fear depending on the latest news, as assorted parties take negotiating positions and try to please both their international and domestic audiences.
Negotiations And Politics
At this point, stages 3 and 4 may repeat with minor variations, partly as negotiation, partly as politics. These tend to be driven by politicians playing to both domestic and international audiences. Rescue plans entail pain for the voters of both lender and borrower nations.
Leaders of debtor nations threaten to default if rescue plans are too strict. They fear voters will see any agreement to painful spending cuts or EU supervision in exchange for rescue funds as a sellout to the EU or banks, a compromise of national sovereignty. Greece, Ireland, Portugal, and Spain have all struggled to pass austerity budgets. Watch for coming examples of pro-default rhetoric as the Irish hold elections.
Leaders of lender/donor nations fear voters will resent using their hard earned tax dollars to fund undeserving lazy/corrupt/mismanaged debtor nations as irresponsible spending of funds needed at home. As the heads of the primary donor nation, German leaders play this role.
PM Merkel tends to make every effort to resist further disbursements of German funds until she feels that it's clear she has no choice in order to avoid a global crisis that would engulf Germany too.
Thus, German PM Angela Merkel is the classic anti-bailout tease. She'll give it up, but only after playing hard to get and showing she defended her honor before she was forced. The same goes for her colleagues.
For example, as of this writing, the EUR is diving after 5 straight days of climbing due to news that German Finance Minister Wolfgang Schauble (i.e. Germany) opposes additional funds for the EFSF (the EU bailout fund). That will be needed if the EU is to reassure markets that it can handle even the threat of a Spanish default, which is the real concern on everyone's mind. Spain's economy and debt load are more than double the size of Greece, Ireland, and Portugal combined. Without more money in the EFSF, Spain remains a huge question mark hanging over markets.
We don't believe that Stage 6 below will be avoided unless markets believe there is enough cash even for Spain.
Leaders on both sides then strike a more conciliatory tone because they don't want to be accused of causing a possible global economic collapse.
Spin Control
The EUR rose steadily all last week as Portugal and Spain, the nations most likely to require the next bailouts, held relatively successful bond auctions. Most suspect the ECB and China were doing a lot of the buying, but at least appearances have been kept up.
The rise was aided by further spin assistance from:
Dubious hawkish talk from ECB Head Trichet, suggesting that actual EUR rate increases might be coming despite the deterioration in most of the EZ
Some of the EU's biggest suppliers, hoping to keep Europe as a stable export market
Recent comments from China and Japan that they would buy lots of EU bonds to help pay for bailouts
Stage 6: Crisis Level Fear: Default Imminent, Insufficient Cash, Details
That's what we got in the spring of 2010 and what we may yet again see courtesy of impending default from Greece, Ireland, Portugal, Spain, or a combination thereof. Belgium and Hungary have been threatened with credit rating downgrades, which in turn have sent their bond yields higher.
Stage 7: Calm as Details, Cash Emerge
In the spring of 2010, under pressure of crashing markets, even Germany yielded to pressure, with some help from the US via the IMF, and we got our €750 bln bailout fund that was supposed to take care of everyone for the foreseeable future.
Result: Risk assets begin a multi-month rally that continues to this day.
It also returned the EPC back to Stage 1 Calm, sending the EUR on a multi-month rally, aided by USD weakness as markets anticipated QE 2 from Ben (QE isn't technically money printing) Bernanke.
Then Came Ireland, and EPC Stages 2, 3, 4, 5 Followed
As noted above, we are now in stage 5. As of this writing, it's a 'fear' day following German remarks opposing new bailout funds needed to reassure markets that there's even enough cash for Spain.
Of course, it might have helped that the EURUSD was technically at multi-month highs, as shown in the chart below, and thus vulnerable to bad news.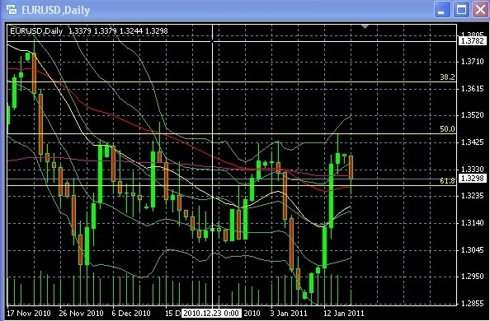 EURUSD DAILY CHART: NOTE HOW THE EURUSD SELLS OFF AT RESISTANCE ZONE AROUND 1.3400
How to Profit From the EPC Trade
Understand that we are now in Stage 5.
That means that the EU Crisis will be producing alternating hope and fear until either one or more of the PIIGS looks like it's getting close to default via a failed bond auction or spiking bond rates and brings us to Stage 6 Crisis Fear, unless perhaps we manage to skip straight to Stage 7 Calm. That could happen if the EU can line up enough cash to reassure markets that it can handle even a Spanish rescue package.
However, given the political nature of the crisis, we would be surprised if we don't hit a Stage 6 Crisis Fear level due to one or more of the following:
German leaders refuse to offer up more taxpayer money and risk their political careers until we get enough Stage 6 Crisis to get their voters' support
Irish elections

inspire fear that Ireland may repudiate some or all of its debt
Default threat from a 3rd party like Portugal or Spain if their yields are high around the time of major bond sales, like those awaiting Spain this coming Spring.
Forex
As the EU crisis plays out strongly with the Euro, and thus the USD, and thus all other major currencies, I treat this market separately. This is a dangerous time to go long or short the EUR unless you are a very short term trader. As noted above, short term traders could attempt EUR short positions or USD long positions once the EUR turns back from key resistance levels.
Other Markets
The EU will provide fluctuating bullish/bearish news until we either get to Stage 6 Crisis Fear or break the pattern and move straight to a resolution that calms debt markets, lowers PIIGS bond rates, and thus defers the EU crisis to a later time.
That's our best case scenario. Currently, there is no compelling reason why we should believe more debt will stabilize nations that can't afford their current debt loads and have no clear path to growth in the foreseeable future as the EU moves to austerity spending.
Note too that risk asset markets remain at multi-year highs, despite rather mixed growth prospects for the global economy.
In sum, follow risk trends higher while they last, but be ready to either go to cash or take positions that benefit from falling risk asset markets.
Beware: EPC Accelerating
Stay alert, as the EPC appears to be repeating faster as more market participants recognize the above patterns. For example, during the early phase of the EU crisis that involved Greece, it took about 4 months for the ECP to play out. For Ireland, stages 2-5 were a matter of weeks (though they may well not be over if coming elections bring in a pro-default/restructure government), as funding countries were quick to push Ireland to take a bailout, as they sought to avoid a market crash in addition to an inevitable bailout. We are seeing a similar response to Portugal, with funding nations quick to push for a bailout and at least avoid panic.
Disclosure: Author is short the EUR, long the CAD, AUD and USD. He is long selected equities held as long term income/growth investments. Short the overall stock market for his personal portfolio. The above is for informational purposes only and not to be construed as specific trading advice. Responsibility for trade decisions is solely with the reader.