Oaktree Capital Group (NYSE:OAK), a Los Angeles-based private investment firm, is betting against the U.S. economy and preparing for the next market downturn.
Oaktree invests in bargain priced distressed debts, including shipping debt, corporate bonds and bank loans. John Frank, managing principal of Oaktree, has stated they have no indication of what may cause the next downturn or when it will occur, but they are preparing for market changes.
The firm is currently seeking $10 billion for the Oaktree Opportunities Fund X, which will invest in corporate debt, as well as real estate, power plants and shipping. Oaktree is wagering the economy will slow down, allowing them to purchase debt at a less expensive price. Of the $10 billion Oaktree is seeking, $3 billion will be invested immediately and $7 billion will be set aside for investment opportunities as they appear.
Risky Bets Given Fed's Current Policy
Oaktree's bets against the U.S. markets are risky, as the U.S. Federal Reserve continues to hold interest rates at a near zero level. According to the Federal Reserve, declining unemployment rates indicate a slight increase in the U.S. economy; however, reports state that under utilized labor resources may misrepresent these rates. Near zero interest rates have helped to stabilize inflation rates and keep them at or below the Federal Reserve's goal of two percent. The Fed has stated that economic conditions may necessitate the need to maintain the current federal funds rate even as unemployment and inflation uphold mandate-consistent levels.
Corporate Defaults Low, Confidence Generally High After Market Collapse
In a time when global corporate defaults remain low from their peak in 2009, Oaktree still expects the U.S. economy to trend downward, according to Moody's Investors Service. Over the past four years, global default rates have remained steady and well below their 2009 peak rates, boosting confidence in corporate bonds, according to Market Realist. These lower than normal global default rates are causing more investors to look toward high yield bonds instead of low yield Treasuries and investment-grade bonds. Continuing to find bargain priced debt when global default rates are at their lowest point may prove to be challenging for Oaktree.
Poor Quarterly Results
Similar distressed debt funds have struggled to make a profit. Oaktree reported a 40 percent decrease in adjusted net income in the first half of 2014 over the same period in 2013. Additionally, Oaktree reported a 55 percent drop in second-quarter earnings over the second quarter last year, stating it received lower profits from the funds it manages.
Managing principal John Frank stated in a Bloomberg Briefs Hedge Fund report that the firm expected a flood of European loan default opportunities to invest in, but they have not yet materialized. Frank reported that the firm set aside $10.2 billion for these European defaults. A Wall Street Journal report earlier this year highlighted increased demand from hedge funds and private-equity investors for troubled European debt, causing a surge in sales and prices to increase.
Investors Should Treat OAK With Caution
Despite a slight rally from October 2013 to March 2014, Oaktree's stock price is just under where it traded one year ago. The stock price was $50.22 on August 29, 2014 and $51.83 on September 4, 2013 while the 52 week range is $47.36 to $62.30. Three-month performance charts show the firm trading in a flat line trend with a high of $51.98. The stock has fallen 14 percent this year.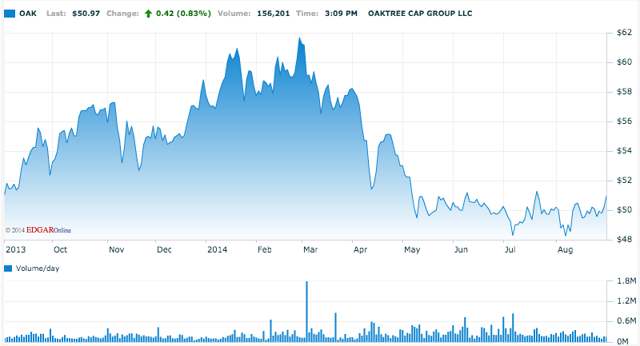 Click to enlarge
(Nasdaq.com)
Excluding its recent poor earnings results, OAK has proved relatively steady, beating analyst estimates for earnings the past four quarters and revenues estimates the past two. OAK has a very reasonable price-to-earnings ratio of ~10.5, a market capitalization of a healthy ~$7.7 billion and a dividend indicated gross yield of 4.32%.
Still, investors should treat the stock with caution, given its current performance YTD, poor earnings and very risky bet ahead.
We encourage readers wishing to join the discussion on Oaktree Capital to click +FOLLOW above the title of this article - and those wishing for the latest updates to click +Get real-time alerts.
Disclosure: The author has no positions in any stocks mentioned, and no plans to initiate any positions within the next 72 hours.
The author wrote this article themselves, and it expresses their own opinions. The author is not receiving compensation for it (other than from Seeking Alpha). The author has no business relationship with any company whose stock is mentioned in this article.