Tech bellwether International Business Machines Corp. (IBM) is scheduled to report its fourth quarter 2010 results after market closes on January 18. Historically, the company's earnings have consistently surpassed the Zacks Consensus Estimate. Notably, IBM has been raising its guidance for almost every quarter over the last three years.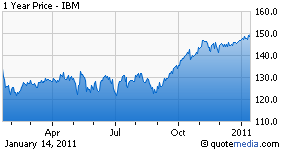 We expect the company to post yet another better-than-expected quarter with year-over-year growth in revenue, margins and profitability. The Zacks Consensus Estimate for the fourth quarter is pegged at $4.08 per share, which represents a growth of 13.6% from $3.59 in the year-ago quarter.
IBM beat the Zacks Consensus Estimates in each of the last four quarters and posted an average surprise of 2.2% in the trailing four quarters.
Agreement of Analysts
In the run-up to the earnings release, only 1 of the 22 analysts covering the stock has raised the estimate for fiscal 2010 in the last 30 days. There was no revision in estimates for the fourth quarter in the last 30 days. No downward revisions were witnessed in the same period.
However, a positive sentiment is palpable among the analysts, who remain optimistic about IBM's performance. As a result, the Zacks Consensus Estimates have been upward bound with the analysts increasing their estimates in the last 90 days (since the company reported third quarter results). A pickup in IT spending, improvement in demand, operating leverage, growth in the Hardware segment and shift to a more profitable services/software business have led to the revision.
During the third quarter 2010 earnings call, IBM raised its earnings forecast for fiscal 2010, the fifth time in a row, to at least $11.40 per share from the previously projected $11.25 per share. Currently, the Zacks Consensus Estimate is pegged at $4.08 per share for the fourth quarter of 2010 and $11.44 per share for the full year, ahead of management's expectation.
Magnitude of Estimate Revisions
For the fourth quarter and full year, analysts' estimates remained unchanged in the last 30 days.
However, estimates for the fourth quarter and fiscal 2010 increased significantly in the last 90 days. Fourth quarter and 2010 earnings per share (EPS) estimate were raised a respective 9 cents to $4.08 and 16 cents to $11.44. Also, the estimate for fiscal 2011 was moved up from $12.40 per share, up 21 cents. Thus, revision trends and the magnitude of such revisions indicate optimism on the stock.
Last Quarter Highlights
Third-quarter 2010 earnings of IBM surpassed the Zacks Consensus Estimate of $2.75 per share by 7 cents. Net profit improved 11.7% year over year to $3.59 billion, while EPS rose 17.5% to $2.82. This compares with a profit of $3.21 billion or $2.40 per share in the year-ago quarter. Net margin upped 120 basis points year over year to 14.8%.
The company cited that it has posted EPS growth in the last 31 consecutive quarters with double-digit growth in 13 of the last 15 quarters.
Total revenue in the quarter was $24.3 billion, slightly above the Zacks Consensus Estimate of $24.1 billion. Revenues were up 3.0% (up 4% when adjusted for currency) from the year-ago quarter. Overall, Services, Software and Systems and Technology segments generated higher revenues, while Financing revenue fell from the year-ago quarter.
Signed services contracts (accounting nearly 60% of total revenue) dropped 7% year over year to $11.0 billion. The analysts had been expecting signings of more than $12 billion in the quarter.
Long-Term Positives
We remain optimistic on the company's long-term growth and expect it to post stronger results, driven by its growing initiatives in smarter planet, business analytics and optimization, and cloud computing.
Management expects to achieve earnings of more than $20 per share by the end of 2015 with strong revenue growth, operating leverage and geographical expansion. IBM plans to spend approximately $20.0 billion in acquisitions over the next 5 years, contributing 90 cents in EPS each year. With $14.0 billion in cash and marketable securities, impressive free cash flow, aggressive share repurchase and an increase in the quarterly cash dividend, IBM is a long-term value stock for investors.
Recommendation
We are positive on IBM's strong earnings growth potential, margin expansion, strong free cash flow, operational efficiency, growing high margin software and services business, recovery in hardware business, increased acquisition, robust product pipeline and improved sales in emerging and growth markets.
Currency fluctuations, European weakness, increasing competition from small players in outsourcing, decreased service contract signings and slower-than-expected IT spending growth are some of the headwinds. IBM competes against Oracle Corp. (ORCL) and Hewlett Packard Co.(HPQ). We have a long-term Neutral recommendation on the stock.
Investors have raised the stock before the quarterly report to $150.00, which is approximately 9% up from the third quarter earnings call.
With an increase in the number of upward estimate revisions, following the earnings release, we believe that the share price could go up. IBM is currently rated as a Zacks #2 Rank (short-term Buy) stock.