When Apple (NASDAQ:AAPL) reports its fiscal Q1 2011 earnings report Tuesday afternoon the huge story for investors, analysts and the press will undoubtedly be the gigantic $2 billion top-line beat on expectations. This will prove once again how analysts continue to underestimate just how explosive Apple's growth really is. Expect to see a ton of $450+ price target raises on Wednesday morning as analysts scramble to play catch-up.
Wall street Analysts polled by Thomson Reuters expect Apple to post $5.38 in earnings per share (EPS) on approximately $24.38 billion in revenue. Yet, bloggers and unaffiliated analysts who tend to almost always outperform wall street analysts are looking for significantly stronger numbers out of the company. The spread between analysts and bloggers isn't always necessarily very wide, but when it is, Apple tends to smash all expectations.
Bloggers are looking for Apple to post $6.32 in earnings per share (EPS) on approximately $26.4 billion in revenue. This, according to a poll recently taken by Philip Elmer-DeWitt at Fortune. As anyone can see, the bloggers are looking for Apple to beat on the top-line by over $2 billion.
Click to enlarge: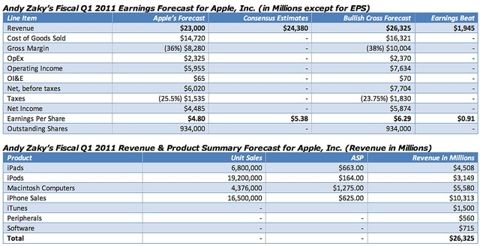 Click to enlarge
Now while I don't doubt this report is likely to be well received by investors and Apple will probably pop on the report in after-hours, I think the stock will probably sell-off a bit within a day or two after its earnings report. It has tended to be almost always prudent to take profits whenever Apple has run-up big ahead of its earnings report and then gaps-up big the following trading session. The tendency has been to see Apple trade sideways to down from either its opening price after earnings or the following few trading session. The chart below shows how Apple has tended trade following its earnings releases.
Click to enlarge: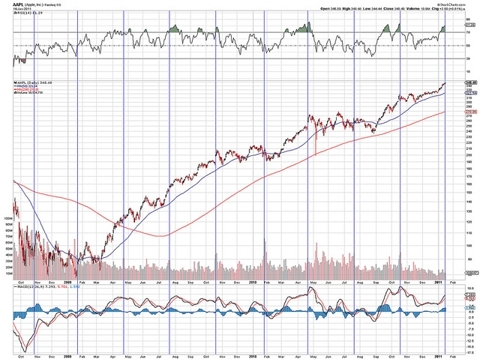 Click to enlarge

Also, the broader market is extremely over-extended and it is now getting increasingly likely that we'll see a 10% or so correction within the next few weeks. Whenever the S&P 500 trades 10% above its 200-day moving average, the broader market tends to see some sort of a pull-back which might present opportunities for those waiting to jump into Apple.
For those who wish to take advantage of hedging strategies or reduce earnings volatility, please refer to my article on how to protect Apple profits ahead of its earnings releases.
Disclosure: No position in Apple.