Back in December I read a Reuter's piece via the Grey Lady that furthers my thesis of how demographics are changing living conditions, the social fabric and driving business in China.
Take a fast-emerging middle class with money to spend. Add improving transport links. Mix in with fewer travel curbs and favorable official policies. The result? A boom in domestic and outbound Chinese tourism. The same holds true for Asia as a whole.
As the demographics of the country change, so are the patterns of its people. The Middle Kingdom's growing population is actually occupying less of its land via its migration to cities and suburbs. This concentration of people presents challenges for infrastructure, transportation, healthcare to mention a few areas of investment potential, and it also presents investment opportunities in the consumer sector. As a nation urbanizes and suburbanizes, it is usually a sign of wealth accumulation and a rise in incomes. Living in closer proximity to one another, along with the cash to "get away", causes an effect we in the US call vacation (as opposed to the more recent stay-cation recession trend).
"Chinese consumers are finding it a lot more interesting to travel. They're finding it a lot easier. The yuan is expected to rise in value. Visa restrictions are diminishing every day, and the government is pretty keen on pushing people to travel, at least domestically," he said.

On average, China's 1.3 billion people each take just 1.3 trips a year. By 2015 the figure is projected to rise to 3.3. The World Travel and Tourism Council expects the sector in China to expand by an inflation-adjusted 9 percent a year between 2010 and 2020, the fastest rate in the world.

China will implement a "national tourism plan" in the next five years that will mark the start of a "huge acceleration towards becoming a leisure society," Mr. Zhu said last week.
The numbers are huge, as one would expect with such a large population, and such major changes occurring on an accelerating basis.
In the US, we have successful business models in travel, from agent networks to the rise of online travel sites such as Expedia (NASDAQ:EXPE), which has grown to a market cap over $7.5 billion. In China, travel is a highly fragmented industry with one major online play already a midcap stock and a highly liquid ADR trading in the US, Ctrip.com International, Ltd. (NasdaqGS: CTRP). With a market growing at 9%/year, travel growth in China is indeed a gold rush.
A large share of China's tourist spending is already flowing beyond China's borders. Mainland Chinese made 47 million trips overseas in 2009, a figure that is expected to rise to 54 million this year. By 2015, the government expects 100 million people to venture abroad, making China the world's biggest outbound tourism market. HSBC, benchmarking China against the experience of Japan and South Korea, estimates that the figure could reach 130 million.

Spending by Chinese overseas travelers would grow to more than $110 billion a year from $43 billion, of which $80 billion to $100 billion would be spent within Asia, the bank said.
The industry has been recently opened to non-Chinese companies, but CTRP has clearly gotten a major head start and has established its brand. Revenue on a trailing 12 month basis has crossed the $400 million mark with 48.9% top line growth this past quarter year-over-year. Sales are such a small percentage of the current market and based on travel market estimates, continued rapid growth is expected. Much of this assumed growth is already priced into the stock. The market is uneasy about firm-specific rapid growth, both in managing rapid growth and the threat of larger competitors emerging from outside the country and if industry consolidation creates a larger, deeper pocketed rival.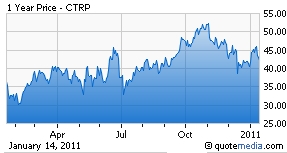 Operating margins best even Expedia's on a trailing 12 month basis at 35.76%. This reflects the firm's ability to profitably begin to scale its business. Unlike its materially smaller rivals, CTRP already has enough core business to have built an infrastructure and to continue to invest in its future, all while posting real EPS.
Fighting demographics is futile. The question of market timing and desired holding period immediately comes to mind to determine if right now is a good time to enter this stock. Additionally, the stock comes with a buyer beware sign on it for US investors in the form of a beta of 1.71 when compared to the S&P 500. This reflects that the stock price moves with currency fluctuations, the China equity market, multinational events such as Google (NASDAQ:GOOG) entering the online travel market through acquisition (or now, perhaps not), as well as by its own performance.
Last year, up until early November, this stock was a big winner when compared to US Consumer Discretionary stocks. It has tanked comparatively since. So far this year it is outpacing the broad US market and its sector, but with its usual volatility.
There are many factors to owning this stock. I have owned it for quite some time and have traded around the position, trimming and adding frequently to lock in gains and set up opportunity. Assuming demographic trends continue and the market for Chinese travel grows anywhere near estimates, this could be an outstanding year.
Disclosure: Mr. Corn is Chief Investment Officer of E5A Funds LLC. Through various strategies under his supervision he is currently long CTRP and GOOG.