P.T. Telekomunikasi Indonesia Tbk. (NYSE:TLK), the largest telecom operator in Indonesia, recently raised its expected subscriber addition for its wireless segment. Telekomunikasi is now anticipating its wireless subscriber base to reach 115 million in 2011. This indicates a year-over-year growth of over 22%, much higher than the company's earlier projection of 10%-12%. The company has given a preliminary estimation of 94 million wireless subscribers at the end of 2010, implying a net addition of around 1 million wireless customers during the fourth quarter of 2010.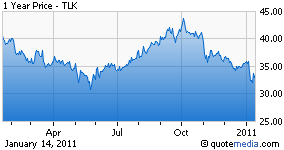 The Indonesian wireless services market is quickly maturing as several operators are offering more or less similar services. Telekomunikasi forecasts that its fiscal 2010 revenues will decline by 4-6% year over year (fourth quarter 2010 financial results are yet to be declared). Management cited declining growth of its wireless revenue as the primary reason for this downward revision. However, in its recent outlook, Telekomunikasi looks much comfortable with its wireless businesses projecting a 10% year-over-year growth in revenue in 2011.
Deregulation of the telecom segment by the Indonesian Government has enabled several competitors to provide similar services at a lower cost to subscribers. Indonesia's wireless service providers recently slashed prices in order to boost market share. As a result, ARPU (average revenue per user) reduced across the industry. The major competitors of Telekomunikasi are P.T. Indosat Tbk (IIT) and P.T. Excelcomindo Pratama.
To counter the growing internal threat, Telekomunikasi has taken the strategic move to expand globally as it may generate growth at its top line. On December 15, the company announced that it will acquire the majority stake of CamGSM, the largest wireless operator in Cambodia, for a financial consideration of over $500 million. However, industry sources disclosed that France Telecom S.A. (FTE) is also a contender for a majority stake in CamGSM.
We maintain our long-term Neutral recommendation for Telekomunikasi. Currently it is a short-term Zacks #3 Rank (Hold) stock.