Given ImageWare Systems' (OTCQB:IWSY) 40% rally over the last month or so, it's only a matter of time before the shorts attack.
In fact, Seeking Alpha contributor, Small Cap Machine, already telegraphed his intentions in a comment to one of my previous articles.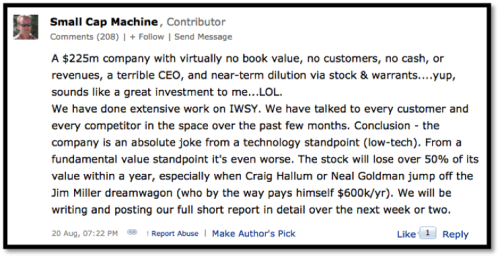 Instead of waiting for it to hit, let's go ahead and address the key points the shorts are going to raise.
As you'll see, some hold merit, while others are downright laughable.
Short Thesis #1: ImageWare is (Way) Overvalued
Shorts are going to try to make the case that ImageWare is trading at an absurd valuation. Unfortunately for them, disruptive technology stocks don't trade based on traditional valuation metrics.
I learned this lesson the hard way with Tesla (NASDAQ:TSLA). On national television, no less.
During a CNBC appearance last December, I thought I sounded smart and perfectly reasonable when I talked about Tesla's absurd valuation on a fundamental basis. But guess what? The stock's nearly doubled since that time, rendering me a fool.
Lesson learned. Disruptive technology stocks don't play by Benjamin Graham's rules. Book value. Price-to-sales and price-to-earnings ratios. None of them matter.
Instead, disruptive technology companies trade based upon a derivative of the total addressable market and the company's potential to penetrate it.
Higher value is also assigned for companies with strong patent protection (i.e. a defensible competitive advantage).
How do investors justify these disconnects from fundamental valuation techniques? It's simple, really.
Over time, they expect disruptive technology companies to grow into their valuations, as the market potential is realized in the form of increasing sales and profits.
That's precisely what's happening with ImageWare right now…
Investors see a company that addresses a biometric market projected to be worth $27.5 billion by 2019. They see a multi-modal, anonymous matching approach to biometric authentication that's novel and protected by patents. And with commercial adoption gaining traction, they're bidding up shares based upon the long-term potential for ImageWare's technology, and it's high-margin (70%), recurring revenue business.
All that being said, I'll be the first to concede, one deal won't be enough. Even after I update my calculations from Wednesday to take into account Lake Street Capital's more aggressive estimates.
You'll recall, I assumed an upfront fee of $0.50 per user and a recurring monthly fee of $0.25 per user. Well, Lake Street believes the company's more likely to get $0.50 upfront and ongoing.
When it comes to the large international retailer, believed to be Wal-Mart (NYSE:WMT), Lake Street estimates ImageWare could get as much as $6 to $7 per user upfront and $0.60 to $0.70 ongoing. That seems rich to me.
Regardless, ImageWare still needs to land additional contracts to build a foundation of recurring revenue for shares to continue advancing.
The good news is ImageWare's relationship with Fujitsu keeps getting it in front of large accounts. Three pilots that are underway, thanks to Fujitsu.
At the same time, ImageWare's relationship with T-Systems is also bearing fruit. Revenue generating deals are expected in the third and fourth quarters.
As Lake Street rightly points out, the initial rollout with Deutsche Bahn calls for 12,000 users. But it could eventually rollout to 300,000 users. Lake Street believes the economics could be "richer" than the terms with the retailer, too.
Time will tell, of course. The sooner ImageWare can sign definitive agreements, the better.
Short Thesis #2: No True Innovation
When it comes to disruptive technology companies, shorts love to sing the same refrain - "The technology isn't anything special."
True to form, Small Cap Machine says, "The company is an absolute joke from a technology standpoint (low-tech)."
Saying ImageWare's solution is low-tech insinuates a trio of multi-billion dollar corporations (Fujitsu, T-Systems and IBM) either don't do any due diligence before entering partnerships. Or they don't have a clue how to distinguish between low-tech and high-tech solutions.
Fujitsu must be the most clueless of them all, seeing that it established a dedicated sales force to sell the ImageWare-powered solution.
I'm sorry. But third-party validation is a critical milestone for disruptive technology companies. ImageWare hit it three times. I'd trust the collective expertise of its partners over Small Cap Machine's or my assessments.
As far as referring to competitors badmouthing ImageWare, what do you expect? They're going to admit that a competitor offers a superior technology?
Silly Rabbit! Basing investment decisions on such subjective "data" smacks of confirmatory bias.
Short Thesis #3: Management is Incompetent
Criticizing CEO Jim Miller's leadership is fair, given his track record of over-promising and under-delivering. But this is a horse more than a jockey story.
It's about the technology. Specifically, a multi-modal biometric authentication engine.
A recent patent application reveals even Apple (NASDAQ:AAPL) understands the need for multi-modal biometrics (h/t Patently Apple).
As I've said from the beginning, ImageWare's in the right place, at the right time, with the right technology.
Or as Lake Street put it:
[ImageWare] benefits from the perfect storm coming in the biometrics space: the emerging integration of biometric solutions in the consumer electronics market combined with an increased focus on preventing consumer fraud.
Let's be fair, too. If Miller's able to string together several more deals, his sins of being overly optimistic will quickly be forgiven by investors. And rightfully so.
Short Thesis #4: Dilution is Coming! Dilution is Coming!
I'll agree wholeheartedly with the shorts here. Despite Miller's insistence to the contrary:
Based upon both current and projected cash levels, our anticipated new contracts as well as the line of credit, we do not expect to require any incremental equity capital to fund our current operations at this time.
The company does, however, have ambitions to uplist to the Nasdaq. And that's not possible unless ImageWare increases shareholder's equity by another $1 million.
With 93 million shares outstanding already, what's another two to three million, right?
In all seriousness, extra cash on the balance sheet improves ImageWare's negotiating position. Plus, it enables an uplisting.
On the heels of another deal announcement and share price rally, I'd be surprised if management doesn't do a raise. The timing of the Lake Street initiation only adds to my conviction here.
It's a sad, but true Wall Street reality - coverage often comes as a means of currying favor for investment banking business.
Bottom Line: Expect volatility, as bears muster up their best reasons to short ImageWare.
As long as the company continues to convert its pipeline into multi-year paying customers, though, they're destined to learn the hard way. Just like I did with Tesla. It's a bad idea to short disruptive technology stocks.
That lesson could come quickly, too, as ImageWare's presentation on September 4 at the 2014 Gateway Conference could include meaningful business updates since the last conference call on August 11.
Disclosure: The author has no positions in any stocks mentioned, and no plans to initiate any positions within the next 72 hours.
The author wrote this article themselves, and it expresses their own opinions. The author is not receiving compensation for it. The author has no business relationship with any company whose stock is mentioned in this article.
Editor's Note: This article discusses one or more securities that do not trade on a major U.S. exchange. Please be aware of the risks associated with these stocks.