By now, I will make a bold assumption that most of the more than 11,000 followers of Regarded Solutions know my strategy for building a retirement portfolio for a more secure financial future. Our latest one, the Buy The Dips Portfolio, is just five months old now and is still exceeding the S&P 500 for the entire year of 2014.
One of the most often-asked questions I get from followers as well as subscribers is: "Is now is a good time to invest in the market when it has had such a strong run from its lows?" The answer for my own money is, why should I wait any longer to put my dollars to work?
As you probably are aware, creating an income stream for and during retirement is my personal goal. The very first step that any investor MUST take is to define precisely why they are investing in stocks to begin with. There are literally thousands of truly wonderful companies to choose from and to follow on a regular basis, but if you have no clear, decisive goal, you are investing in a vacuum, without knowing why, aside from wanting to make more money.
This sort of approach can and will give investors several issues to struggle with:
Is the price too high to buy a stock?
How should I select stocks for a portfolio in the first place?
Should I try timing the market with technical analysis to have some sort of clue as to when and if I should buy anything?
I am afraid that the market is too high, so should I just stay in cash until another big drop?
These are hurdles that can easily be jumped over by knowing why you are investing in the first place. For our own purposes, I will offer one type of investor who has not acted, until now.
The Profile Of A New Investor For Retirement At Today's Market Levels
Let's assume a couple, both working, earning a decent living, in their 40s and have decided to invest right now, today.
There is a time horizon of about 25 years until Social Security benefits will pay in full for each.
The couple has amassed a savings of $200,000 by diligently setting aside as much money as they could for as long as they have had a steady income.
The total combined income of this couple is roughly $90,000 annually and both are in secure positions for the moment.
The couple has decided that they will require an income of at least $50,000 annually during retirement to maintain a good lifestyle.
I realize this is a very broad picture, and there will be many variations of them, but the one thing that binds this type of investor together with all of the others hoping to achieve the same ultimate goal is income.
Income to pay expenses during retirement is perhaps the single biggest dilemma of any investor who seeks a more secure financial future. How can income be generated? Are the risks worth the rewards? Will I be able to actually do this?
Some folks will come to the conclusion that they cannot take on this task without professional help, while others will seek out annuities, which offer a "guarantee" of monthly income for as long as you live. Others will come to the realization that building a portfolio of mega-cap dividend-paying blue chip stocks with a history of raising dividends annually is not as difficult a task as they might have thought.
Keeping It Simple, Let's Build A Portfolio At Today's Prices
The first action I will take is to divide the $200,000 into two equal parts. One will be for investing, the other will be for emergencies and dry powder (buying the dips). My new portfolio will be built using $100,000.
My selection of stocks will fit the following criteria:
The company is a mega-cap, blue chip, brand-name enterprise.
The company will have a record of paying dividends and increasing them regularly for at least 5 consecutive years, however, there are some stocks that will be included that offer the potential of becoming a dividend champion, or are dividend "opportunity" stocks with higher yields.
Allocations will be combined with diversification to reduce some risk, of which there are many when owning stocks, even with best of the best.
I will rebalance the portfolio to stay within my conservative allocations and will add a stock from time to time by selling shares of some and immediately redeploying the cash into a new stock that meets the above criteria.
Keep in mind that I am hoping to create an income stream to support my future financial needs when I decide I have had enough of the "rat race."
Stock selection: While these are my own personal favorites, there are many others that have been consistent in offering what we are seeking; income that continues to grow each year.
Exxon Mobil (NYSE:XOM)
Current yield: 2.85%
Paid and increased dividends for 31 consecutive years.
The second largest public company on the planet with an enterprise value of $436 billion.
A payout ratio of 33%.
Johnson & Johnson (NYSE:JNJ)
Current yield: 2.83%
Paid and increased dividends for 51 consecutive years.
An enterprise value of $280 billion.
A payout ratio of 50%.
Coca Cola (NYSE:KO)
Current yield: 3.15%
Paid and increased dividends for 51 consecutive years.
An enterprise value of $200 billion.
A payout ratio of 63%.
Procter & Gamble (NYSE:PG)
Current yield: 3.21%
Paid and increased dividends for 51 consecutive years.
An enterprise value of $251 billion.
A payout ratio of 61%.
AT&T (NYSE:T)
Current yield: 5.24%
Paid and increased dividends for 30 consecutive years.
An enterprise value of $255 billion.
A payout ratio of 54%.
Chevron (NYSE:CVX)
Current yield: 3.32%
Paid and increased dividends for 26 consecutive years.
An enterprise value of $255 billion.
A payout ratio of 39%.
McDonald's (NYSE:MCD)
Current yield: 3.50%
Paid and increased dividends for 37 consecutive years.
An enterprise value of $105 billion.
A payout ratio of 58%.
Walgreen (WAG)
Current yield: 1.75%
Paid and increased dividends for 38 consecutive years.
An enterprise value of $60 billion.
A payout ratio of 43%.
Apple (NASDAQ:AAPL)
Current yield of 2.10%
Paid and increased dividends for only 3 consecutive years, but I believe will eventually become a dividend aristocrat.
The largest public company on Earth with an enterprise value of $607 billion and market cap of $650 billion.
A payout ratio of 27%.
General Electric (NYSE:GE)
Current Yield: 3.55%
Was once a dividend aristocrat, and I believe will be one again. It has paid and increased dividends for 6 consecutive years.
An enterprise value of $627 billion, less than half of its market cap as of now.
A payout ratio of 67%.
There you have it... a 10-stock portfolio to begin with an investment of $100k and dry powder of $100k to add dividend opportunity stocks, or other dividend aristocrat stocks, or more shares of the same stocks on dips.
Here is our first basic chart of our new beginner's portfolio in a "frothy" market. As a matter of fact, let's call it the Frothy Market Beginner's Portfolio, or FMBP: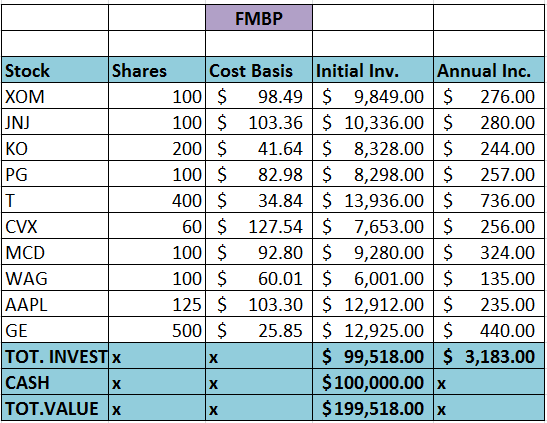 Our opening yield on cost is a conservative 3.20% with a starting annual income stream of $3,183 at a total cost of $99.5k as of the closing prices of each stock on 9/2/2014.
The portfolio is fairly allocated with between 6%-13% in each stock, well-diversified in huge mega-cap global public companies, with enormous amounts of cash on hand, and unequalled name brand recognition.
Given our hypothetical couple's time horizon, the annual rate of dividend growth alone (historical average for dividend champions has been over 4% per year) over 20 years will nearly quadruple the annual income to roughly $12,000.
Social security should offer a benefit of approximately $19k per person, or $38k total. The initial goal of an income of $50,000 has already been met (based on assumptions). I obviously have not even begun to tweak and manage the portfolio, and by doing so, you might be able to see exponential growth in total value and income beyond these very basic numbers.
I Can Choose Higher-Yielding Stocks, But Not Yet
The foundation, or core of this portfolio is all about the most stable companies with less risk and the most reliable income stream, while we also keep up with the historical average of 3% inflation.
While we are not seeing that inflation rate right now, I believe the rate will return to its historical mean, and if we did NOT begin a portfolio right now, today, this is what happens to sitting on cash: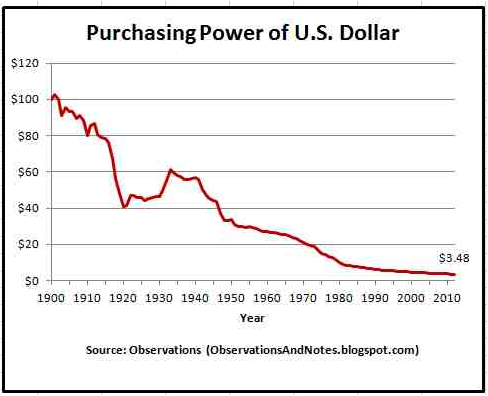 By putting money to work, right now, your purchasing power will at the very least keep up with inflation. Looking at it from a different perspective, at various inflation levels over time, here is what $100 might be worth 50 years from now: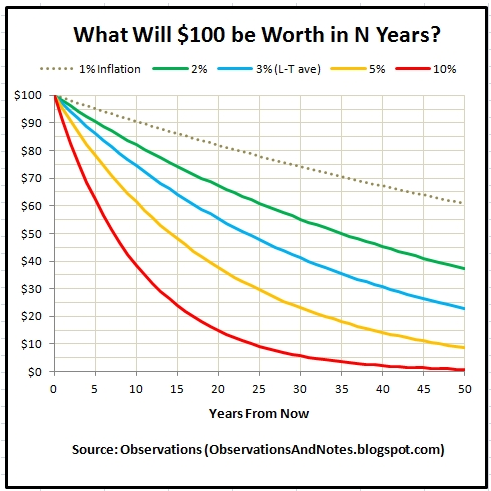 While we all want to pay the lowest possible price for any stock, the effects of inflation over the short-, intermediate- and longer-term are more devastating than paying a few dollars more for any particular stock in today's dollar.
Our very first step with this FMBP is to put our hard-earned savings to work now, in order to have a more secure financial future.
Once We Settle In With Our New Portfolio, I Will Add My Ultimate Format
Keep in mind that my buying, adding, or selling strategy will only work effectively with these mega-cap stocks, and selling (or buying) is completely up to you. Use this formula as a guide, not a strict "must do" approach. It has done well for me over the years.
The reason we only apply this strategy to the mega-cap blue chip stocks is simple; historically, the huge companies have always channeled up over the long term.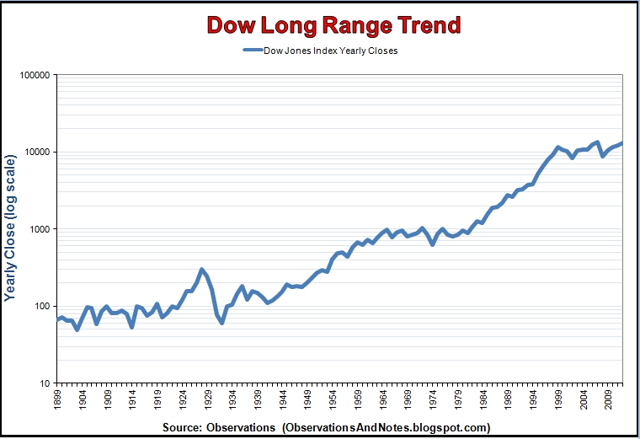 Click to enlarge
Ups and downs of course, but over time, it has always moved up. For me, the mega-cap dividend-paying stocks have proven themselves over and over to perform during any and all economic environments. Obviously NOTHING is risk-free, not even cash in the mattress.
The stocks I have selected for you to consider right now will pay you to own them, give you raises every year, and if managed properly, will afford you the opportunity to fine tune it as you move ahead.
The one question I have is, what are YOU waiting for?
Disclaimer: The opinions of this author are not recommendations to either buy or sell any security. Please remember to do your own research prior to making any investment decision.
Disclosure: The author is long AAPL, CVX, GE, JNJ, KO, MCD, PG, T, WAG, XOM.
The author wrote this article themselves, and it expresses their own opinions. The author is not receiving compensation for it (other than from Seeking Alpha). The author has no business relationship with any company whose stock is mentioned in this article.