The main thrust of this analysis is concentrated in three parts. The first two parts are based on free cash flow (current and historical) and the third is based on historical price action as a gauge of investor sentiment.
The three methods used in this analysis are:
1) Price to Owners Earnings [OE] = Current and future analysis
2) Cumulative Owners Earnings [COE] = Historical analysis of owners earnings
3) Statistical Indicator Analysis [SIA] = Historical price action
For those new to this analysis please link here for an introduction: OE and COE, SIA, CapFlow.
The main goal of my analysis is first to determine a sell price. With that in mind, we attempt to buy the stock at half its sell price and then hold it for 5 years (provided that no macro- economic negative catalysts force us to sell). Due to the fact that we bought it at par, we can potentially achieve an average annualized return of 15% per year. This may enable us to double our money every 5 years. Occasionally we do find a stock that is not selling at par, but is actually selling at a discount. When this happens, gains are usually higher.
Analysis of Merck (MRK)
Last Thursday, I was reading the news on Seeking Alpha and came across the following:
Merck is the Dow's worst performer after announcing that it stopped giving one of its most important experimental drugs, the blood clot preventer Vorapaxar, to patients in one study and to some patients in another late-stage trial. Merck had been testing the drug to see if it was effective in warding off heart attack and stroke.
What happened to Merck last week is more common than you think, as they operate in an industry where scientists wake up and go to work every day trying to find cures for diseases that in most cases have been around as long as humans have walked the earth. Therefore if one is going to invest in this very unique industry, they must understand that days like this are par for the course.
On the other hand, if you view Merck from a historical perspective, you will find that though they are battling everyday against impossible odds, and they are doing an excellent job for their shareholders and for society as well. The industry they operate in is highly complex, so when they get a new drug to market and it is successful, the benefits to shareholders and society are enormous. So as a shareholder in Merck you have to approach the stock with a long term view in mind.
The following is an Owners Earnings (OE) table of Merck from 1973-2010 [click to enlarge]: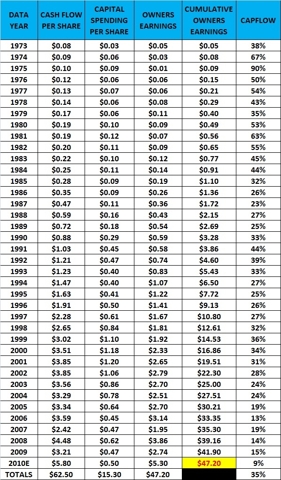 Having data going back to 1973, I can therefore take a very long qualitative view on how well management did in the good times and the not so good times. By doing so we get a clear understanding of the culture that the company operates in and whether the management training/succession program is a good one. From looking at the numbers above, the management training/succession program is a superior one. Why? The first thing to notice is that in all 38 years under analysis, Merck has never had a negative Cash Flow or OE year. Look at the Cumulative Owners Earnings Chart: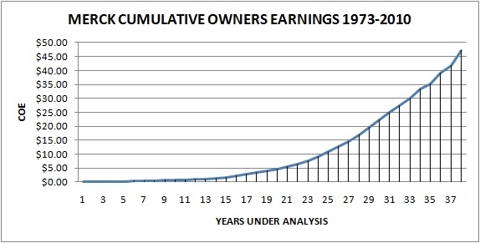 You will notice that MRK's OE generation has been solid and consistent. The real point to watch though is Merck's ability to use its size and take advantage of Economies of Scale (EOS). In this department there are very few companies that can match them. The reason I know that EOS is being used properly is shown in their CapFlow chart below: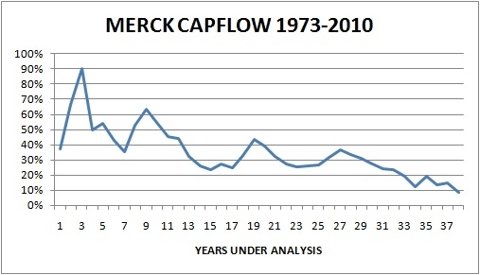 Over the years Merck has become more efficient and in 2010 are expected to have a CapFlow of just 9%. That means that Merck only spends 9% of their cash flow for capital expenditures in order to maintain or grow their business. Growth is measured in Cash Flow as well as OE. But OE is where the rubber hits the road and Merck is estimated to have an OE per share of $5.30 a share. So at Friday's closing price of $34.23 we get a price to OE (P/OE) of $34.69/$5.30 = 6.45, which is an incredibly attractive number. Last week's action fortunately allowed those who do know what a 6.45 number signifies the opportunity to buy more into the selling. So since we like to sell at 30 times our OE per share, we get a sell price of 30 X $5.30 or $159. $159 may seem too high, but remember that Netflix (NFLX) was never expected to reach the levels that it is trading at now (P/OE of 10 at the time) when I wrote this article about it last year.
Now that we have the P/OE let's determine the COE sell price for Merck. I like to sell at 2.0 times COE, so Merck currently has a COE Sell price of 2 X $47.20 = $94.40
We now have two of the three Sell prices we need to determine our Mycroft Research buy and sell price and all we have left is our Statistical Analysis Indicator (SIA) sell price.
Here is the SIA chart for Merck from 1984-2011: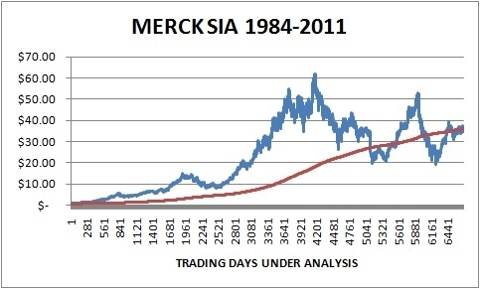 As one can see from the chart above, Merck was untouchable from 1984 to September 30, 2004 (#5,124), when it first broke below its SIA. For two years one had an opportunity to buy Merck at prices from as low as $19.79 to $28.86 when it finally broke above its SIA Redline on March 13, 2006. From there it was a straight shot to $52.68, which would have allowed the investor who accumulated from 2004 to 2006 some 166% from its low in two years. In the crash of 2008 to 2009 Merck fell to a deep discount to SIA of 0.57 and when it got back to 1.0 or par with SIA, that investor would have doubled his money as well. So where are we now in terms of SIA?
Merck's SIA as of Friday is $36.05. Therefore because of Friday's action the stock broke below its SIA and sells at a 4% discount. Since we like to sell at 2.0 times our SIA our Sell price for Merck is 2 X $36.05 = $72.10.
So for Merck we now have three separate sell prices and can now complete our Mycroft Research.
1) P/OE = $159.00 (30 times OE per Share)
2) COE = $94.40 (2 times COE)
3) SIA = $72.10 (2 times SIA)
Total = $325.5/3 = $108.50 = Sell Price
Buy Price = $54.25
Conclusion = MRK is Very Strong Buy
Disclosure: My Clients at Mycroft Research LLC and Geasphere LLC. are long Merck, no position in NFLX