In terms of revenue, US health care is, statistically speaking, the most successful growth industry in the history of human civilization.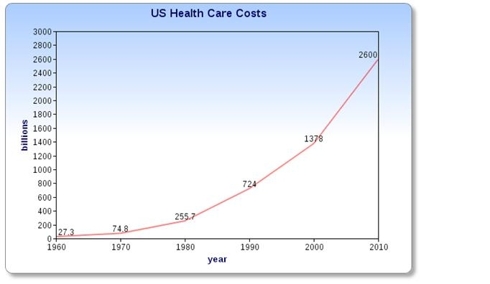 In the last half century this industry has swelled from a mere 5 percent of US GDP to a jaw-dropping 18 percent. And yet, as genuinely phenomenal as this surge has been, it pales in comparison to growth projections recently published by the Congressional Budget Office:
click to enlarge

Why would the CBO, an allegedly respectable entity, predict that health care would eventually account for nearly half of the US economy? How could a single industry grow so unfathomably vast? While it may seem ridiculously far-fetched, it turns out that there are two solid rationales which lend support to this admittedly astounding prediction.
Rationale #1: demographics
So-called "baby boomers," the generation of Americans who were born between 1946 and 1964, are finally reaching retirement age. This means that between now and the year 2020 - for the next 19 years - 10,000 baby boomers will be turning 65 each and every day. This epic demographic shift will double the ranks of the elderly by 2050, at which point 80 million Americans will be over the age of 65. The reason this is a boon for the health care industry should be obvious: as we age, our health deteriorates. For every decade of life after the age of 40, the number of doctor visits roughly doubles. Not to mention the fact that up to a quarter of all health care dollars are spent in the last six months of life, and with 80 million Americans approaching those last six months, revenues are invariably going to soar. Thus, the demographic realignment as the post-war generation retires virtually guarantees that the health care industry will continue to thrive for at least the next half century. It's difficult to imagine a scenario that could possibly avert such an outcome.
Rationale #2: lifestyle
While health naturally wanes to a certain degree as a result of aging, lifestyle can greatly exacerbate this inevitability. Human beings and their ancestral primates evolved over millions of years consuming whatever natural sources of food were available, often in short supply. Modern civilization, however, has dramatically altered this balance, especially in the last century or so. Annual per capita consumption of refined sugar in the US, for example, has increased more than ten-fold in the last century alone. Modern diets consisting of highly refined, industrialized food products which contain extravagant amounts of fat, sugar, protein and a witches' brew of assorted chemicals have resulted in spiraling epidemics of atherosclerosis, diabetes, osteoporosis and cancer. Since the 1970s, approximately 75 percent of all US mortalities have been attributed to chronic degenerative conditions and the emergence of fast food, which has metastasized from a $6 billion industry in 1970 into a $150 billion behemoth today, has arguably launched this trend into the stratosphere. Consider the following chart from the Center for Disease Control and Prevention: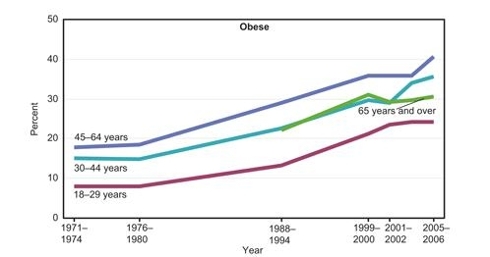 US obesity rates have risen along with the prosperity of the fast food industry, and while adult obesity has nearly tripled since the 1970s, childhood obesity has more than quadrupled. Which begs the question, how much more health care will the nation require to care for what is arguably the unhealthiest generation in US history? For it isn't just senior citizens who are going to stoke the demand for health care in the coming decades - it's virtually all of us.
This much is certain: the cumulative impact of demographics and lifestyle upon the future of the US health care industry will be profound. While politicians and pundits focus their efforts on reforming the supply in the hopes of accommodating the roughly fifty million Americans currently excluded from the system, the demand over the next half century will continue to skyrocket and it is demand, lest we forget, which ultimately begets supply. Thus, given the inevitability of what we've discussed, a single industry swallowing up fifty percent of the entire economy is not necessarily as far-fetched as it might seem. Indeed, the US health care industry is not simply the largest and most profitable industry that any nation in history has yet produced; it is also, quite clearly, the industry of the future.
Which is why a balanced investment portfolio in the US health care sector is perhaps one of the most secure long-term investments one could possibly make. A portfolio emphasizing all facets of the industry - technology, facilities, pharmaceuticals and biotech, insurers, services and personnel, as well as basic suppliers – will almost certainly, given the inevitable rise in demand, generate a respectable rate of return in the coming decades. The following list represents a handful of candidates which might be considered in such a portfolio:
Abbott Laboratories (NYSE:ABT)

Humana Inc. (NYSE:HUM)
Aetna (NYSE:AET)

IMS Health (RX)
Allscripts Healthcare Solutions (NASDAQ:MDRX)
Johnson & Johnson (NYSE:JNJ)
Amgen (NASDAQ:AMGN)

Kaiser Foundation Health Plan
Bristol-Myers Squibb (NYSE:BMY)

Laboratory Corp. of America (NYSE:LH)
Community Health Systems (NYSE:CYH)
McKesson Corporation (NYSE:MCK)
Coventry Health Care

(CVH)

Medco Health Solutions (NYSE:MHS)
DaVita (NYSE:DVA)
Merck (NYSE:MRK)
Eli Lilly (NYSE:LLY)
Pfizer (NYSE:PFE)
Express Scripts, Inc. (NASDAQ:ESRX)
Quest Diagnostics (NYSE:DGX)
Forest Laboratories (NYSE:FRX)
Schering-Plough (SGP)
Genzyme

(GENZ)

SYSCO Corporation (NYSE:SYY)
Gilead Sciences (NASDAQ:GILD)

The Procter & Gamble

Company

(NYSE:PG)

HCA, Inc. (NYSE:HCA)

United Health Group Incorporated (NYSE:UNH)
Health Care Service Corporation (NASDAQ:HCSG)

WellPoint, Inc. (WLP)

Health Management Associates (NYSE:HMA)

Wyeth (WYE)
HealthSpring (NYSE:HS)
Disclosure: I have no positions in any stocks mentioned, and no plans to initiate any positions within the next 72 hours.