Vanguard Natural Resources (NYSE:VNR) has not had a typical 2014. The company has suffered through a few missteps, which have caused the stock to underperform. As shown below, VNR has broken its trendline and is now down 10% since its late July highs.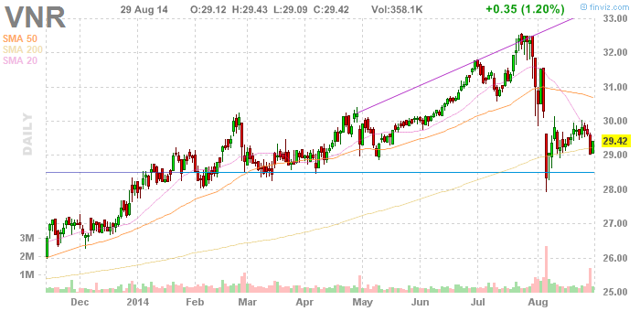 Why is VNR down so much?
To answer this question, we need to look at the most recent quarterly results. As I noted in a recent article, VNR reported a fairly poor quarter. The main criticism analysts had was regarding distributable cash flow, or DCF.
Simply put, VNR's DCF has not lived up to expectations, now seeing three straight quarters of sub-1.00x coverage ratios as shown below: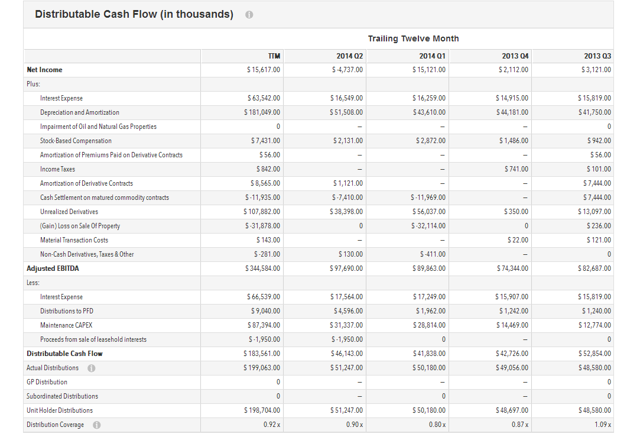 Source: MLPdata.com
What is causing the weak DCF?
There are several factors at play here:
Higher maintenance capital spending
The first and most visible has to do with maintenance capex, which has ballooned higher 113% to $31.3 million in Q2 2014, compared to $14.8 million last year.
Despite the term "maintenance," do note that this capex is not solely for maintaining production. This figure incorporates a substantial growth component (as much as $40 million for the entire year) related to VNR's minority stakes in natural gas properties operated by Ultra Petroleum (UPL) and QEP Resources (NYSE:QEP). As a result, VNR stands to benefit over the next few quarters from small incremental production growth.
Weak NGLs prices
The second and less obvious factor impacting VNR's DCF has to do with natural gas liquids, or simply NGLs.
Here is a little known fact: NGLs are notoriously hard to hedge. The differentials are extremely wide, especially for some of the more remote production areas. Furthermore, certain NGL components, such as ethane and propane, have too much supply and not enough demand. The net effect of this is that the vast majority of VNR's NGL production is un-hedged and is thus subject to large quarter to quarter price swings.
This was what exactly happened during Q2. Realized NGL prices were down a ghastly 30% Q/Q to only $25.49 per BBL, compared to $36.72 per BBL in Q1. By my estimates, VNR likely saw NGL sales decline by at least $8 million, a considerable sum. Total sales (oil, natural gas, NGLs) were only $161.5 million.
The direct impact of these lower sales on DCF is somewhat difficult to calculate. However, my estimates point towards a $3 million to $6 million figure. If VNR would have had this extra DCF in Q2, the coverage ratio would have improved to between 0.96x to 1.01x, compared to the actual 0.90x coverage ratio.
Upside catalysts: Higher NGLs prices and the recent accretive acquisition
I see a few potential upside catalysts for VNR.
NGLs
The first has to do with NGLs. As I noted above, prices for that commodity have been weak. However, there are signs of improvement.
Mont Belvieu propane prices, a good proxy for NGLs, have been stabilizing. This may be a result of increased demand and storage for propane from utilities and other end users as the winter is approaching. As many know, there was a severe shortage in many markets from December 2013 to March 2014 as demand spiked due to an abnormally cold winter.
On a related note, ethane demand might be recovering. In the Houston area, several large projects are being built, which should significantly boost demand for ethane. Indeed, ethane prices in the US are the second cheapest worldwide, only behind the Mideast.
Also on the drawing board are future plans to export ethane. Enterprise Products Partners (NYSE:EPD) is slated to build out a refrigerated ethane export facility in Houston. The facility is expected to begin operations in Q3 2016 and has a capacity to fully refrigerate ethane at approximately 10,000 barrels per hour.
Any meaningful boost to NGLs prices stands to benefit VNR in an outsized manner. As I noted earlier, NGL production is not hedged, so moves in the price go almost entirely to the bottom line.
Hunt acquisition

The second upside catalyst has to do with VNR's $278 million purchase of 17.5 MMCFE/D mostly natural gas production in the North Louisiana and East Texas region from Hunt Oil.
These assets are the typical upstream asset, mature and cash flow rich. The decline rate is low at around 10% per year. Maintenance capex is extremely low as these are truly ancient wells, some going back to the 1940s. Furthermore, VNR could deploy horizontal drilling techniques to boost production in the future.
The company also got these assets at a very low multiple of 5.0x to 6.0x EBITDA. This should result in meaningful amounts of accretion starting in Q3 2014.
How much accretion? Assuming current energy prices hold ($4 natural gas, $96 WTI), this production could add as much as $9 million to $10 million to quarterly revenue. Assuming operating costs and maintenance capex near current levels, this would add anywhere between 2 cents to 2.5 cents to quarterly DCF (8 cents to 10 cents per year). This equates to accretion of 3.4% to 4.3% based on TTM DCF of $2.32 per unit.
Do note that the range for DCF is mostly due to uncertainty as to how VNR plans to fund this acquisition long term. My estimates assume plans for 50/50 debt and equity. I assumed VNR to eventually sell 5.0 million units at $30 each with a 5% discount on the secondary.
Conclusion
VNR really needs to post a good quarterly result or face its current valuation being put under pressure. The company is making the right steps to boost DCF. However, factors outside of its control, such as NGLs prices, may throw a monkey wrench into these plans. That being said, the current 8.60% yield, paid via monthly distributions, does add a measure of stability.
For income investors, VNR seems like a solid choice. I have been adding to my position and expect a rebound to above $30 per unit by year end.
Disclaimer: The opinions in this article are for informational purposes only and should not be construed as a recommendation to buy or sell the stocks mentioned. Please do your own due diligence before making any investment decision.
Disclosure: The author is long VNR.
The author wrote this article themselves, and it expresses their own opinions. The author is not receiving compensation for it (other than from Seeking Alpha). The author has no business relationship with any company whose stock is mentioned in this article.