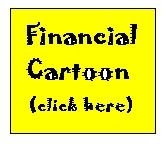 Outlook: Since the beginning of December, the S&P 500 is up 7.2%. Not bad for a 45 day period. Now, if you take that 45 day period and divide it into 365 days it would represent approximately 8 such periods. Now, if you take 7.2%, S&P stock price appreciation for the previous 45 day period, and multiply it by 8 periods you would get an annualized price appreciation of 57.6%. Not likely.
What's the Point? The stock market typically doesn't move in a straight line. It's unlikely we'll get such a price performance out of the equity markets in 2011. So, it is likely we'll see increased market volatility with periods of strong advances only to be followed by periods of retreat.
Looking for an Interim Correction: It likely we'll see a modest correction in the next 45 days following this strong advance as investors are all "on tenterhooks" watching for the next signs of something "unraveling". This could be a muni meltdown, another European sovereign debt crisis or the anticipated Treasury bond bubble fizzle.
Investor Complacency: This is why the current level of investor complacency as measured by the VIX is confounding. The chart below looks at the comparison of the S&P 500 versus the VIX. Most investors are familiar the VIX. It is considered by most investors as the "fear gauge". Simply put, the VIX is a measurement of option premiums and it is inversely correlated with the S&P 500 stock index.
As the accompanying chart notes, a very low level of the VIX can prove to be a contrarian indicator.
click to enlarge images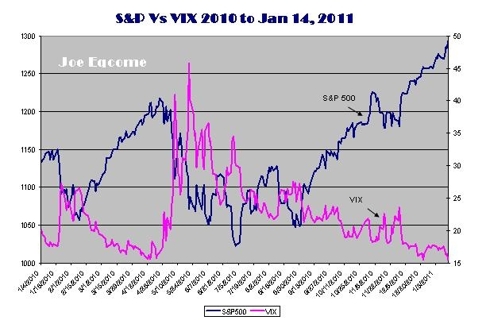 Click to enlarge
The VIX is currently consorting with the level reached in April of last year. This reading of "15" bouncing off the bottom was later followed by a subsequent spike and a concurrent decline in the S&P 500 which lasted into July.
While I remain constructive on equities for the year and have a 16% price appreciation target, investors should prepare themselves for a more volatile equity markets' ride. Traders could consider shorting the market using numerously available inverse ETFs. One single inverse ETF candidate is the ProShares S&P 500 (NYSEARCA:SH). For those looking for an ultra short (2X) there is ProShares UltraShort S&P 500 (NYSEARCA:SDS).
Caution: As always, great caution should be exercised with this type of trading strategy as the call for a broad market correction is speculative and based on a few scraps of conjecture. (See the financial cartoon.)
Money Flow: Mutual Funds: Long-term mutual funds, after two consecutive weeks of aggregate inflows, posted modest outflows of $717 million. For the week ending January 5th investors withdrew $1.8 billion from equity-oriented funds. The bulk of the outflow came from domestic equity funds (-$4.2 billion). This was counterbalanced by foreign equity funds which attracted $2.4 billion.
Muni funds continued to see a continuous, significant outflow of monies for the last five weeks. Cumulatively, investors have pulled $14.6 billion of dollars from muni investments. Taxable bond funds experienced a $2.7 billion increase in assets.
ETFs: At the end of November, the total number of ETFs month-over-month remained unchanged at 489 funds. Year-over-year the number of ETFs increased 9.6% up from 446. ETF assets remained essentially flat in November compared to the previous month at $927.6 billion. However, year over year assets were up 25.6%. ETFs' assets are almost 4 times greater than that of CEFs'—which at the end of the 3Q of 2010 was $243.8 billion.
Money Market: Money market funds declined by $2.18 billion to $2.79 trillion for the week ending Jan 12th. Both institutional and retail investors withdrew money from the muni funds. Retail investors' investment in muni money market funds is $207.2 billion—two-thirds great than that of institutional investors.
DJIA Money Flow: Money flow into the Dow US Total Stock Market Sectors (float) was up 1.83% for the week as of Jan 14th and up 4.38% for the month. The Up/Down Ratio was 1.02% and 0.99%, respectively. The biggest money flow was into Financials, 2.84%; Telecommunication, for the second week in a row, saw an outflow with a decline of 1.35% for the week.
CEF Weekly Review: On average the 13 closed-end fund (CEF) types registered a decline of 0.7% for the week ending 1/14/11. The high-low spread was an unusually large +7.1% versus +2.4% the previous week. On an aggregate, unweighted basis, the weekly average price change for the 500 plus CEFs in the Eqcome database was down 2.2%.
The PowerShares CEF Income Composite (NYSEARCA:PCEF), an ETF that invests in taxable income CEFs, was down 0.5% for the week. The S&P 500 was up 1.7% for the week and 2.8% YTD. The S&P 500's average daily share volume for the week was down 10% to 4.257 billion.
(Click here for YTD CEF Performance. The table is based on a smaller CEF sample size as all the data fields are not available for the CEF universe.)
The Eqcome CEF Fear Index for the week increased slightly. The average price decreased 2.2% while NAV was down 1.9%.
The CBOE Volatility Index (VIX), which typically moves inversely with the stock market—but is mostly a measurement of volatility based on stock options' premiums—continued its slide dropping an additional 9.8% last week to 15.46. (See "Outlook" section above)
CEF Weekly Fund Type Performance: Both state and national muni CEF funds were clearly the biggest drag on the weekly performance of this market sector. Increased "headline risk" may have "spooked" retail investors who make up two-thirds of muni bond investors. The average decline for the state muni funds was 4.6% for the week, while the average decline for national muni funds was down 5.7%. (I cautioned investors in late 2010 regarding signs that CEF muni bond funds looked like they were toppy. (See article entitled, "Are Muni CEFs Rolling Over?" (10/28/10)).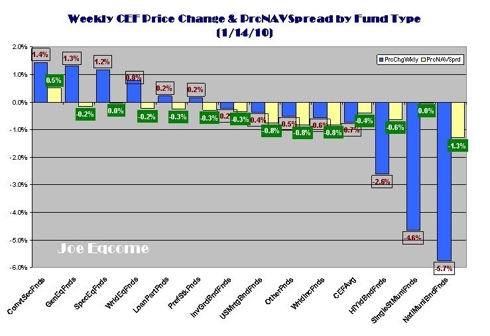 Click to enlarge
Alternatively, equity-oriented CEFs participated in the impressive run for the domestic equity markets. The significant diversify of CEF investment types—small cap equity funds to investment grade debt—make it difficult to think of the CEF market segment in singularity. It is a diverse group of assets sharing the same "wrapper", i.e., closed-end fund structure.
Convertible CEFs led the all categories with a 1.4% share price increase. I don't know if this can be interrupted as investors still wanting to participate in equities but wanting some downside protection of the convertible coupon if there is a market reversal. Price appreciation for this group was fairly diverse so it wasn't just one name "spiking" the average.
Weekly CEF Winners and Losers: One of the CEFs with the greatest positive spreads for the week was Zweig Total Return Fund (NYSE:ZTR). ZTR price advanced 4.0% versus its NAV which declined 3.0%; this generated a positive PrcNAVSprd* of 7.0%.
ZTR recently completed a 1 for 5 non-transferable rights offering at a 5% discount to the market value with over-subscription rights. The share price began to weaken around the announcement of the rights offering in late November in anticipation of the dilution. The subscription price for new shares was $3.34 per share. The subscription price is lower than the original estimated subscription price of $4.00.
ZTR maintains a managed distribution program and distributes 10% annual of its NAV. A significant portion of its distribution is considered a return of capital (approximately 70% last year). Because ZTR pays investors back a significant portion of their own money in the form of a return of capital (ROC), for which you're paying a 1.1% fee for that privilege, ZTR could eventually dissipate its capital base and need to replenish it with a rights offering—such as one just completed. This would be particularly true if its performance of assets lagged the amount needed to maintain a stable NAV.
ZTR total return has been approximately 35% less than its peer group since inception. Total return is the most valid measurement of a CEF's investment performance. I view ZTR less of an opportunity for long-term investors as it is for traders who can carefully monitor the swings in discounts and the composition of the distribution for entry and exit points. From time-to-time ZTR has been able to outperform its peers on an annual basis.
The stock is currently trading at a 5.9% discount and a monthly annualized distribution of 10.8%. Based upon the most recently annualized monthly distribution, the income generated from net investment income is approximately 1.7%.
One of the CEFs that experienced the greatest negative PrcNAVSprd was First Trust Active Dividend Income Fund (NYSE:FAV). FAV price declined 4.0% while its NAV increased 2.3% generating a negative PrcNAVSprd of 6.3%.
This was likely a result of its declaration of a 12.5% reduction of its scheduled quarterly distribution from $.32 to $.28 per share. The more modest decline in the share price indicates that the reduction was anticipated. This may have been a function of the reductions in both Alpine Global Dynamic Dividend Fund (NYSE:AGD) and Alpine Total Dynamic Dividend Fund (NYSE:AOD) distribution last year—all which employ a "dividend roll" program. Dividend "roll-over" programs make little academic sense with the exception of period of a rising market tide.
FAV trades at a quarterly annualized yield of 10.1% and at a slight premium of 1.7%.
Eqcome CEF Portfolio™: Joe maintains three separate CEF portfolios that have different investment objectives: CEFBig10™, CEFMuni10™ and CEFDisc10™ (see website).
The first is a balanced equity-income portfolio (CEFBig10™), the second a tax-exempt income portfolio (CEFMuni10™) and the third a portfolio whose objective is capital gains with a secondary objective of current income (CEFDisc10™).
These portfolios will soon be available to retail investors at a nominal fee to maximize equity-income for retirees and retail investors.
The recent increase in interest rates and the pressure on muni funds has placed downward force on the stock prices since the late-2010 (See the performance chart.)
Economic & Earnings Outlook: (Click here for next week's economic calendar; click here for earnings' announcements and estimates.)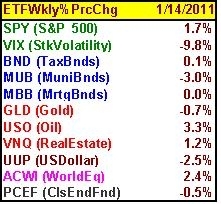 ETFs: For a more detailed EFT performance by sectors, click here.
Insider Trading: The first half of January remained quiet for CEF insider buying. Daniel Neidich, a director of Great American Investors Fund (NYSE:GAM), added an additional 3,000 shares to the 5,000 shares he purchased earlier in the month for an incremental capital outlay of $81,131 at an average cost of $27.04 per share. Mr. Neidich now holds 67,156 shares of GAM.
Robert L. Reynolds, CEO of several of the Putnam CEFs, splurged and purchased 100 shares of four of the Putnam fund CEF family: PCF, PMM, PPT and PIM. Mr. Reynolds' outlay amounted to $2,735 in capital. Now, that's really eating your home cooking!
(Click here for a hyperlink to the Joe Eqcome's CEF Weekly Insider Report.)
CEF Distribution Announcements This Week: The following is a link to a table of CEF distribution announcements this week as well as the previous week's with yet expired ex-dividend dates. The list is not intended to be inclusive. (Click here for Joe Eqcome's Weekly CEF Distribution Announcements)
Significant CEF Corporate Events: Invesco High Yield Investments Fund (NYSE:MSY) announced that a "Notice of Pendency" of Derivative Action and Hearing on Proposed Settlement (the "Notice") is available for shareholders' perusal at Invesco.com.
The Notice describes a proposed settlement of a lawsuit commenced by shareholder Deborah Donoghue against defendants Bulldog Investors General Partnership ("Bulldog") and Philip Goldstein. Such action seeks recovery on behalf of the MSY of so-called "short swing" profits for trades by Bulldog and/or Goldstein under Section 16(b) of the Securities Exchange Act of 1934.
Section 16(b) provides, among other things, for the recovery by an issuer from a beneficial owner of 10% or more of a class of equity securities who realizes profits from purchases and sales of such securities within a six-month period.
The Notice describes a proposed settlement of the above-described lawsuit under which, among other things, Bulldog would pay $85,491 to the Fund, and the plaintiff's counsel will submit an application to the Court for attorney's fees after any appeal filed by Bulldog.
The Notice advises shareholders that the Court has scheduled a Settlement Fairness Hearing for February 25, 2011, at 12 noon EST, in Courtroom 11B of the United States Courthouse, 500 Pearl Street, New York, NY 10007. Shareholders proposing to raise comments or objections at the February 25th hearing must so advise the Court and plaintiff's counsel in a writing mailed by February 11, 2011.
CEF Focus Stock(s) for the Week: Given the recent decline in gold prices, investors should pay attention to CEFs that do similar. One is ASA Limited (NYSE:ASA). ASA is a CEF that invests in precious metals primarily through equity investments. The stock experienced a return of 37.3% and 54.5% in 2010 and 2009, respectively. The stock is down 10.7% YTD. This is much greater than the decline in the Gold ETF (NYSEARCA:GLD) of 4.3% YTD. If gold ticks up, ASA might respond in a greater fashion. ASA trades at a 7.3% discount to NAV.
Caveats: The "CEF Focus Stock(s) for the Week" section includes CEF stocks of interest to me—and possibly other retail investors—and are subject to further analyses. Their inclusion in this section should not be viewed as recommendations based on the analysis provided here alone. Such stocks are basically a "heads-up" of something that might be of interest—or, not.
Disclosure: I am long ASA, GAM and own a diversified portfolio of CEFs and ETFs and is long stocks in the CEFBig10™, CEFMuni10™ and CEFDisc10™ as well as VGK.
---
[*] All things being equal, price and NAV should move in tandem. A price movement greater than the NAV generates a positive PrcNAVSprd and may be interpreted as negative on a near-term basis and indicate that the stock is overvalued relative to its NAV which in theory is the stock's intrinsic value. The opposite would be true for a negative PrcNAVSprd.