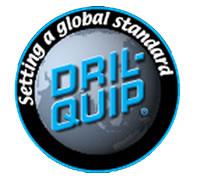 Dril-Quip (NYSE:DRQ) is a manufacturer of offshore drilling and production equipment particularly well suited for oil producers operating in deep and ultra-deep water. The company has the best margins in the business and is undervalued in comparison to its historical growth rate and future prospects. The stock is down 8.5% YTD despite first half EPS being up ~14% as compared to the 1H of 2013. The company represents good value at the current price of $100.55 and is a BUY.
Earnings
Dril-Quip announced Q2 and first-half 2013 results on July 30th: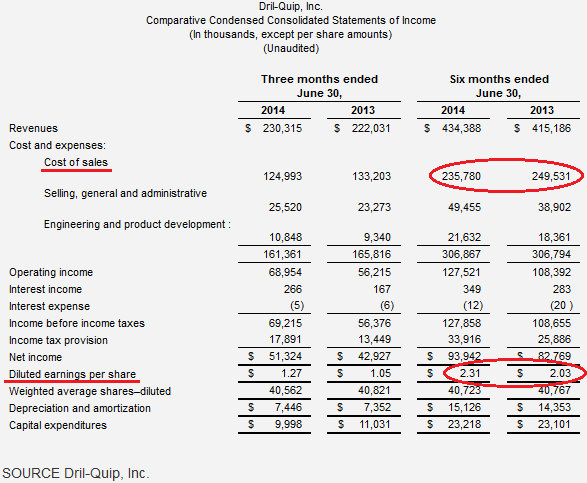 While revenue growth has slowed (up 4.6% for the first half) when compared to the pace set in 2012/2013, it should be noted that the cost of sales actually declined. This caused operating income (EBIT) to rise to 29.4% of revenue as compared to 26.1% of revenue in the first 6-months of last year. Combined with share buybacks, this caused overall diluted EPS of $2.31/share - a 13.8% increase yoy.
For those familiar with Dril-Quip, it should come as no surprise that the presentation given yesterday at the Barclay's Energy conference (available here) shows the company continues to deliver operating margins ~3x higher than its competitors: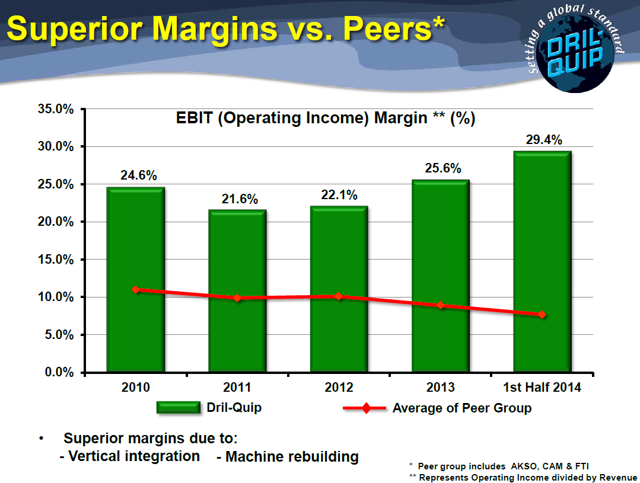 Click to enlarge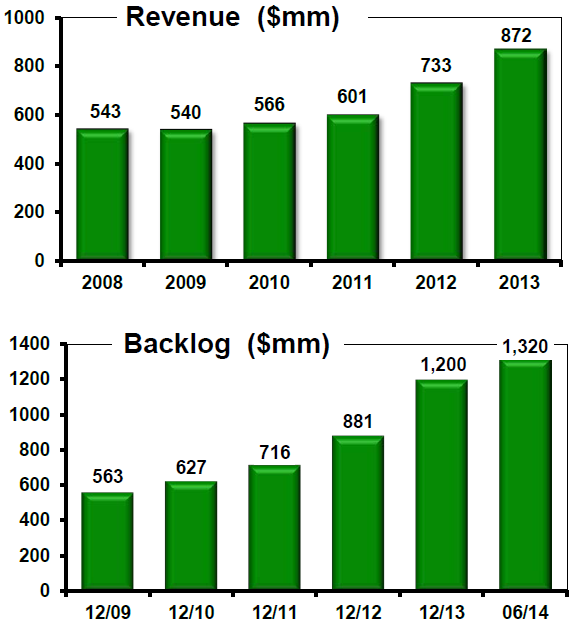 Backlog
The company also reported a current backlog, as of June 30th, of $1.32 billion. This is significant considering total revenue for full-year 2013 was $872 million and first half 2014 revenue was $434.4 million. That is, the current backlog is very strong - 3x the last 6 months of revenue.
Future Growth
DRQ has landed 23 subsea tree orders year-to-date in comparison to only 2 during all of 2013. The company estimates it will receive 17 orders next year. Dril-Quip cites data from Quest Offshore Resources which forecasts the total number of subsea tree awards will average between 400-500 for years 2015-2018. This large subsea tree market is a boon for Dril-Quip and offers the company a great opportunity to increase its overall market share.
In addition, the company continues to benefit from an expanding worldwide floating rig fleet: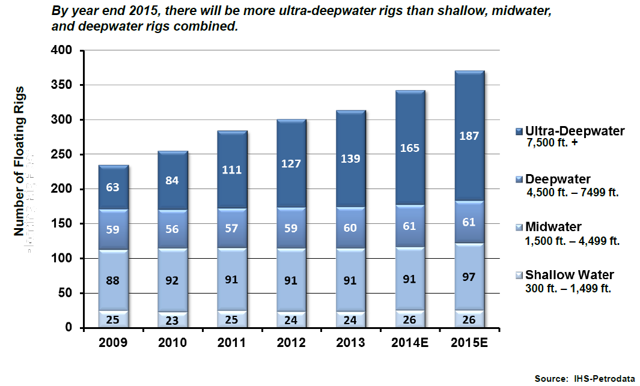 Click to enlarge
Data from IHS-Petrodata shows the overall floating rig fleet should grow by ~8% in 2015. The majority of the growth will be in ultra-deep rigs. The ultra-deepwater floating rig count will increase by 16 this year and by 22 next year. This is important because a growing floating rig count will drive demand for the subsea equipment and services that DRQ provides: subsea wellheads, subsea trees, control systems, subsea manifolds, liner hangers, completion risers, and specialty connectors.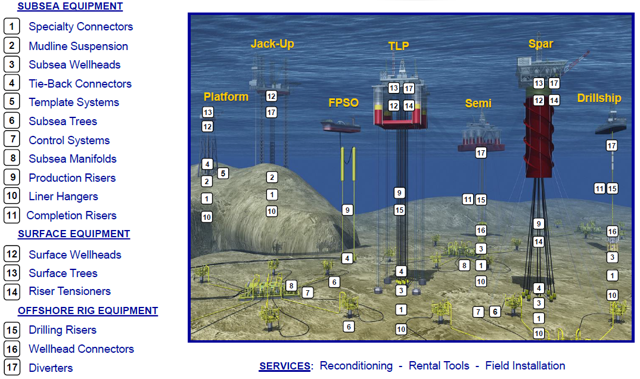 Click to enlarge
Stock Buyback Program
As a result of its solid financial performance, and perhaps disappointed with the stock's lackadaisical performance this year, management announced a $100 million stock buyback program in June. The program has no expiration date and the timing and amount of any stock purchases will be determined by an evaluation of market conditions, stock price and other factors. Any repurchased shares are expected to be cancelled.
DRQ recently completed a previously authorized $100 million stock repurchase program under which it repurchased 85,840 shares of its common stock for $10 million in Q4 of 2013 and 869,699 shares of common stock for $90 million in Q2 of this year (average price = $103.48/share). With no long-term debt and $343 million in cash at the end of Q2, the company's solid balance sheet can easily afford repurchases of what management obviously feels is an undervalued stock. I agree. $100 million will buy roughly 1 million shares (@$100/share), and that equates to ~2.5% of the total outstanding shares (40,562,000 shares at the end of Q2).
Mexico - A New Catalyst
Mexico has been in the news lately as the government has pushed through legislation to open up the country's oil industry - specifically its undeveloped deepwater reserves in the Gulf of Mexico. A recent article by TheStreet.com predicts companies like Chevron (NYSE:CVX) and Schlumberger (NYSE:SLB) could be the early-bird winners from the Mexican oil industry reformation. Chevron, a customer of DRQ, is one of the largest leaseholders in the Gulf of Mexico and has experience in several ultra-deepwater projects which will be coming online in Q3, Q4, and 2015 (See Chevron: New Gulf of Mexico Production A Significant Growth Catalyst). With Exxon busy in Russia, my bet is that Pemex will cozy up to Chevron to leverage on the company's experience in the Gulf. Dril-Quip could be the over-looked service provider considering it is headquartered in Houston and is already providing equipment and services to the ultra deepwater rigs in the Gulf. Note that Chevron awarded Dril-Quip a contract to provide drilling equipment for the tension leg platform ("TLP") for the Big Foot project. Under the contract, Dril-Quip provided subsea wellhead equipment, specialty connectors and tubulars for the Big Foot TLP. Big Foot is located 5,200 feet of water and will have a production capacity of 75,000 bpd of oil and 25 Mmcf/day of natural gas. Chevron is the operator and owns a 60% interest. Statoil (NYSE:STO), another Dril-Quip customer and deepwater operator, has a 27.5% stake in Big Foot. With proven success in providing deepwater oil equipment and services to companies like Chevron operating in the Gulf of Mexico, and being located in Houston, Dril-Quip appears to be in the cat-bird seat when it comes to providing equipment and technology solutions (like the equipment shown below) to Pemex as it opens up Mexico's oil industry.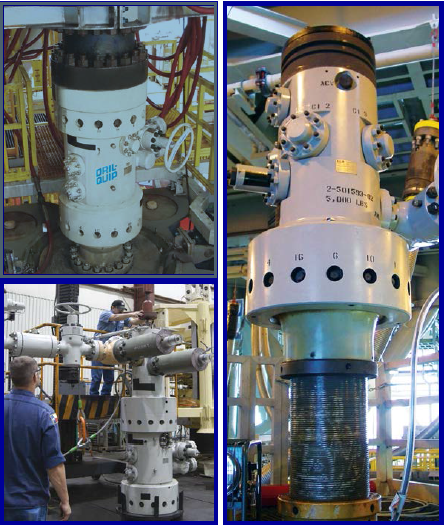 source: Dril-Quip website
Takeover Potential
Oil services provider Dresser-Rand (NYSE:DRC) recently moved sharply higher on speculation Siemens was putting together a bid of $80/share. The rumored price would be a 27% premium to the stock's close prior to the news breaking. Such a buyout premium on DRQ would mean $127, although I suspect DRQ management would require something more in the range of $140-150/share. Both DRC and DRQ have been rumored takeover targets for years now with both Siemens and General Electric (NYSE:GE) mentioned as suitors. With a market cap of only $4 billion, General Electric could very easily add Dril-Quip to its GE Oil & Gas segment. I would never encourage investors to rely on takeovers for returns. However, were Siemens to consummate a deal with Dresser-Rand, I believe it would greatly increases the odds that Dril-Quip will eventually end up as part of GE.
Risks
Deepwater oil equipment providers frequently trade up or down based on short-term movements in oil prices. However, most of the deepwater oil projects are multi-billion dollar investments requiring years of planning and construction. There is no sign of a slow-down in this market, and as shown earlier the floating rig count, a good indicator of ultra deepwater oil exploration, is estimated to be growing at an 8% rate. Even if there was a slow-down in order growth (no sign of that from DRQ's backlog), the company is not levered and has a very solid balance sheet ($343 million in cash and no long-term debt). While the current P/E=23.9 is above the S&P500 average (19.9) and the company does not pay a dividend, the market valuation is reasonable considering the company's growth over the last few years and its future prospects. The company's stock repurchase program will also provide support. In short, the downside appears quite limited.
Summary & Conclusion
Dril-Quip is a pure play in offshore oil production with a focus on deep and ultra-deep water equipment and services. The company has a large and consistent backlog and has superior operating margins. DRQ has no long-term debt and $343 million in cash. It recently initiated its second $100 million stock buyback program. The worldwide floating rig fleet is estimated to be growing at an 8% clip and the Mexican oil reformation will be another growth catalyst for DRQ. As is the company's opportunity to grow its share of the very large subsea tree market.
In its Q2 earnings report, the company announced that it expects full-year 2014 earnings to be in the range of $4.70 to $4.90 per share. The midpoint of that range would be a 15% increase over the $4.16 earned in 2013. However, analyst estimates for 2015 are for $6.06/share. Put a reasonable P/E of 20 on that, and you get a $121 stock price. With a growing floating rig fleet, odds are DRQ will soon be announcing some sizeable deep-water equipment contract wins. Also, deep-water services typically deliver higher margins. In summary - Dril-Quip is simply best-in-class and excellently positioned for future growth. For those investors seeking a piece of the oil services group, DRQ is a BUY.
| | |
| --- | --- |
| Market Cap: | 4.03B |
| P/E ("ttm"): | 23.86 |
| EPS ("ttm"): | 4.22 |
| Div & Yield: | N/A (N/A) |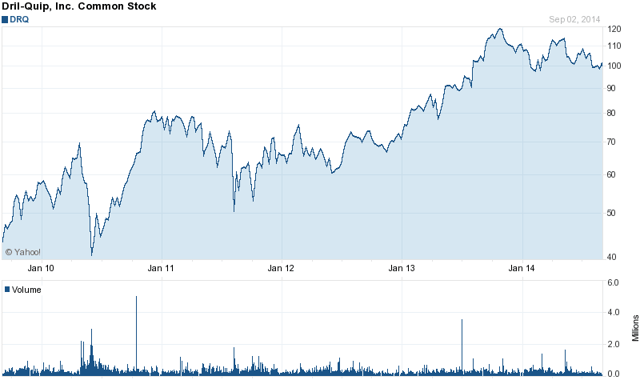 Click to enlarge
Disclosure: The author is long CVX, DRQ, STO.
The author wrote this article themselves, and it expresses their own opinions. The author is not receiving compensation for it (other than from Seeking Alpha). The author has no business relationship with any company whose stock is mentioned in this article.
Additional disclosure: I am an engineer, not a CFA. The information and data presented in this article were obtained from company documents and/or sources believed to be reliable, but have not been independently verified. Therefore, the author cannot guarantee their accuracy. Please do your own research and contact a qualified investment advisor. I am not responsible for investment decisions you make. Thanks for reading and good luck!