A few days ago I wrote an article that suggested that commercial real estate has a longer market cycle than the average business cycle of US stocks. My argument was simply based on the fact that a majority of research has demonstrated that real estate business cycles are over three times longer than stock prices.
Part of the longer cycle in real estate has to do with supply and demand. Stock prices follow business cycles that trace changes in general economic activity, so production schedules are short-term. However, real estate cycles are more dependent on construction since that's the way supply is created.
When the Great Recession ended in March 2009 construction was at a virtual standstill and there was an abundance of over-built space. As the economy started to thaw, financing started to crawl out of the woodwork while vacant storefronts, offices, and hotels started leasing up.
Typically, it takes four years for a real estate project to be completed - that is from site plan to rent check. In contrast, other businesses can adjust their production schedules in a matter of weeks or months. So although construction remained muted, the fundamentals started to improve as evidenced by the growing occupancies in most every asset category.
It's important to recognize that rising interest rates will further bolster the real estate recovery while strengthening underlying operating earnings. As pointed out in the previously referenced article:
...when macroeconomic conditions strengthen, demand for commercial property generally increases. As macroeconomic growth increases occupancy rates and rent growth go up.
Bottom Line: The shares in companies that own real estate become more valuable… real estate doesn't lose value just because macroeconomic demand conditions soften. Therefore, the most important driver of real estate values - and therefore of the real estate market cycle - is the state of commercial property construction activities.
Dividends Speak Louder Than Words
One of the most persuasive tests of corporate strength is rising dividends. As many of you know, I'm a big fan of consistency - or REITs that have an uninterrupted record of paying and increasing dividends. However, the Great Recession brought an end to the once predictable dividend records of many well known REITs, such as Simon Properties (NYSE:SPG), Kimco Realty (NYSE:KIM), and Ventas (NYSE:VTR).
I have since purchased shares in Kimco and Ventas and a number of other REITs that failed to deliver during one of the darkest economic events in my lifetime. Not that I'm taking dividend cuts (or in the case of Ventas, one year that the company didn't increase) lightly; however, I buy into the fact that the US real estate market is improving and the more recent earnings patterns have given me encouragement.
I tell people, almost daily, the most important metric for me, when it comes to REIT investing, is dividend safety. After all, the dependability of dividends is a big reason that investors should consider buying stock in the first place.
When you examine the two ways of getting paid to invest - capital gains and dividends - it's natural that dividends have special appeal. Why? Because a stock's capital gains (share price appreciation) are influenced significantly by what the market does in a given year.
But remember, don't just chase yield until you've fully analyzed the safety of the dividend - the ability for the dividend to grow, and the overall merit of the subject security. As Josh Peters, author of The Ultimate Dividend Playbook wrote:
Dividends are more than mere information; they provide insight that any investor can use to make successful investments.
The REITs Paying At Least 5% And Raising Them By At Least 5%
Using SNL Financial's database, I have sorted a list of all US equity REITs that are currently paying out dividend a dividend yield of 5% or greater:

Click to enlarge
Now, I have sorted the same list (paying at least 5%) of REITs and ranked them in order of dividend growth, with a minimum growth rate (13-14) of 5%:

Click to enlarge
I have BUY recommendations on six of these REITS: Digital Realty (NYSE:DLR) - latest article HERE, Omega Healthcare Investors (NYSE:OHI) - latest article HERE, American Realty Capital Properties (ARCP) - latest article HERE, WP Carey (NYSE:WPC) - latest article HERE, Lexington Realty Trust (NYSE:LXP) - latest article HERE, and Physicians Realty (NYSE:DOC) - latest article HERE.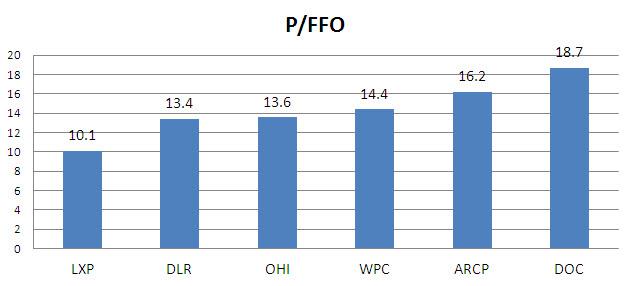 For Target BUY prices, check out my newsletter HERE.
Other REITs mentioned: (NYSE:CBL), (NASDAQ:SBRA), (NYSE:CXW), (NYSE:ADC), (NYSE:MPW), (NYSE:GEO), (NYSE:CORR), (OTC:FREVS), (NYSE:AHH), (NYSE:OLP), (NYSEMKT:IRT), (NYSE:RESI), (NYSE:SIR), (NYSEMKT:APTS), and (NYSEMKT:BRG).
Sources: SNL Financial.
Disclaimer: This article is intended to provide information to interested parties. As I have no knowledge of individual investor circumstances, goals, and/or portfolio concentration or diversification, readers are expected to complete their own due diligence before purchasing any stocks mentioned or recommended.
Disclosure: The author is long O, DLR, VTR, HTA, STAG, CSG, GPT, ARCP, ROIC, HCN, OHI, LXP, KIM, WPC, DOC, UDF, EXR, MYCC.
The author wrote this article themselves, and it expresses their own opinions. The author is not receiving compensation for it (other than from Seeking Alpha). The author has no business relationship with any company whose stock is mentioned in this article.