Although Groupon's (NASDAQ:GRPN) share price has taken a beating the past few years, new innovations could lead to large gains for investors. On Wednesday, the e-commerce company unveiled a new feature in its product strategy, letting businesses offer deals to users to be redeemed at a specific time in the day. Groupon says that the ability to set up and buy time-based deals are being rolled out first to restaurants, with the intention to expand into other categories like beauty salons, auto shops, educational classes, and more.
The idea behind time-based deals is aimed at keeping customer flows constant throughout the day, even during non-peak hours, according to Tech Crunch. Groupon sees various benefits in the new offering. On the consumer side, it gives the company another route into presenting more flexible options for customers. On the business side, it gives Groupon the benefit of one more touchpoint with merchant customers. The time sensitive feature could also potentially be a competitive edge over other deal-based companies, such as Yelp (NYSE:YELP) and OpenTable.
So far trials of the product have been implemented successfully in Chicago. In April, a Chicago-based Frontera Grill took part in the pilot program to help lure in younger people during harder-to-fill, late-night hours.
The company said fifty-eight people used Frontera's Groupon during the pilot period, with 85% falling within the ages of 22 to 35. The average amount spent in addition to the Groupon coupon was $38.89, and seven of 29 tables spent more than $69 on additional food and drinks.
In total, Frontera said the Groupon deal generated $1,626.93 in revenue on tables that would have otherwise been empty during 10 days over a two-week period. "They're making it really easy for us to fill tables during off-peak times, which generates more revenue for the restaurant and gives us more opportunities to attract new customers and turn them into lifelong fans," said Chicago Frontera Grill owner Rick Bayless.
Groupon's share price has declined nearly 70% since its 2012 highs. Increased competition and lack of competitive edge were cited as reasons for the decline. The share price has risen close to 25% over the past month, however, as optimistic speculation over the company's new strategies have come to light.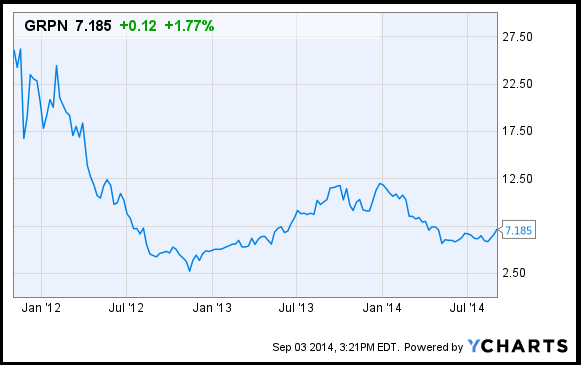 Even as competition has increased, though, revenues have steadily improved. Groupon's Chief Executive Officer Eric Lefkofsky said during the conference call in August, "Our local marketplace of over 240,000 deals continued to gain broader awareness. We reached another all-time high in mobile transactions, as nearly 92 million people have now downloaded our app, and our international business continued to stabilize and is now contributing nicely to our bottom line."
This consumer awareness has translated to accelerating revenues as seen below. Gross billings increased 29% to $1.82 billion, and revenue increased 23% to $752 million during the second quarter. Demand also remained healthy in North America, where billings grew 12% to $799 million, led by a 26% annual growth in our goods business and 44% growth in travel.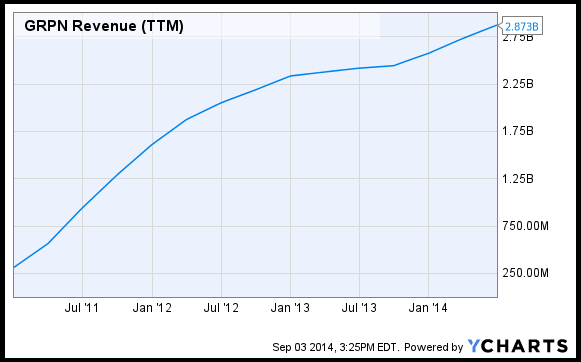 Unfortunately, competition has begun to show up on the income statement, as can be seen in flat to slightly falling operating margins from 2012 to present day. Larger companies such as Amazon.com (NASDAQ:AMZN) and Google (NASDAQ:GOOG) (NASDAQ:GOOGL) have made an effort to offer deals similar to Groupon, while Yelp and Living Social are constant thorns in the company's side. Groupon hopes that new innovation will help relieve margins, which could drive up the bottom line.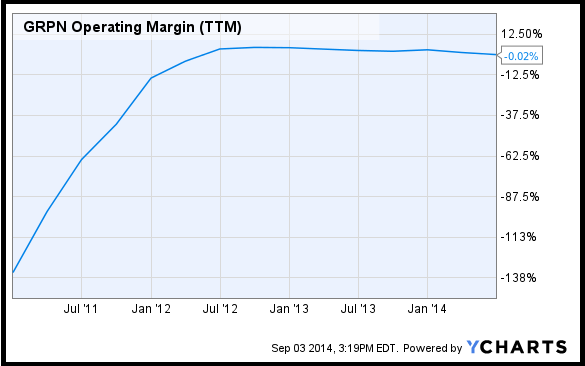 Lastly, free cash flow has broadly declined since July 2012 as investment in international expansion mobile has taken a bite out of excess cash. In 2014, management outlined that a primary objective was to achieve stability in international operations. Although operating losses in the second quarter were $18 million for its foreign segment, this can be attributed to investment costs that were larger than originally anticipated. Despite the recent quarter, management believes developing markets are on track to generate positive segment operating income by Q4. Alongside a few key investments, the shutdown of Groupon Korea also contributed to declines in cash flow.
With regards to mobile investment, the company is now beginning to see a return on its strategic moves. Chief Financial Officer Jason Child said during the call, "Our local mobile and marketplace investments together with Genome represent the culmination of years of hard work and significant investment, which we believe firmly positions us to realize our vision of connecting local commerce."
Over 50% of Groupon's business is mobile, worldwide, as of the most recent quarter. "We're, again, at an all-time high. 92 million people have downloaded our app, another all-time high," said Lefkofsky.
As investments begin to pay off and new initiatives are enacted, Groupon's stock could begin to gain upward momentum. Management expects free cash flow to pick up materially in the back half of the year as strategic investments turn from operating loss to profit. Groupon faces stiff competition, but improved exposure on mobile devices and innovative product strategies could catapult its share price higher from record lows.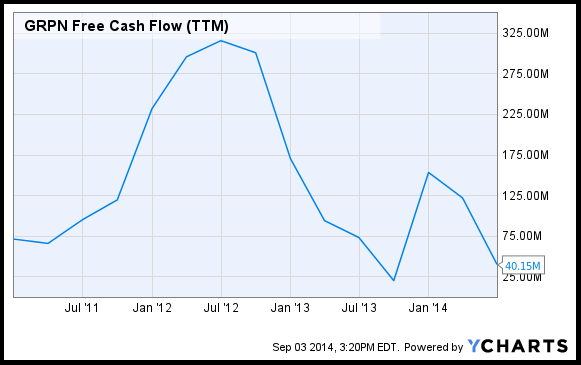 Disclosure: The author has no positions in any stocks mentioned, and no plans to initiate any positions within the next 72 hours.
The author wrote this article themselves, and it expresses their own opinions. The author is not receiving compensation for it (other than from Seeking Alpha). The author has no business relationship with any company whose stock is mentioned in this article.