By Stuart McPhee
Gold for Thursday, September 4, 2014
After running into resistance at $1290 for a few days, gold has fallen sharply in the last 24 hours to break through the support at $1275 and fall to a 10 week low around $1265 in the process. Over the last week Gold had been enjoying a resurgence as it moved strongly higher off the support level at $1275, however over the last few days it had been running into resistance at $1290. In the week prior, Gold had been falling lower back towards the medium term support level at $1290 however to finish out last week it fell sharply down to the previous key level at $1275. A couple of weeks ago Gold was meeting resistance around $1313 which saw it finally ease lower. Just prior to that it moved well away from the support level at $1290 and back up well above $1300 to a two week high above $1322 before easing lower. It had also been easing lower and placing pressure on the support level at $1300 which eventually gave way resulting in gold falling sharply back down to a six week low near $1280 a few weeks ago. Over the last month or so the $1290 level has shown some signs of support and held gold up until its recent fall. During the second half of June, gold steadily moved higher but showed numerous incidents of indecision with its multiple doji candlestick patterns on the daily chart. This happened around $1320 and $1330.
The OANDA long position ratio for Gold has fallen back towards $70 as gold has settled below the key $1275 level. At the beginning of June, gold did very well to repair some damage and return to the key $1275 level, then it has continued the momentum pushing a higher to its recent four month high. After moving so little for an extended period, gold dropped sharply back in May from above the well established support level at $1275 as it completely shattered this level falling to a four month low around $1240. It remained around support at $1240 for several days before its strong rally higher. It pushed down towards $1280 before sling shotting back and also had an excursion above $1300 for a short period before moving quickly back to the $1293 area again. Over the last few weeks gold has eased back from around $1315 to establish its recent narrow trading range below $1295 before its recent slump.
Way back since March, the $1275 level has established itself as a level of support and on several occasions has propped up the price of gold after reasonable falls. Throughout the second half of March gold fell heavily from resistance around $1400 back down to a several week low near support at $1275. Both these levels remain relevant as $1275 continues to offer support and the $1400 level is likely to play a role again should gold move up higher. Through the first couple of months of this year, gold moved very well from a longer term support level around $1200 up towards a six month higher near $1400 before returning to its present trading levels closer to $1300.
Gold ended higher on Wednesday, as lingering tensions over Ukraine and a dollar drop prompted bargain hunting and short-covering after bullion prices fell to an earlier 2-1/2 month low. The yellow metal was under pressure earlier after Russian President Vladimir Putin said on Wednesday a deal to end fighting in eastern Ukraine could be reached this week. However, Ukraine's prime minister later rejected Putin's proposals, saying they were an attempt to deceive the West on the eve of a NATO summit. U.S. gold futures for December delivery settled $5.30 higher at $1,270.30 an ounce. Spot gold was last at $1,270 an ounce, up 0.4 percent on the day. Muted response from physical buyers despite Tuesday's 1.7 percent drop and heightened geopolitical tensions suggested gold's upside could be limited, analysts said. "We believe the lack of physical demand makes gold more vulnerable to the downside should U.S. employment data surprise on the upside this Friday," said Edel Tully, precious metals strategist at UBS. Gains in gold on Wednesday were capped by more encouraging U.S. economic news as rising new orders for factory goods and strong automobile sales offered further signs of strength in the manufacturing sector.
(Daily chart / 4 hourly chart below)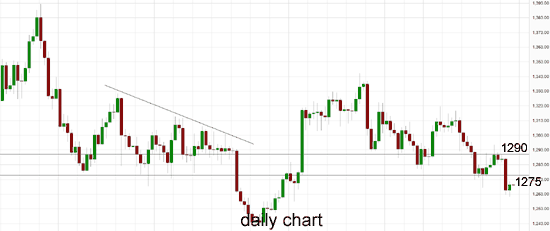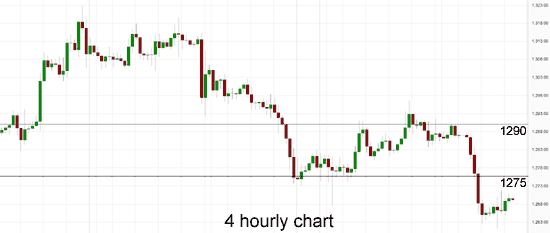 Gold September 4 at 00:35 GMT 1268.9 H: 1270.1 L: 1268.7
Gold Technical
| | | | | | |
| --- | --- | --- | --- | --- | --- |
| S3 | S2 | S1 | R1 | R2 | R3 |
| 1275 | 1240 | - | 1290 | 1330 | - |
During the early hours of the Asian trading session on Thursday, Gold is trading in a small range around $1269 after recently dropping sharply through the key $1275 level and then slowly edging higher in the last 24 hours. Current range: trading right around $1269.
Further levels in both directions:
• Below: 1275 and 1240.
• Above: 1290 and 1330.
OANDA's Open Position Ratios
(Shows the ratio of long vs. short positions held for Gold among all OANDA clients. The left percentage (blue) shows long positions; the right percentage (orange) shows short positions.)
The long position ratio for Gold has fallen back towards $70 as gold has settled below the key $1275 level. The trader sentiment is strongly in favour of long positions.
Economic Releases
23:30 (Wed) AU AIG Construction PMI (Aug)
01:30 AU Retail trade (Jul)
01:30 AU Trade Balance (Jul)
11:00 UK BoE MPC - APF Total (Sep)
11:00 UK BoE MPC - Base Rate
11:00 UK BoE Monetary Policy Committee meeting and rate decision
11:45 EU ECB - Rate Announcements (Sep)
12:15 US ADP Employment Survey (Aug)
12:30 CA Merchandise Trade (Jul)
12:30 US Initial Claims (30/08/2014)
12:30 US Non Farm Productivity (Final) (Q2)
12:30 US Trade Balance (Jul)
12:30 US Unit Labour Costs (Final) (Q2)
14:00 US ISM Non-Manufacturing (Aug)
* All release times are GMT