Yum Brand (NYSE:YUM) filed an 8-K with a negative sales alert regarding its China division, which is expected to see a -13% SSSg for the upcoming Q3. Despite a gradual recovery in sales, management indicated that sales are still in the negative territory.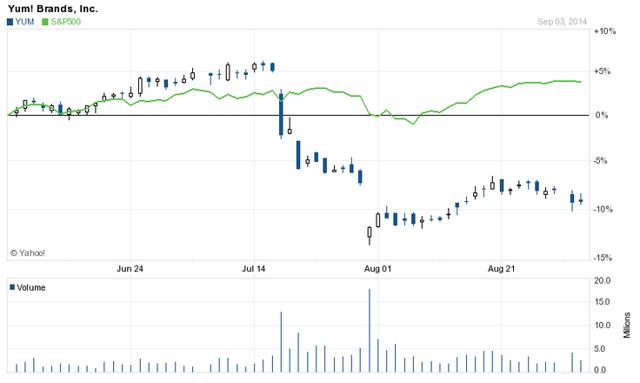 Since the scandal was first exposed in June, the stock has been down close to -15% vs. a +5% gain for the S&P. In my view, the negative SSSg expected from the China division should come as no surprise given the gravity of the scandal involving Shanghai Husi that supplied KFC with expired and/or mishandled meat. The misconduct and the heavy media coverage have certainly shaken the consumer confidence in China. What surprised me is that Pizza Hut also experienced negative sales according to the 8-K because I have always viewed Pizza Hut as the next growth driver for YUM in China due to the saturation of the KFC brand in the country and the growing demand of rich dairy food amid a rising income level. Historically speaking, Pizza Hut SSSg has been acting as a hedge against the negative KFC sale amid the avian flu crisis (see link to my QSR initiation).
Making sure that the food-processing standard in China to be on par with that in the US is a challenging task for YUM given the difference managerial style between the corporate HQ and the local suppliers. In addition, the low wage and the loose inspection standard do not give workers at the supplier level an incentive to follow the rules. YUM should seriously reassess the local suppliers that it has in China and increase the level and the amount of the inspections on the suppliers to ensure a safe and consistent food quality.
Investments into its key suppliers, that together account for >70% of total raw material, may be necessary to ensure good quality by assigning YUM's own floor managers to operate the facility. Overtime, acquisition of key suppliers is warranted so YUM could consolidate its supply chain and pursue a vertically integrated model so this type of scandal could be avoided. If YUM does decide to pursue this route, lower ROE from increased spending and a dividend cut are two distinct possibilities.
While the revenue alert is certainly a negative, I do not see this as a surprise. SSSg recovery will take time to materialize so investor patience is required.
Disclosure: The author has no positions in any stocks mentioned, and no plans to initiate any positions within the next 72 hours.
The author wrote this article themselves, and it expresses their own opinions. The author is not receiving compensation for it (other than from Seeking Alpha). The author has no business relationship with any company whose stock is mentioned in this article.