Investment Thesis:
Aeropostale is an extremely attractive business exhibited by strong brand power, high returns on capital, and excellent unit economics. In addition, they have a strong balance sheet and shareholder friendly management. The current valuation provides an extremely attractive margin of safety. My EPV analysis suggests their current earnings are worth $27/share, a premium to the $25 stock price. With this sort of valuation, one would expect little growth from ARO. However, they have had only one quarter of negative same store sales since 2007, an astonishing feat for a teen retailer during a very tough economic time period. The market is currently offering investors the opportunity to buy into this great businesses at less than 10X trailing earnings and 5X EBITDA. I think that this price offers investors an extremely large margin of safety. Based on my DCF analysis, I think ARO shares are worth at least $37/share, but there could be even more additional upside, especially if it is acquired. If you use similar multiples to the recent J-Crew buyout, the company is worth $48.50, representing nearly 100% upside.
1) An Attractive Business
Investors can easily dismiss fashion companies as not being attractive businesses for the long-term because of the fickle nature of fashion trends. While this can sometimes be the case, the teen fashion market certainly does not follow this rule. The market is essentially an oligopoly with the three main players being Aeropostale (NYSE:ARO), American Eagle (NYSE:AEO), and Abercrombie and Fitch (NYSE:ANF). These three players are not very susceptible to fickle fashion consumers because they tend to set the trends. Most teenagers look to these companies to see what is "in fashion." The result is an extremely attractive oligopoly exhibited by strong brand power, extremely high returns on capital, and excellent unit economics.
A) Extremely High Returns on Capital: [click to enlarge charts]
B) Favorable unit economics, including when compared to competitors (Source: Cap IQ/ SZ)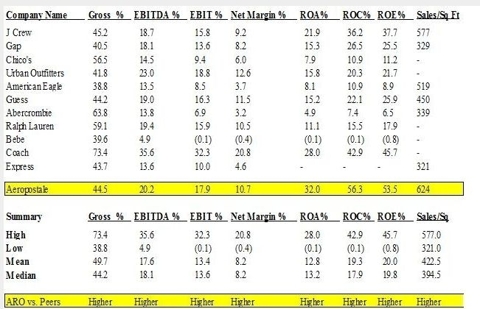 C) Extremely consistent operating results, even during recession
Here is a table of same store sales going back to Q1-2007. While most companies (including competitors American Eagle and Abercrombie and Fitch) struggled through the recession, ARO remained relatively unscathed-- the company has only had one quarter of negative same store sales on a quarter over quarter basis since the first quarter of 2007.
Same Store Sales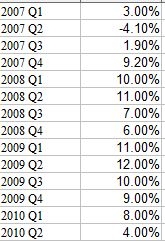 2) Strong Balance Sheet
The company has zero debt and 239.46 million in cash. Their cash position represents nearly 11% of the total market cap.
3) Shareholder friendly management with aggressive stock buybacks
ARO does not pay a dividend but has been buying back ~5% of its shares per year over the last 5 years and has been accumulating cash on the balance sheet. In addition, they have been ramping up their share repurchase program:
On December 7, 2009, ARO's Board of Directors approved a $250.0 MM increase in share repurchase program.
This brought the total share repurchase program to $850MM, since its inception in November 2003.
On November 2010, the company further increased the program by $300MM increasing the total to $1.15 billion.
During the first twenty- six weeks of 2010, the Company repurchased 1.4 million shares for $39.5 million, as compared to repurchases of 0.6 million shares for $13.5 million during the first twenty- six weeks of 2009.
4) Extremely Cheap Valuation
Earnings Power Value
I used a variety of methods to estimate ARO's intrinsic value. First, I wanted to see what their current earnings are worth using an EPV analysis. My EPV analysis suggests an intrinsic value of $27.33, which is actually a 9% premium to the current market price. With this sort of result, one would expect that the business is shrinking and that the current earnings level is not sustainable. I disagree with that notion. The company is firmly entrenched in the teen fashion market as a provider of quality clothes at a relatively more affordable price point. In addition, the company has grown revenue and earnings every single year since 2003 (from 2005-2006 earnings were constant). Therefore, I think there is no justifiable reason for the stock to be selling at less than the earnings power value.
Back of the Envelope Valuation/ Market Expectations
Next, I wanted to see what expectations are baked into the stock given the current market price. I used an 11% discount rate, the current market price of $25.07, and a 3-year normalized free cash flow number (to account for changes in capex). Given these assumptions, the stock is fairly valued when the company grows essentially at the rate of inflation (3% for the next ten years before 2% perpetuity rate). I find these market expectations to be extremely conservative given the company's history of growth.
DCF Analysis (5-years plus terminal)
The company has grown from 561 stores in 2006 to 952 in 2010. Management plans to open about 25-30 PS stores (Aeropostale stores focused on the 7-12 year old market) and 20 Aeropostale stores per year. Even during all of the expansion, the stores have remained a pretty constant size—approximately 3,600 square feet. If we keep sales/ square feet constant, assume that they open 45 stores per year for the next five years, reaching a final store count of 1224, and assume constant margins, the company is worth about $37/share. I think that this is fairly conservative because it is assuming zero same store sales growth, which has been on a very consistent upward trend.
Private Buyer
The company is in many ways an ideal buyout candidate. It is trading at just a 4.1 EV/EBITDA multiple, has extremely high operating margins (17%), and has 11% of its market cap in net cash. We can use the recent buyout of J. Crew for a look as to how much a private buyer might be willing to pay for the company. J. Crew was bought out at an 8.3 EBITDA multiple. If we apply the same multiple to ARO and add their net cash, we get to a private market value of $48.50, nearly 100% upside from current prices.
Variant View
An analyst from J.P. Morgan sums up the variant view well. He writes:
ARO's position as the value leader in the teen space leaves the company vulnerable to an increasingly promotional retail environment, and we see additional margin pressure in 2011 as a result of product cost inflation, especially on top of several years of significant gross margin gains. While the stock is cheap, we think it's too early to get more constructive, especially as ARO could have down earnings for at least the next two quarters. In addition, Mindy Meads, former Co-CEO and who is credited with turning around ARO's assortment and improving brand image, is stepping down, just as the business becomes more challenged.
First, I think this analysis is too short-sighted. I am taking a long-term view, so I am not too concerned with just the next two quarters. If the stock is cheap (like he says it is), I am going to buy it and wait for fair value.
Second, I disagree about the margin pressure and the increasingly promotional environment. The teen fashion market is an oligopoly and the main players have significant pricing power. Brands like Abercrombie showed during the recession that they are hesitant to cut prices in tough times because it would hurt their brand image as the luxury player in the market. This gives ARO a nice niche—the same niche they have been capitalizing on for the past decade. I do not see any long-term change in the promotional environment that would fundamentally change ARO's position in the industry.
Third, I think he makes Mindy Meads sound more important than she actually was. She was only there for three years and had previously left a high profile position at Victoria's Secret after just a year, so it is not as if her early departure is too alarming.
Conclusion
ARO is an excellent business at an excellent price. It is trading at historically low multiples and I think that buying into this great business at just over 4X EBITDA will prove to be a good investment given the substantial margin of safety and the possibility of a private buyer. Given the strong balance sheet and low market expectations, I would categorize this as a low-risk investment with big upside (especially if there is a private offer similar to J. Crew).
Disclosure: I am long ARO.