The upcoming on screen battle between Batman and Superman may be child's play when compared to the upcoming Marvel vs. DC (read: Disney (NYSE:DIS) vs. Warner Brothers) battle brewing at the box office.
After basically letting Marvel dominate the game for years, DC earlier this summer began to unveil its gameplan and the company came out guns blazing. Yet while many initially questioned Warner Brothers' (a subsidiary of Time Warner (NYSE:TWX)) unconventional plans, following a disappointing summer that will mark a eight-year box office low and a nearly 15% decline in revenue, it looks like the studio may get the last laugh.
To give you a little bit of background…usually when a studio dates a movie, other studios try to not schedule a similar film for the same day. It has nothing to do with respect and everything to do with business and common sense, but when Marvel dropped Captain America 3 on the same May 6, 2016 release date as Batman v Superman: Dawn of Justice, it was a clear declaration of war.
However two super-hero flicks going at it on the same day would be mutually assured destruction for all involved and as a result it was widely assumed one of the two movies would change their plans. That ended up being Warner Brothers which shifted Justice to March 25, 2016…the movie's second release date change since first being announced.
Investor Analysis
The move has a lot of implications as the first thought many may have had is that Warner Brothers blinked and conceded the spot to Marvel/Disney, but what they actually did is very smart and takes a page directly out of their rival's playbook.
Look at Marvel's Captain America: The Winter Soldier which debuted back on April 4th this year and earned $95 million during its opening weekend. Now compare that to the below totals for some of this summer's highest openers…in just about every case the Captain comes out on top. Solider even beat out fellow Marvel super heroes flicks Guardians Of The Galaxy and The Amazing Spider-Man 2, which saw totals of $94.5 million and $91 million respectively during their openings.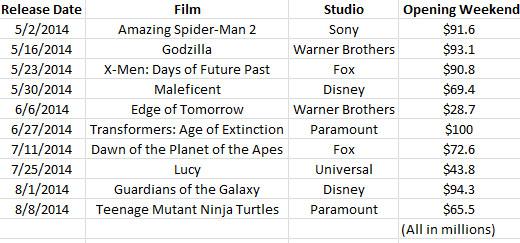 (All data courtesy of The-Numbers.com)
By opening Dawn of Justice in March, Warner Brothers gets a jump on Marvel in 2016 and sets the tone for the year and given the interest in what will likely be a movie that sets the table for a (long-awaited) Justice League film this could be a mega-blockbuster in the making.
The other factor that shows this isn't a case of Warner's backing down is that the studio also unveiled dates for nine more DC-centric films spread out between 2016 and 2020. This is essentially Warner Brother's version of Marvel's Phase 1, 2 and 3 strategy that was first rolled out with Iron Man back in 2008.
Future DC Movie Dates
08/05/16
06/23/17
11/17/17
03/23/18
07/27/18
04/05/19
06/14/19
04/03/20
06/19/20
If you look carefully you'll notice that aside from 2017, Warner has slotted late spring dates for another two of its big name films. This is a calculated move meant to double-down on a trend we've been seeing a lot over the years involving big films coming out earlier in the year.
Theatre chains have been begging for studios to stagger their tentpoles so they don't cannibalize each other all summer, as was part of the case for this year's decline. Now it looks like those pleas will be answered. It's a logical request and one that if you look at recent box office receipts could be very financially beneficial.
Audiences have begun to make it clear that they are okay with their big-budget spectacles not debuting during the summer and with many tentpoles films now bleeding into the late March/early April area studio executives are seeing that it could be very beneficial for their company's financial bottom lines.
Take Universal for example which gave top tier releases Fast Five and Oblivion late April windows in 2011 and 2013 (respectively) and saw strong results. For Warner Brothers, they likely saw those numbers and the Soldier numbers from this year and are staking a claim right now and banking on this trend to continue for years to come.
This game of one-upmanship between the companies also continues onto the small screen as both are competing to have the dominant TV roster. In that arena Warner Brother is winning for the moment courtesy of shows like Arrow and upcoming expected hits such as Gotham and The Flash. Meanwhile Marvel is making a case through ABC's Marvel's Agents of S.H.I.E.L.D. and (2015's) Agent Carter plus Netflix's upcoming quartet of super-hero originals featuring brand staples like Daredevil.
No matter which studio ultimately comes out on top one thing is clear…we've now moved beyond just the comics and into the full realm of pop culture that can be incredibly valuable and profitable. It's a real life battle of super heroes that for investors could mean a huge windfall and a rejuvenated box office.
Disclosure: The author has no positions in any stocks mentioned, and no plans to initiate any positions within the next 72 hours.
The author wrote this article themselves, and it expresses their own opinions. The author is not receiving compensation for it (other than from Seeking Alpha). The author has no business relationship with any company whose stock is mentioned in this article.