I thought it would be fun to sit down and price all the components of the Dow by hand and then to effectively put a price tag on the Dow Jones Industrial Average? Impossible? I just did it. Here are the results. In a nutshell, I have the Dow Jones Industrial Average fairly valued between $11000 and $14000.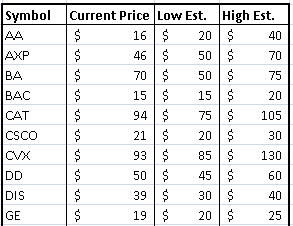 1. Alcoa (NYSE:AA): Alcoa is a turnaround on higher aluminum prices. They're really optimistic because China is driving prices higher. Let's face it. The last two years were terrible for AA, but their recent conference call was super optimistic and they act like the last two years weren't that bad. That said, I'm in their court. Highlight: "Free cash flow of $1 billion was a record fourth quarter and our second best quarterly performance. We also ended the year by reducing debt by $144 million."
One point: The global money supply is expanding at an unprecedented rate, especially here in the USA. We will see significant inflation. Companies that make money that is tied to commodities like aluminum will experience larger nominal future cash flows in the future when the dollar is worth less than it is today. Alcoa's profits could go up over 100% in the next 12 months. AA is worth somewhere between $20 and $40.
2. American Express (NYSE:AXP): The last three years look bad but the last 5 quarters look pretty good, suggesting that things are turning up. It's trading at a forward p/e of 12.8. I figure American Express is worth between $50 and $70 --- it used to trade at a 20 multiple, so why not?
3. Boeing (NYSE:BA): I've got to be careful with this one, as I believe we are at peak oil and that oil prices are not going to go any lower, and you know what that means: Higher oil prices. Last time we had higher oil prices, Boeing dropped roughly 60% --- so that's a systematic risk here. They are currently trading at roughly 15x earnings. I'd price them between $50-$75. They are experiencing new demand, but I think that higher oil prices, the government realizing they can't just spend money like they have been, and other pressures will eat into this resurgence of demand.
4. Bank of America (NYSE:BAC): My buddy Nick Richardson was right on this one. He texted me to buy it below $4 and actually called the bottom within 10 cents back in 2009.
Thanks to the government monetizing the deficit, we are fairly confident that as a whole, home prices aren't going down. That means they are going up. That takes a lot of the systematic risk out of the valuation equations.
They are over a buck in earnings per year at this point and I figure they should be trading $15-$20. Getting back to their old highs of $50+? Not likely. They printed shares like jackrabbits. Back then they had around 4.4M shares. Now they have over twice as many. The way you value companies is by market cap, not by stock price.
A quick lesson: When you print shares, all other things equal, your market cap should stay the same, while your stock price decreases.
5. Caterpillar (NYSE:CAT): I actually saw James Owens, who used to be the CEO of Caterpillar, come talk at Purdue. I have to admit, I incorrectly assessed the situation as I didn't take into account him outthinking me. What I am saying is that this is a man that knows how to manage expectations better than 90% of the rest of the global leaders. He sets the bar of expectations low and jumps over it.
Caterpillar is worth $75-$105. What we are seeing is a return to pre-crisis levels in terms of sales/earnings. That, in my opinion, doesn't imply that it is a high-growth stock, though it may appear as one if you only look at the last 2 years of information in isolation.
6. Cisco (NASDAQ:CSCO): CSCO just missed on earnings and got sacked. Is this a buying opportunity? Yes. Actually, now looks like a GREAT time to buy if you're a trader. The company appears to realize that and is incrementally increasing the share buyback. I figure it's worth $20-$30. The headwinds are governmental budgets decreasing, but it is true that there will still be lots of demand coming from the infrastructure being designed to do voice, and we need infrastructure to do voice/video.
7. Chevron (NYSE:CVX): Chevron is trading at a little above where it has in the past in terms of multiples. That said, these multiples historically have been too low and investors have been rewarded. I think somewhere between $85 and$130 is appropriate here. Chevron is currently at a 20% discount to Exxon (NYSE:XOM). I'm still afraid of the systematic risk of peak oil here.
8. Dupont (NYSE:DD): Analysts have projections that cover the next 4 years on this company. Projecting out 4 years is nearly impossible, in my opinion. Dupont is worth somewhere between $45 and $60.
9. Disney (NYSE:DIS): If you have to adjust your calculations to reflect 53 weeks instead of 52, you're probably trying too hard to manage expectations. I'd say it's worth $30-$40. Buying back shares at these prices is in my opinion not a very good use of capital. They could have bought back shares way cheaper in the last 2 years. Just sayin'.
10. General Electric (NYSE:GE): If I need to disclose that I worked for GE, let it be known that I worked there for a year. To be fair, it's got to be hard for Immelt to replace Jack Welch, who got out of GE at a valuation that wasn't sustainable. Since then GE has come down 85% to where it bottomed in 2008, and has come down over 70% to where it is now. I figure it's worth between $20 and $25.
Disclosure: I don't own anything mentioned, except lots of products that these companies make. It's impossible not to.