Elon Musk, CEO of Tesla Motors (NASDAQ: TSLA) is a visionary, who may be remembered in history for the electric car the way Steve Jobs is for the Apple iMac and iPhone. Already well known and enshrined in the digital commerce industry as the founder of PayPal, Musk has brought Tesla into the forefront of the automobile industry with stylish looks and cars that are just like gasoline powered cars in all aspects, save having to refuel at the pump. The primary drawbacks have been a mileage brick wall of 200 miles between charges and a price point of $35,000 in order for the electric car to compete in the market.
Competition from GM - Signs of A Strong, Growing Industry
Tesla already has their premier 85-kW model, which can attain 265 miles on a single charge, albeit at an $80,000 price tag, and the $70,000 Tesla S, which can go 208 miles between charges.
General Motors (NYSE:GM) is trying to give Tesla some competition in the electric car arena, and although the GM Volt is not quite in the same class as the Tesla, the $35,000 price point is GM's bread and butter market, and they have recently upped the ante. LG Chemical, GM's battery supplier, announced that a lithium ion battery that can reach 200 miles will be available in 2016.
New Graphene-Based Anodes Could Lead To 500-Mile Lasting Batteries
Tesla continues to push the cutting edge of its R&D, and Musk made an announcement to China's Xinhua News Agency recently about their development of graphene based anodes, which theoretically can quadruple the energy output of lithium ion batteries, making a 500 mile battery achievable.
Graphene, which is so thin as to be almost transparent when laid out in sheet form, is excellent for battery use due its highly conductive energy and heat properties while maintaining a tensile strength 200 times greater than that of steel. In a Rice University study, graphene combined with vanadium oxide created battery cathodes that could recharge in 20 seconds and retain 90% capacity even after 1000 recharging cycles. This would be a major advantage over the current lithium ion batteries in use by the Tesla S, which takes about a half hour for a complete recharge.
Industry Excitement Reflected in Tesla's Stock Price
The excitement about Tesla and its potential has been borne out in the price of its stock in the market. Since its 2010 IPO, the stock has appreciated by over 1000%.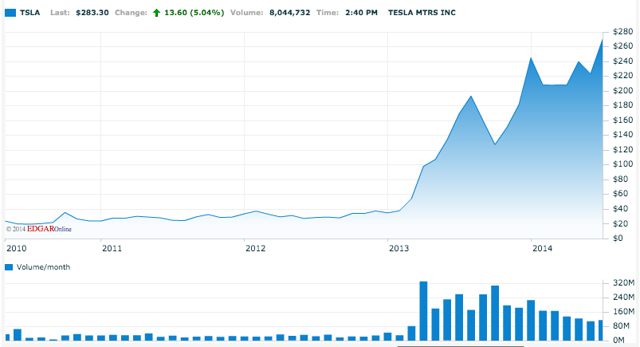 (Nasdaq.com)
Although profitability is still relatively far off, analysts are betting that Tesla is in the lead to revolutionize the car industry on a global basis. Although it has only sold about 40,000 cars to date and is currently averaging about 2000 a month, the $35,000 price point could be the tipping point that could explode sales, in some analysts' opinions, as much as 40,000 to 60,000 a month.
China Opening Its Doors To Tesla As Well
China, the world's second largest economy, recognizes Tesla's potential as well. Tesla already has cemented a deal with China Unicom for 400 charging outlets at over 20 stations in China Unicom outlets in 20 major cities. As China has over 10 times the number of 1 million + inhabitant cities more than the US, it can be considered the largest auto market in the world, and Tesla has already established itself there with the Model S being delivered to buyers in Beijing, Shanghai, Shenzhen and Hangzhou.
Second Quarter Results Mixed; Tesla's Appeal Among Consumers, Governments Very Strong
Tesla's second quarter was disappointing relative to the other news. However, analysts remain mixed because of the company's potential and its obvious appeal to governments, both federal and local, as the impact for constituents and registered voters remains huge.
The stock has recently been hitting new highs and short interest is at a 2014 low, so the naysayers don't seem too confident to bet against Tesla in light of current events.
For Tesla Investors: Continue On Up
GM's pushing forward with the Volt, along with the race towards better lithium ion batteries (see below), are key signs that the entire electric vehicle industry is taking off.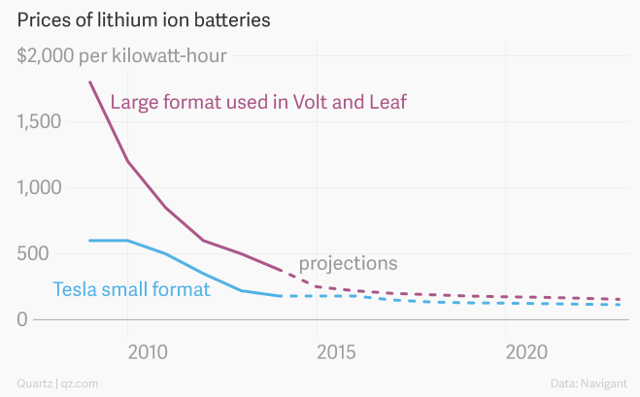 (Source: Quarts/qz.com)
Preferred parking spots throughout urban areas are now increasingly dedicated to electric vehicles for charging purposes-showing a change in infrastructure to account for growing demand.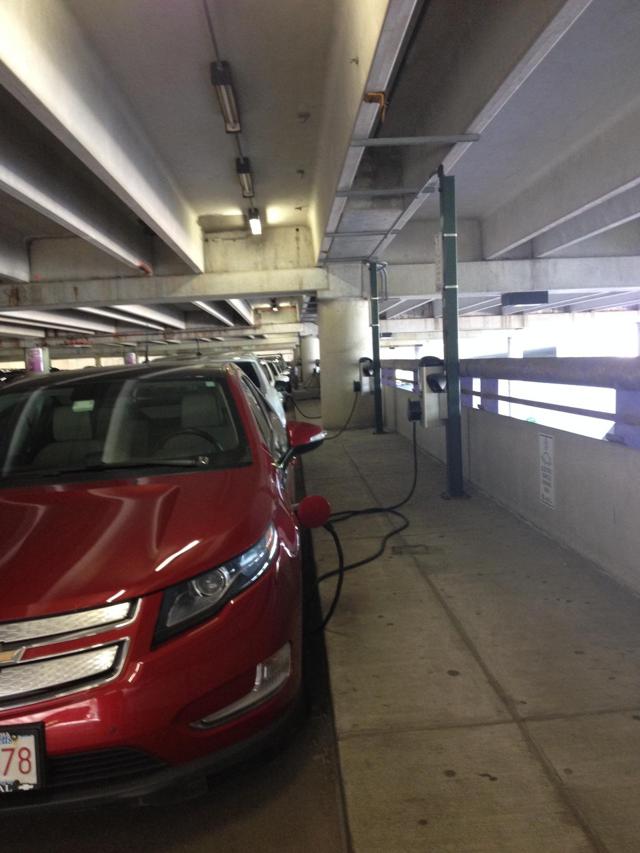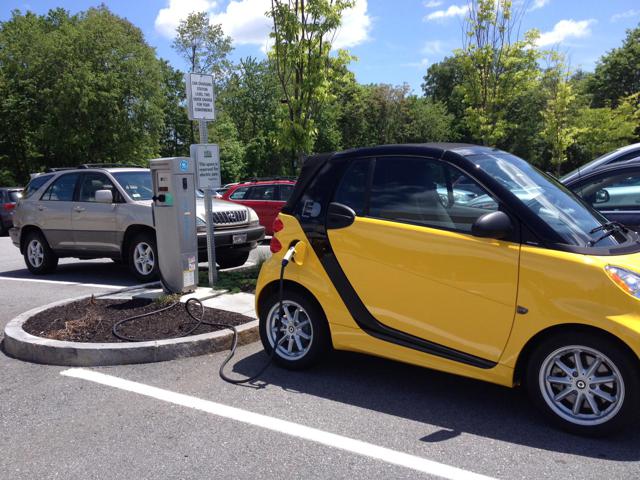 (Credits: Katherine White/DRD Investments)
All of this is excellent news for Tesla, which also has given up its patents to spur industry growth.
Given Tesla's strong history-beating earnings estimates the past six quarters-and favorable view, not only within the private sector, but also from the public sector as governments attempt to embrace cleaner forms of energy and technology, we suggest investors continue to be optimistic on TSLA stock in 2014-as we are.
We invite readers wishing to join the discussion on Tesla, GM, and the burgeoning electric vehicle industry to click the +FOLLOW button above the title of this article-and those looking for the latest updates to click +Get real time alerts.
Disclosure: The author has no positions in any stocks mentioned, and no plans to initiate any positions within the next 72 hours.
The author wrote this article themselves, and it expresses their own opinions. The author is not receiving compensation for it (other than from Seeking Alpha). The author has no business relationship with any company whose stock is mentioned in this article.