Overview
In this article, I will be reviewing Marcus Corporation (NYSE:MCS) and its two business divisions:
Marcus Theatres
Marcus Hotels & Resorts
Looking at the company as whole and separately, through its two business divisions, I will examine the company's revenues, earnings, dividends, valuation, and overall financial stability.
The Past Five Years
Marcus has seen a fairly steady increase in revenue over the past five years. While the company's increase in earnings haven't been as consistent, the increase has been substantial.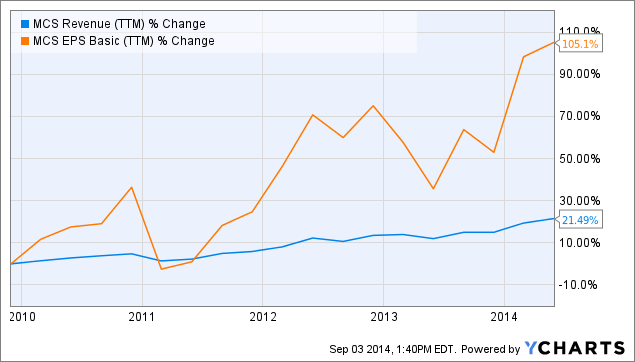 MCS Revenue (NYSE:TTM) data by YCharts
Marcus has paid a consistent $0.085 quarterly dividend over the past five years with a $1.00 special dividend at the end of 2012. Earlier this year, the company increased it's quarterly dividend to $0.095.
Recent Results: Marcus Theatres
Marcus Theatres currently owns/manages 685 screens at 55 locations throughout Wisconsin, Illinois, Iowa, Minnesota, Nebraska, North Dakota, and Ohio.
Revenue - Revenue increased 10.70% in the fourth quarter and 10.80% for the full fiscal year.
Operating Income - Operating Income increased 4.10% in the fourth quarter and 13.60% for the full fiscal year.
Both revenue and operating income were new fourth quarter records for this company's division. This is especially impressive considering that overall national box office numbers were down during this same time.
Recent Results: Marcus Hotels & Resorts
Marcus Hotels & Resorts owns/manages 19 hotel/resort properties throughout 10 states.
Revenue - Revenue increased 4.20% in the fourth quarter and 5.90% for the full fiscal year.
Both fourth quarter and full year revenues were new records achieved by this division.
Recent Results: Company Wide
Total Revenues - 4th quarter revenue increased 7.80%, while full year revenue increased 8.50%.
Operating Income - 4th quarter operating income increased 15.80%, while full year operating income increased 26.60%.
Net earnings per share - 4th quarter diluted EPS increased 23.10%, while full year diluted EPS increased 46.00%.
Future Outlook
While it is clear that Marcus Theatres has been the better performing division, both divisions of the company are seeing positive results and should continue to do well long term.
Marcus Theatres
National box office numbers are down this summer compared to last year, but future box office numbers should perform well with a number of highly anticipated films coming out later this year (Gone Girl, Interstellar, Hunger Games sequel, The Hobbit sequel, and Into the Woods) and next year (Fifty Shades of Grey, Cinderella, Divergent sequel, Fast & Furious sequel, Avengers sequel, Mad Max reboot, Jurassic Park sequel, Fantastic Four reboot, Ant-Man, Poltergeist remake, Bond 24, the final Hunger Games movie, and Star Wars).
With Marcus Theatres currently outperforming the industry in general, the division should be set to take advantage of a strong lineup of upcoming films. Some of the division's recent developments include:
Adding five Take FiveSM Lounges and five Zaffiro's® Express lobby dining locations.
Introducing Big Screen BistroSM full-service in-theatre dining at three additional theatres.
Current construction of The Palace at Sun Prairie, a 12-screen theatre that will include the latest available features and amenities.
Marcus Hotels & Resorts
The division displayed steady improvement in fiscal 2014 compared to prior year. The fourth quarter was the fourteenth consecutive quarter in which ADR (average daily rate) increased. With new projects underway, this division's slow and steady growth should continue into the future.
Some of the division's recent developments include:
Assuming management of Heidel House Resort & Spa in Green Lake, Wisconsin.
Major renovation projects to several properties.
Conversion of Four Points by Sheraton Chicago Downtown property to AC Hotel by Marriott (scheduled to be completed by spring 2015).
Conclusion
Marcus Corporation has seen significant recent increases in both revenue and earnings. In addition to the company's dividend (currently yielding 2.12%), the company continues to increase shareholder value through share repurchases. The company's total return to shareholders in fiscal 2014 was 28% and has average 27% over the past three years.
With a trailing PE ratio of 19.31x, which is in line with historical values, I believe that Marcus Corporation is a company headed in the right direction.
I believe the company will continue to see significant growth in earnings and growth, while maintaining a strong commitment to returning shareholder value through a mixture of dividends and share repurchases. As always, I suggest individual investors perform their own research before making any investment decisions.
Disclosure: The author has no positions in any stocks mentioned, and no plans to initiate any positions within the next 72 hours.
The author wrote this article themselves, and it expresses their own opinions. The author is not receiving compensation for it (other than from Seeking Alpha). The author has no business relationship with any company whose stock is mentioned in this article.