Last week was another good week for stocks, fueled by another good week on the economic front. The market closed 1.5% higher, and finished on a high note.
Let's look at all of that, starting from the top down.
Economic Calendar
Last week was a busy one for economic data, with most of them coming up pretty good. Here's a quick rundown.
Inflation-wise, on a core basis, producers as well as consumers still aren't feeling the pain. Core PPI and Core CPI were higher by 0.2% and 0.1%, respectively. On a non-core basis though, the party's begun. The total PPI and total CPI advanced by 1.1% and 0.5%, respectively. Both were above expectations, and mostly fueled by higher energy prices.
On the consumer front, confidence is waning, and spending faltered just a bit. The Michigan Sentiment Index fell from 74.5 to 72.7 (versus expectations of 75.5), and retails sales – though up – weren't up by as much as anticipated. Consumer spending was up 0.6% overall last month, and up 0.5% not counting auto sales.
As for unemployment, the new claims level moved further back above the key 400K mark, rising from 410K two weeks ago to 445K last week. Continuing unemployment claims came in lower at 3.879 million. Bear in mind though that data is two weeks old.
And finally, factories were not only busier on December, but also busier than expected. Capacity utilization now stands at 76.0% (a trend high), and industrial production was up 0.8% last month. Both topped estimates.

S&P 500, Capacity Utilization, Industrial Production Index (Click to enlarge)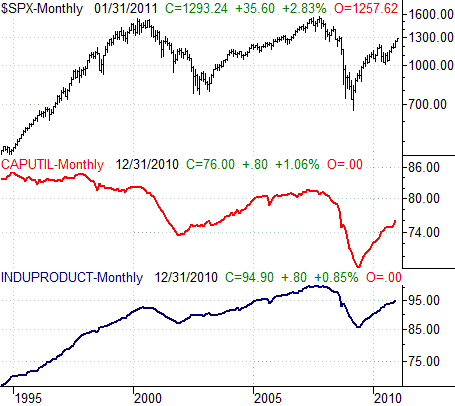 Here's the whole story, and a look at what's coming this week. (Click to enlarge)

Economic Calendar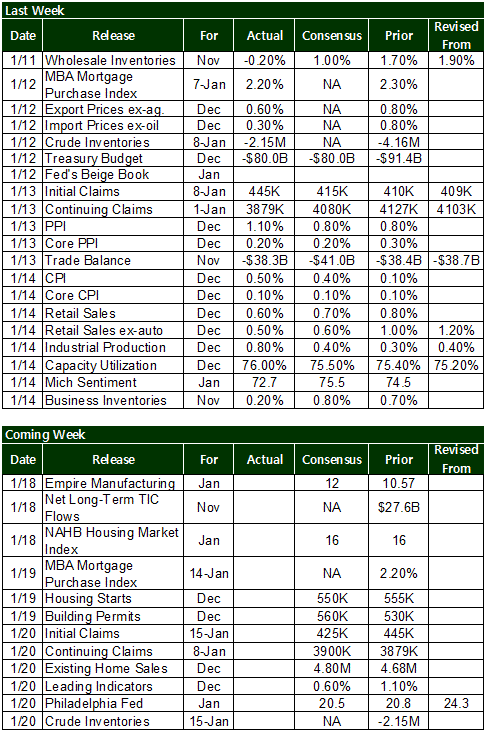 Clearly it will be a less busy week, and with even fewer heavy-hitting numbers except for some very important indicators for the real estate market.
The week kicks off with Tuesday's NAHB Housing Market Index, which will be followed by Wednesday's housing starts and building permits. The former should be flat around 550K, with the latter forecasted to rise from 530K to 560K. On Friday we'll see last month's existing home sales number: Look for a move higher, to 4.8 million.
The Philadelphia fed index as well as the nationwide Leading Indicators number will also be unveiled on Friday, though these numbers have proven to not be overly important for stocks.
Disclosure: I have no positions in any stocks mentioned, and no plans to initiate any positions within the next 72 hours.