Editor's note: Originally published on August 25, 2014
Accomplished natural resources investor Frank Giustra has two long term investments in the junior energy sector, Colombian focused Petroamerica Oil (OTCPK:PTAXF, PTA.v), and European focused Petromanas Energy (OTCPK:PENYF, PMI.v). Disclosure note, I own both of them.
In early trading Monday, one of these companies was climbing strongly, while the other was heading in the wrong direction.
Confirmed breakout for Petroamerica Oil
We have tracked the Colombian focused Petroamerica for 2 years and a week, since it's grown from 1500 boepd to 6000 +. With the acquisition of Suroco Energy in July, production was expected to climb to 9000 bopd+ on the way to 30k bopd, according to a Bloomberg article.
Last week, PTA announced increased reserves in the assets acquired by Suroco, however those assets were offline due to a local community blockade. The reserve increases were enough to ignite an upward climb in the share price of PTA, which traded strongly last week, closing at $0.385 Friday. This morning, for the first time on our radar, shares in PTA traded above $0.40, reaching $0.44 before levelling off to $0.41, where they last traded at press time.
This is a breakout for Petroamerica, which market technicians will want to see confirmed by continued heavy volume in the coming trading days. Petroamerica has a new short term target of $0.50 and a longer term target of $1.00, according to our CEO Technician, who marked up the following chart.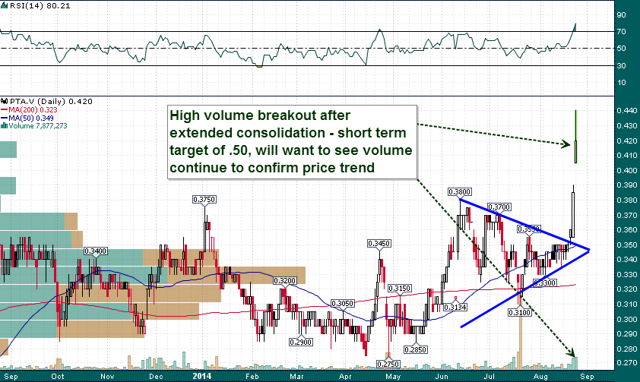 Click to enlarge
Drilling slows for Petromanas in Albania, while French reserves surprise
Mr. Giustra's other core energy investment, Petromanas Energy, is currently drilling the Molisht-1 well in Southern Albania, which is 25% to PMI and 75% to Royal Dutch Shell (NYSE:RDS.A). This is significant in that Shell's market cap is more than 1000x that of Petromanas, yet the Albanian prospect receives meaningful attention in the super major's disclosure.
Drilling at Molisth-1 has slowed, according to the company, which now expects to reach Total Depth of 5800 meters in Q4 of this year, rather than Q3. The market is selling this news Monday, with the company falling from $0.31 to $0.24 in early trading, before climbing to $0.265 at press time. The company is still in an uptrend and is currently consolidating, according to the CEO Technician, who marked up this chart: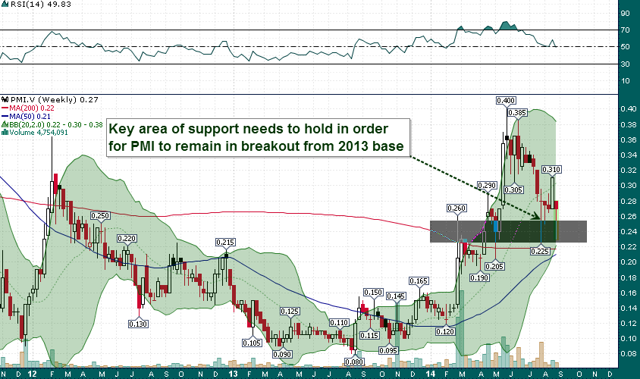 Click to enlarge
The plus side for Giustra and other investors in Petromanas, is that hydrocarbons and natural fractures have already been found in drilling. Natural fractures are key to generating strong flow rates. Shell and PMI's analog is the Val D'Agri field in Italy, where some wells produce in excess of 10,000 bopd.
Petromanas put out a second news release Monday discussing its French gas exploration acreage, which Haywood Securities says demonstrates that there is more to Petromanas than its Albanian projects.
"We have not highlighted PMI's France potential much as we awaited independent resource assessments on prospects prior to assigning value. PMI acquired its France acreage when it acquired Gallic Energy a few years back for ~$20MM. In a separate release today PMI noted that the gross lease unrisked gas initially in place on one of the prospects (the Saucède Prospect) on the Ledeuix Permit is estimated to contain P50 best estimate of 556.3 Bcf of gas (P90 232.1 Bcf; P10 1,423.2 Bcf). This is one of several prospects on the Ledeuix permit, which is in a historically productive region of a country with a marked supply/demand imbalance, favorable fiscal terms, and extensive infrastructure."
Wishful thinking: Look for the French assets to be the focus of the spinout company, should Petromanas and Shell prove their Albanian assets economic, and somebody takes a run at PMI.
Disclosure: Author holds a position in both stocks.
Editor's Note: This article covers one or more stocks trading at less than $1 per share and/or with less than a $100 million market cap. Please be aware of the risks associated with these stocks.