ConocoPhillips (NYSE:COP) Chairman and CEO Ryan Lance gave a presentation Wednesday at the Barclays Energy Conference. Barclays' energy analyst Paul Cheng introduced Mr. Lance as part of the new leadership team that took over after the spin-off of Phillips 66 (NYSE:PSX) two years ago by saying Lance has "breathed new life and new energy into the organization and it correspondingly has also performed well." I could not agree more.
Lance started the presentation by giving more insight into exactly how the company plans to deliver on its promise of 3-5% growth in production and margins through 2017. In short, the company is transitioning from a period of large cap-ex allocated to new major projects to a new era whereby more money will be directed to high-margin development programs. The following slide from the presentation depicts the change and shows a 60%+ increase in development program by 2017: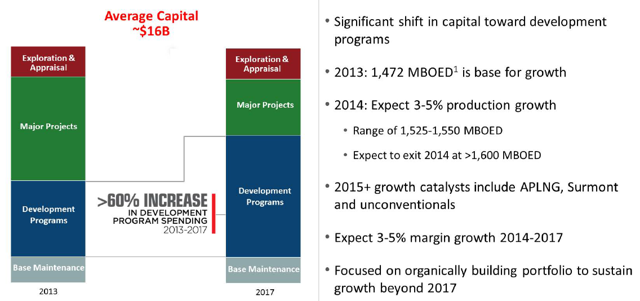 Click to enlarge
So that explains how the company is going to increase production, but what about the margins? Lance explained how margins will grow margins by pointing out that 95% of total capital spending from 2014 to 2017 will be allocated to projects which have cash margins of $30/boe or more. The expected resultant production profile is shown in the following slide: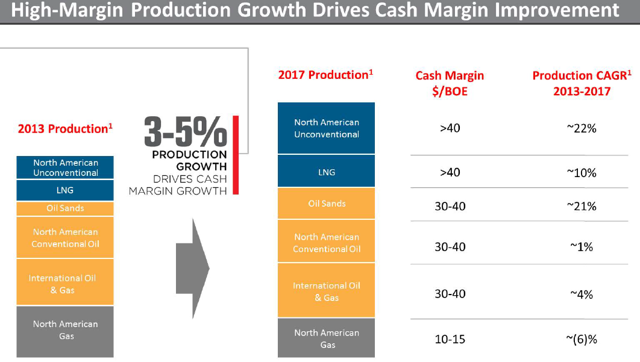 Click to enlarge
Notice how production of lower margin NA gas will shrink while production of high margin NA unconventionals (think Eagle Ford and Bakken) will increase along with LNG. As a result, the company expects cash flow to grow from $15.8 billion in 2013 (which was up 7.5% over 2012) to an estimated $20-$23 billion in 2017. So what is the company going to do with all that cash?
The Dividend
From the Seeking Alpha transcript of this presentation, I will quote Chairman and CEO Ryan Lance's comments about the dividend:
It does remain our highest priority for the use of our cash in the company. We just pay the dividend to shareholders right off the top but I told folks that as our cash flow grows you ought to expect our dividend to grow over time as well.
I love it. I mean what I would pay to hear Rex Tillerson of ExxonMobil (NYSE:XOM) make a similar comment (never happen). COP's current dividend is 3.6%. Exxon's is 2.8%. And remember, in addition to paying a much higher dividend yield, COP's stock price appreciation has beat the pants off of Exxon over the past 5 years: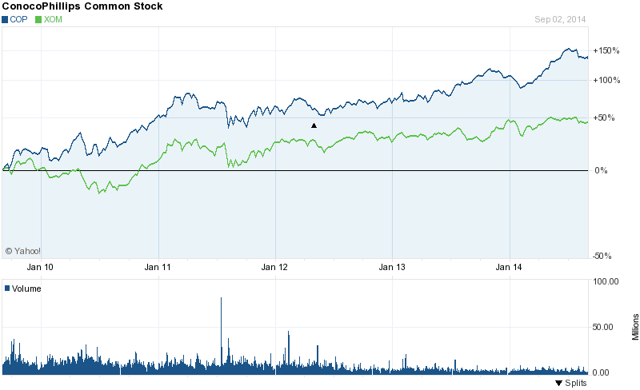 Click to enlarge
From a total return perspective, there is simply no comparison between the two companies. One is shareholder friendly, and the other - well, not so much.
There is a lot more information in this slide deck that will make COP shareholders proud and confident about the future: leading positions in the Eagle Ford, Bakken, and Canadian oil sands. But the company isn't stopping there - it continues to use technology to improve its drilling techniques and processes to reduce costs, increase efficiencies and production, and improve investment returns. The company is the biggest oil producer in Alaska and plans to double its investments in the state this year over 2012's spending as a result of the improved business climate there. Internationally the company is performing very well in the North Sea and of course APLNG will start-up in mid 2015. And COP is doing all this while simultaneously reducing its risk profile.
All and all it was a very bullish presentation by what I feel is a company that is best-in-class.
Summary and Conclusion
ConocoPhillips continues its multi-year track record of saying what it means and doing what it says. Yet with a P/E of 11.0 and despite a higher dividend yield, the stock continues to trade at a discount to old peers Chevron (NYSE:CVX), which has a P/E=12.5, and Exxon - which has a P/E=13.5. At some point the market is going to wake up and realize that the ConocoPhillips story is real and that the company is running rings around its old competitors. It deserves a premium to its older and fully integrated peers.
For full-year 2014, analysts consensus EPS estimates are for $6.53/share. I tend toward the high side of the analysts' range and predict $6.90-$7. With a well deserved and modest move in the P/E to 13, COP should trade up to ~$90 by year-end. Tack on the 3.6% dividend yield and investors will have a nice return off of today's $80.90 close. COP is a BUY and should be held for the long-term. The company is poised to deliver double-digit total returns for the next several years.
| | |
| --- | --- |
| Market Cap: | 99.47B |
| P/E ("ttm"): | 11.01 |
| EPS ("ttm"): | 7.35 |
| Div & Yield: | 2.92 (3.60%) |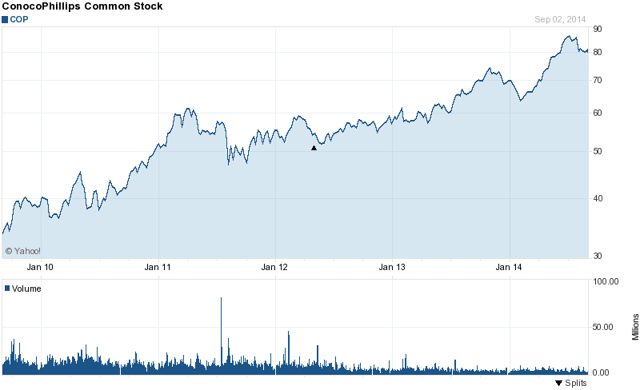 Click to enlarge
Disclosure: The author is long COP, CVX, PSX, XOM.
The author wrote this article themselves, and it expresses their own opinions. The author is not receiving compensation for it (other than from Seeking Alpha). The author has no business relationship with any company whose stock is mentioned in this article.
Additional disclosure: I am an engineer, not a CFA. The information and data presented in this article were obtained from company documents and/or sources believed to be reliable, but have not been independently verified. Therefore, the author cannot guarantee their accuracy. Please do your own research and contact a qualified investment advisor. I am not responsible for investment decisions you make. Thanks for reading and good luck!