Royal Dutch Shell (RDS.A, RDS.B) today made public the results of its first two deep Utica exploration tests in Tioga County, Pennsylvania. Both wells have been on production for a significant period of time, but the results have been kept confidential by Shell. Both test wells are prolific producers.
The discovery proves excellent productivity of the Utica in Northeast Pennsylvania, and gives strong reasons to hope that the Utica, within its deep dry gas window, is a very large, prolific play extending all the way from Northeast Pennsylvania to Southwest Pennsylvania to Ohio and West Virginia. The play may add many years of economically competitive inventory to the region's natural gas resource base.
Shell's discovery represents yet another important breakthrough in exploration for natural gas in the Northeast region. The confirmation of Utica's deep dry gas potential may be comparable in significance to the discovery of the original Marcellus Shale play and Utica/Point Pleasant play in Ohio.
Shell's Announcement
Shell disclosed this morning that it had drilled two test wells, the Neal and Gee, in the Utica formation in Tioga County, Pennsylvania, where the company has significant leasehold position. The Gee had a lateral length of ~3,100 feet, and the Neal had a lateral length of ~ 4,200 feet. I estimate that the wells were drilled to a true vertical depth of approximately 11,500 feet.
The Gee has been on production for nearly one year, and had an initial flowback rate of 11.2 million cubic feet of natural gas per day.
The Neal began production in February, and had observed peak flowback rate of 26.5 million cubic feet of natural gas per day.
Shell did not provide any information with regard to the wells' cumulative production, pressure metrics or completed cost. The company commented, however, that both wells were high-pressure wells and their "results are comparable to the best publicly announced thus far in the emerging Southeast Ohio Utica dry gas play."
Shell also announced that it is currently awaiting results from four additional Utica wells drilled in Tioga County, and anticipates those wells will produce later this year.
Shell's disclosure gives a new meaning to the company's recently announced Pinedale asset divestiture and asset swap with Ultra Petroleum (UPL). Pro forma for the transaction, in which Shell acquired ~155,000 net acres and ~100,000 MMcf/d of current production from Ultra, Shell now holds approximately 430,000 acres in Northeast Pennsylvania, mostly in Tioga County. Shell entered the Marcellus and Utica plays in 2010 via its $4.7 billion East Resources acquisition, and has actively drilled in the Tioga County area. While Shell has substantially reduced its drilling pace after the decline of natural gas prices in 2012, the company is still running a one-rig program.
Deep Utica Exploration Will Gain Momentum
Despite the significant success in the Utica's wet gas and condensate windows in Ohio, the play's dry gas window remains mostly unexplored.
So far, horizontal testing activity in the dry gas window has been limited to a relatively small area in Ohio and West Virginia. The majority of the existing producing wells in the dry gas window - approximately a dozen in total - have been drilled along the West Virginia-Ohio state line (map below). The results have been exceptionally strong, propelling the play to the top of the industry's exploration focus in the region.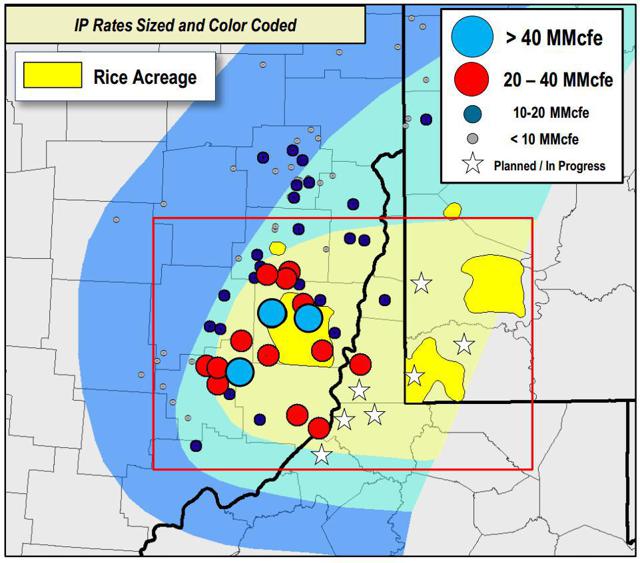 (Source: Rice Energy, September 2014)
To illustrate Utica's truly exciting productive potential, it is sufficient to mention the results of Rice Energy's (NYSE:RICE) Bigfoot 9H well in Belmont County, Ohio, that tested with an IP rate of ~42 MMcf/d, with a flowing casing pressure of almost 6,000 psi. The well is currently producing on the company's restricted choke program at a rate of 14 MMcf/d. Rice estimates that the well can potentially produce ~6 Bcf of natural gas during the production plateau period that may last ~14 months (slide below). The Bigfoot is the best dry Utica well drilled to-date.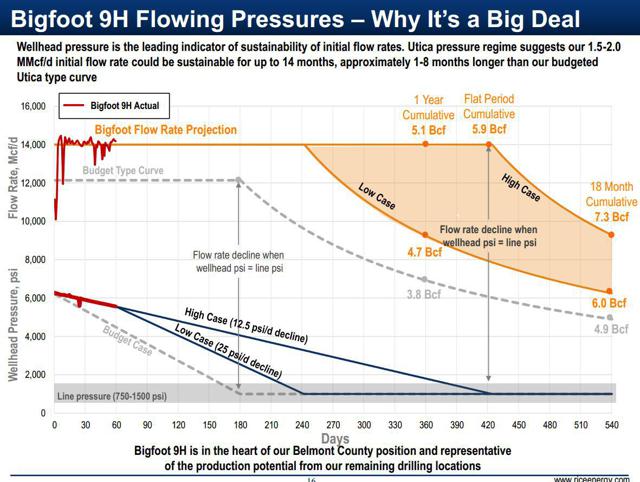 (Source: Rice Energy, September 2014)
There are strong reasons to believe that the Utica/Point Pleasant remains an excellent reservoir as one moves downdip from Ohio across West Virginia into Pennsylvania, as shown on Rice's cross-section slide below. The slide also shows locations of the three important tests being drilled or being prepared by Range Resources (NYSE:RRC), EQT Corporation (NYSE:EQT) and Rice Energy in the southwest corner of Pennsylvania. Well results by Range and EQT may be announced already this year.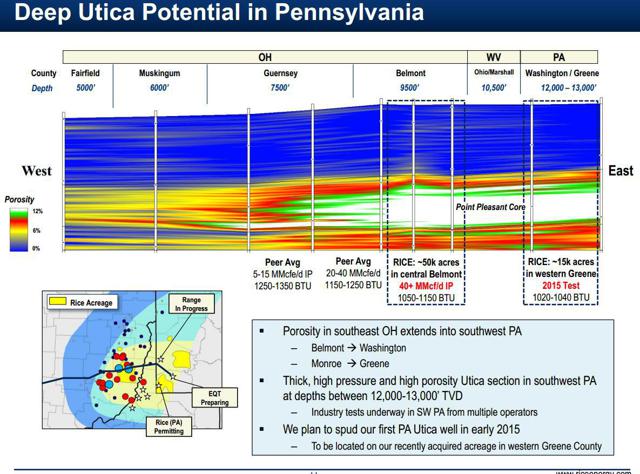 (Source: Rice Energy, September 2014)
Shell's Gee and Neal discovery wells indicate that the highly productive portion of the Utica's dry gas window extends far beyond the Southeast Ohio and Western Pennsylvania areas, where the existing discoveries are located. The Gee well was drilled over 100 miles to the northeast of the nearest horizontal Utica producer. If Utica's entire dry gas window - from the southwest corner of Pennsylvania to Tioga County - proves productive, we may be dealing with a very large resource play. The map below by Range Resources shows the approximate extent of the Point Pleasant dry gas window, and highlights areas with the highest amount of natural gas in place.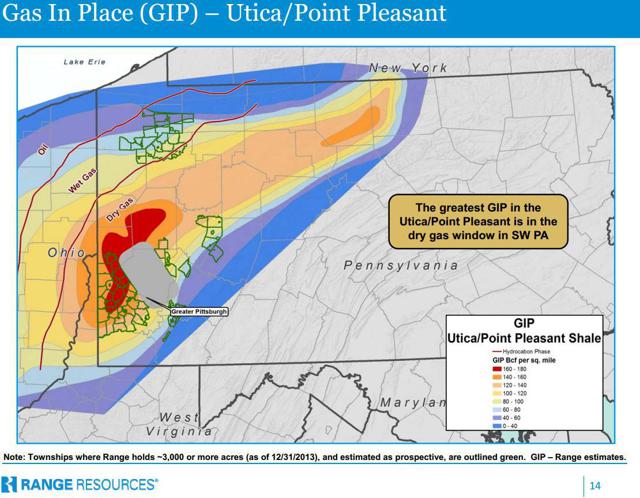 (Source: Range Resources, September 2014)
It is important to note, however, that similar to the Marcellus play, the deep Utica play will likely have sweet spots as well as areas that are poor in productivity. Range Resources' cross section charts below show that even within a relatively small area, acreage quality (measured in terms of rock porosity, in this case) may vary significantly.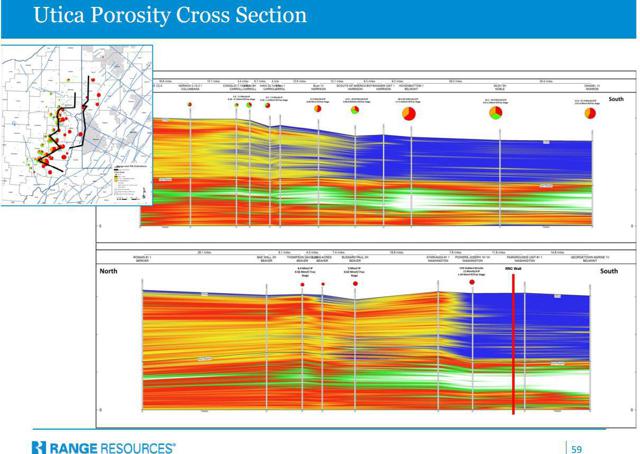 (Source: Range Resources, September 2014)
Shell's success in deep dry Utica in the Northeast may provide impetus to other operators to evaluate deep Utica potential on their acreage.
What Stocks Benefit Most From Shell's Announcement?
The greatest impact from the Utica dry gas potential will be in those areas in Pennsylvania where the Utica becomes the primary target, beating the Marcellus and Upper Devonian plays in drilling economics (otherwise, the Utica inventory goes in the end of the multi-decade development queue and has no immediate impact on value).
Several stocks come to mind that may benefit handsomely if the deep dry Utica proves prolific over an extended area. For example, the impact could be very significant for stocks such as National Fuel Gas (NYSE:NFG) and Rex Energy (NASDAQ:REXX). Both stocks provide significant deep dry Utica exposure "per share." I should emphasize, however, that the exposure to the play's sweet spots - as opposed to the number of acres - will ultimately be the factor driving value.
Other stocks with strong potential exposure to deep dry Utica include:
Chesapeake Energy (NYSE:CHK)
Range Resources
XTO/Exxon Mobil (NYSE:XOM)
Noble Energy (NYSE:NBL)
Consol Energy (NYSE:CNX)
Rice Energy
Equitable Resources
Disclaimer: Opinions expressed herein by the author are not an investment recommendation and are not meant to be relied upon in investment decisions. The author is not acting in an investment advisor capacity. This is not an investment research report. The author's opinions expressed herein address only select aspects of potential investment in securities of the companies mentioned and cannot be a substitute for comprehensive investment analysis. Any analysis presented herein is illustrative in nature, limited in scope, based on an incomplete set of information, and has limitations to its accuracy. The author recommends that potential and existing investors conduct thorough investment research of their own, including detailed review of the companies' SEC filings, and consult a qualified investment advisor. The information upon which this material is based was obtained from sources believed to be reliable, but has not been independently verified. Therefore, the author cannot guarantee its accuracy. Any opinions or estimates constitute the author's best judgment as of the date of publication, and are subject to change without notice.
Disclosure: The author has no positions in any stocks mentioned, and no plans to initiate any positions within the next 72 hours.
The author wrote this article themselves, and it expresses their own opinions. The author is not receiving compensation for it (other than from Seeking Alpha). The author has no business relationship with any company whose stock is mentioned in this article.