A few weeks ago I examined the top and bottom twenty stocks in the S&P 500 for 2010. Periodically, over the course of 2011, I will be updating the performance of these 40 stocks as well as tracking an equal-weight portfolio comprised of the top twenty, the bottom twenty, and the entire index (NYSEARCA:SPY).
As of January 14th, the 2011 YTD price return on the SPY is 2.8% versus the average of 3.9% on the top twenty stocks, and a whopping 8.3% on the bottom twenty stocks. The bottom twenty average was helped by the 57% YTD gain on Nvidia Corp (NASDAQ:NVDA), but also has 5 other stocks returning over 10% YTD (MU, PHM, DF, DO and ADBE). 14 of the bottom twenty stocks have bettered the return on the total index versus 12 of the top twenty.
See details in the charts below.
click to enlarge images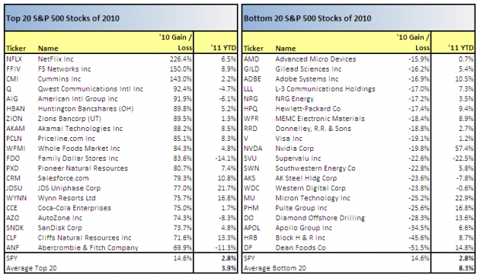 Portfolio of Top/Bottom 20 vs SPY Over Time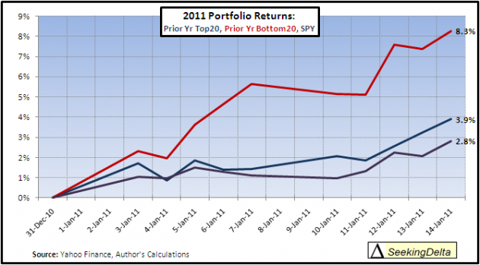 Finally the Top/Bottom YTD in 2011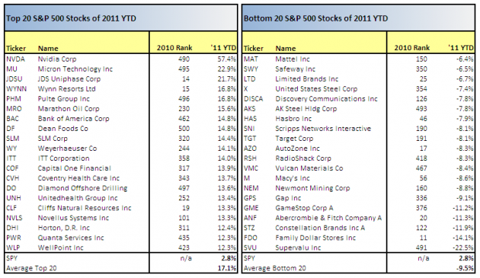 Disclosure: I have no positions in any stocks mentioned, and no plans to initiate any positions within the next 72 hours.