While the title of this article carries a tone of slight arrogance, I believe intelligent investors should always find ways to seek opinions that are contrary to their own. After completing research on Microsoft (NASDAQ:MSFT) last October, I gave it a 'Buy' rating at $25.54 per share. And although the stock has risen from a low of $22.75 at the end of June to a recent price of $28.30 (+24%), it remains a compelling bargain.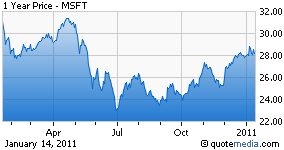 I am certainly not the only value investor with a positive view on Microsoft. It has been a recent top holding of respected managers including Whitney Tilson, Arnold Van Den Berg, Donald Yacktman, Wally Weitz, David Einhorn, David Tepper and others. The following are some factors that attracted me (and probably others) to this misunderstood opportunity.
What's to Like?
Monopoly-like market share in key product categories.

The operating system (Windows) is the primary chokepoint from the user's perspective in the computing experience.

Productivity software (Office) is the #1 application category in the world.
The company benefits from a network effect, as software developers write and support Windows-based applications, and enterprises hire and train based upon proficiency in Windows-based systems and applications.
Revenues and profits are diversified by geography and currency, with exposure to emerging markets (60% of FY2010 pre-tax income from international sources).
Fortress-like AAA balance sheet.

The company has over $18B of net liquidity (Cash + A/R + Investments – Total Liabilities) as of 09/30/10.
High, growing, and fairly predictable free cash flow generation ($22B in FY2010 against a current market cap of $242B and enterprise value of $212B).
Returns on capital in excess of 30% (much higher when adjusted for excess liquidity).
Consistently returns huge amounts of capital to shareholders, including $80B of share repurchases and $20B of dividends over the past five years.
Currently growing:

Q1FY2011 Revenue +25%, Net Profit +51% and EPS +55% on top of FY2010 Revenue +7%, Net Profit +29% and EPS +30%.
Large financial interests by Bill Gates and Steve Ballmer (Gates is good friends with the one of the world's greatest capital allocators and Ballmer works for peanuts relative to his net worth).
Absolutely (and relatively) cheap by many metrics: 11.4% EBIT/EV Yield (LFY), 9.0% FCF Yield (LFY) and 12.2 P/E (TTM).
Why is it Cheap?
Investors believe smart phones and tablets are going to permanently displace PCs as the computing devices of the future.
Investors believe Microsoft lacks the innovative spirit to compete with Apple (NASDAQ:AAPL), Google (NASDAQ:GOOG) and other tech leaders in the 21st century.
Cloud computing will change the computing experience and will erode Microsoft's monopoly-like positions in Windows and Office.
The stock has been dead money for over 12 years.
Why are the Doubters Wrong?
As Whitney Tilson recently noted, over 80% of Microsoft's sales are to enterprise customers.

Smart phones and tablets are highly efficient for consuming content, but not for creating content.

Small screens and small/touch keyboards are terribly inefficient for most enterprise uses.

While smart phones and tablets may become the device of choice for the consumer market, they will likely remain complements to PCs in the enterprise market.

The nature of input (keyboard) and output (large/multiple screens) are unlikely to change anytime soon.
With the exception of the recent success of the Kinect, Microsoft has failed miserably with its copy-cat business model in the fast moving tech innovation game.

However, in lieu of diverting valuable time, energy and money to first-mover innovation efforts, Microsoft has instead focused its resources on protecting its dominant positions in operating systems and productivity applications.

This strategy has been extremely successful, as evidenced by Microsoft's continued 90%+ market share positions in these key categories.
Cloud computing is overrated.

Cloud is simply a distribution model.

Companies must still develop and support applications that users want and need.

Plus, there are significant switching costs in software, including training costs and transition risks.
Investors tend to buy tech stocks for growth.

And many investors mistakenly assume that business results and stock prices move in tandem.

The truth is that Microsoft's operations have been nothing short of fantastic over the past decade.

Since 2000, Microsoft's revenues have almost tripled, net profits have doubled, and EPS has more than doubled.

While moderating a bit over the past decade, the company still has some of the highest profit margins and returns on capital in the world.

The poor stock performance has been a result of compression of the multiple.

It's not management's fault that the stock traded at 50x earnings a decade ago.

Furthermore, the business is growing.

In fact, there are very few companies growing as fast as Microsoft right now.

Granted, a good portion of the current growth was due to a deferred PC upgrade cycle, but the same could be said for many businesses exposed to capital spending.
Intelligent investors know that for most investments based on future free cash flows, a large portion of present value comes from the distant future. With that said, there are certainly a number of things that could change and erode Microsoft's value. However, for reasons provided, these potential changes would likely come slowly and the company would generate substantial amounts of cash in the meantime. Furthermore, it is not a certainty that ALL value would be destroyed by these potential winds of change.
While Microsoft lacks the predictability of a Coca-Cola (NYSE:KO) or Procter & Gamble (NYSE:PG), this high quality stock offers a very compelling risk-reward tradeoff in both absolute and relative terms. Please be polite, but I invite you to prove me wrong.

Disclosure: I have no positions in any stocks mentioned, and no plans to initiate any positions within the next 72 hours.
Additional disclosure: No position, but have recommended MSFT within the past three months.