The upside progress last week only carried stocks further into their overbought condition, but until anybody actually cares, what does that matter (and we're only half joking)?
Let's look at the markets and CBOE Volatility Index (VIX). We'll also point out a couple of important sector trends … and one interesting exception.

S&P 500 Index (NYSEARCA:SPY)
The persistence of this bullishness has now reached pretty amazing heights. Stocks have gained a nearly non-stop 9.5% since the end of November, and the market is up a stunning 23.2% since the end of August (with only one small hiccup between there and here).
One argument against further upside that held a little water over the last two weeks was that the buying volume was tepid, while the selling volume – on the days that were down – was quite strong. That idea was called into question on Friday though, and traders really plowed ahead as the session wore on. It's especially interesting in that these traders were choosing to own stocks going into the weekend, a time when they're usually thinking they want to get out of stocks since they're going to be locked into them for two whole trading days.
But couldn't that have been a blowoff top? Possibly, though it was a tepid one if it was. Most blowoff tops (the last hurrah at the end of a rally and the beginning of a pullback) are on wildly high volume, and are huge moves; Friday's jump was just solid. (We're not ruling the possibility out; we're just explaining the odds.)
The VIX also fell pretty sharply on Friday, though not to any alarmingly low levels. It's under the lower 30-day Bollinger band (green in ) at 15.75, but the 50-day line Bollinger bands (brown) has been a little more important – and more apt to be a boundary – of late. That 50-day lower band is at 14.66 right now, versus the VIX's close of 15.46. Point being, though we're not quite at the crossroads yet, we're very close.
In fact, the VIX may hit its lower band right around the time the SPX rebrushes its upper 50-day Bollinger band. Though that in itself won't inherently serve as the beginning of the end, that will be a peak in vulnerability … the peak in "pushing our luck."
As before, though, a key reversal bar (single-day or two-day pattern) will be the official beginning of any dip. We haven't seen anything close to that yet, so the trend is still technically to the upside.
[Click all to enlarge]
Sector Performance
You'll see a slightly different breakdown and performance categories from our sector ranking this week. It's the beginning of what we expect to be a simpler and more useful assembly of this leadership-spotting exercise.
Either way, the clear winner last week was the Financial group; extending the rebound that few saw coming a couple of months ago. Banks blazed that trail, with capital markets stocks (brokers, investment banks, etc.) not far behind.
At the other end of the spectrum were Consumer Staples stocks, dragged down mostly by brewer names and their average 3.4% dip, although Companhia de Bebidas Das Americas (ABV) did the bulk of the damage. Constellation Brands (NYSE:STZ) from the distillers group didn't have a good week either.
Both trends seem like they could have some longevity.
All that being said, one thing needs to be clarified with the consumer staples weakness: It doesn't include the "household products" group, which was somehow quite firm last week (up 1.5%) -- and that strength seems to be a new emerging trend rather than a fading one. This S&P "mini-group" is comprised of the following stocks: Central Garden & Pet Co. (NASDAQ:CENT); Church & Dwight Co. (NYSE:CHD); Energizer Holdings (NYSE:ENR); Ocean Bio-Chem (NASDAQ:OBCI); Oil Dri Corp. of America (NYSE:ODC); Procter & Gamble (NYSE:PG); Spectrum Brands (NYSE:SPB); Orchids Paper Products (NYSEMKT:TIS); WD-40 Co. (NASDAQ:WDFC); Kimberly-Clark (NYSE:KMB); Clorox Co. (NYSE:CLX); and Colgate-Palmolive (NYSE:CL).

S&P Household Products Chart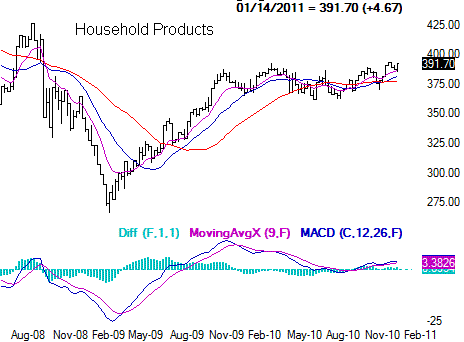 Disclosure: I have no positions in any stocks mentioned, and no plans to initiate any positions within the next 72 hours.