Investors are stock market obsessed. When tracking the daily financial news from mainstream media sources, you could easily draw the conclusion that if one seeks to generate a reasonable rate of return on their investment, the U.S. stock market is the only game in town. Sure, the bond market gets a passing discussion on occasion but it is often in relation to stocks. Gold might also receive a brief mention along with a look of derision every now and then. But otherwise, nearly all of the daily conversation in the mainstream financial media centers on the U.S. stock market. It might seem to many that if you are not invested in U.S. stocks, you are simply not invested at all. But this notion could not be further from the truth as we live in a world of investment possibilities that is increasingly without borders. And given how strong the U.S. stock market has performed over the last few years relative to so many alternatives, it is becoming ever more reasonable to explore the opportunities that may exist outside of this perceived comfort zone.
The U.S. stock market as measured by the S&P 500 Index (NYSEARCA:SPY) has become the yard stick by which our emotions about investing are measured. If the U.S. stock market is plunging, surely everyone must be suffering and investors are in complete dismay. But in reality, it is all a matter of perspective and how investors position their strategy. A few examples illustrate this point.
Yes, the U.S. stock market investor was absolutely devastated during the financial crisis when the S&P 500 Index was cut in half. But for the investor allocated to long-term U.S. Treasuries (NYSEARCA:TLT), this was a period of marvelous returns.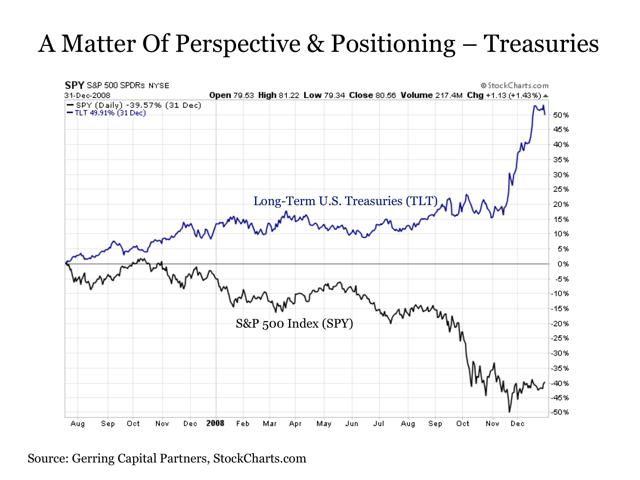 And while the U.S. stock market investor was likely left rattled by the sudden sharp drop during the summer of 2011, gold (NYSEARCA:GLD) was generating a explosive upside advance.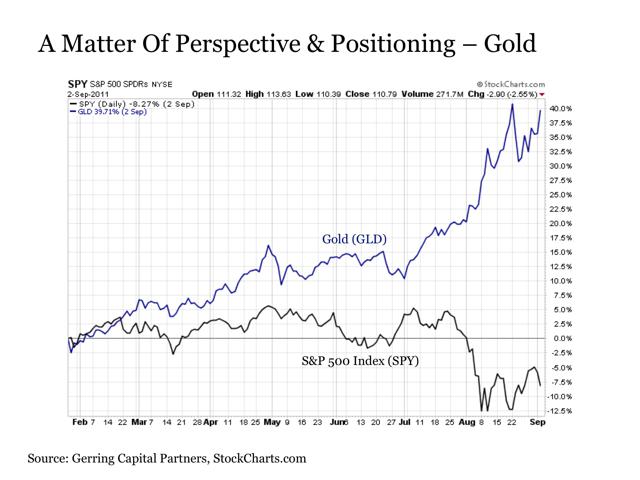 While the stock market was doing reasonably well from the summer of 2010 to the spring of 2011, very few investors lamented having missed the extraordinary upside move that took place in cotton (NYSEARCA:BAL) over this same time period.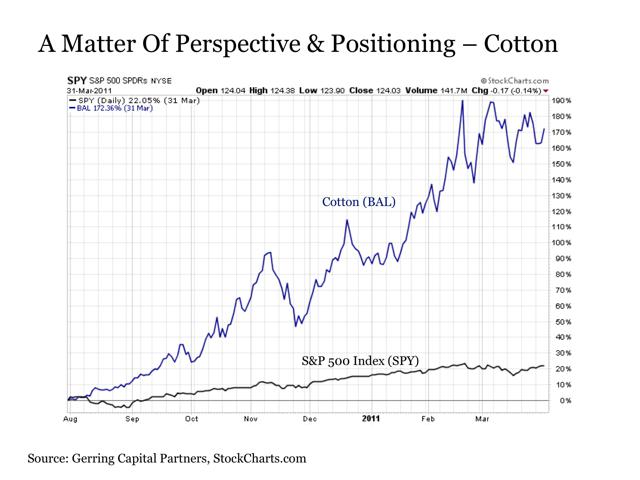 This highlights an important point. Just because the stock market has been performing well in recent years does not necessarily mean that it is the only place to generate a reasonable return on investment. Of course, the U.S. stock market in general and the S&P 500 Index will continue to be the bar against which the performance of all other portfolio alternatives will be measured like it or not. But even if the U.S. stock market were to finally correct at some point in the future, it does not at all mean that the opportunity to generate meaningfully positive returns has disappeared with it. To the contrary, the fact that the U.S. stock market has performed so much better than all other major asset classes since early 2013 suggests that relatively attractive investment opportunities may now exist in the so many categories that were left behind by U.S. stocks along the way.
In fact, many other categories have already stepped up their game against U.S. stocks thus far in 2014. For while U.S. stocks are posting another strong performance this year with a +9.56% return as measured by the S&P 500 Index (not so for small caps, as the Russell 2000 Index (NYSEARCA:IWM) is close to flat for the year), a number of other major asset classes and stock asset classes have trumped traditional large cap U.S. stocks for the year to date. A sampling of some of the 2014 year to date leaders is shown below:
Coffee (NYSEARCA:JO): +75.67%
Palladium (NYSEARCA:PALL): +22.11%
REITs (NYSEARCA:VNQ): +21.58%
Long-Term U.S. Treasuries: +17.30%
Utilities (NYSEARCA:XLU): +15.43%
Asian Stocks ex Japan (NYSEARCA:EPP): +12.48%
Emerging Market Debt (NYSEARCA:PCY): +11.99%
Preferred Stocks (NYSEARCA:PFF): +11.55%
All of these more specialized categories have outperformed the S&P 500 Index in 2014, some by a meaningful margin. None of this means that you should run out and buy any of the above listed investments after the fact, as each should be evaluated on their own current fundamental and technical merits. But what it does highlight is that U.S. stocks are only just one option in a large menu of choices when constructing a broadly diversified investment portfolio.
With this perspective in mind, what has been particularly notable about the rally in stocks since the outbreak of the financial crisis is the increasing divide between U.S. stocks and their global counterparts. This has been particularly true of developed European stocks (NYSEARCA:IEV), particularly those within the European Monetary Union (BATS:EZU), as well as emerging markets stocks (NYSEARCA:EEM).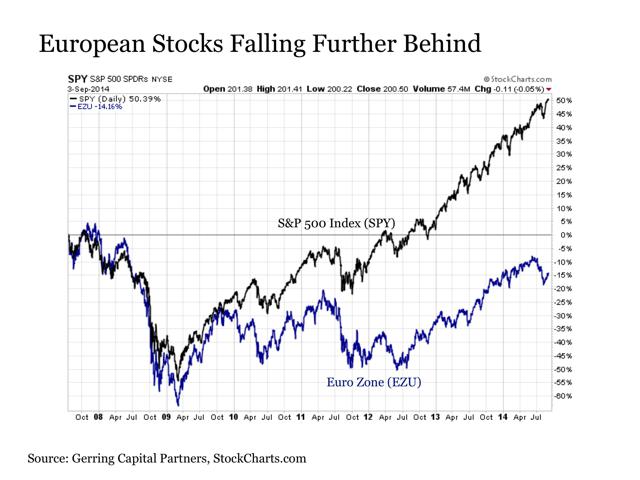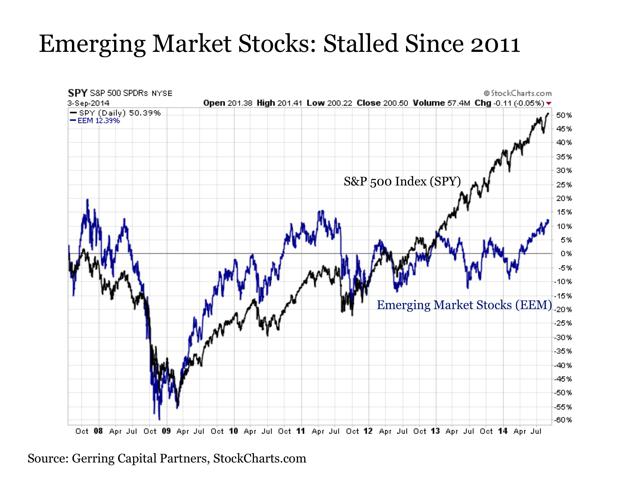 Even a close neighbor like Canada (NYSEARCA:EWC) has fallen well off the U.S. pace.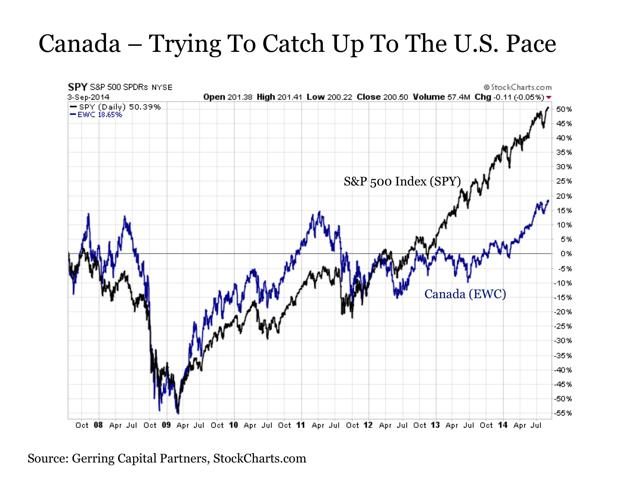 Now the cynic - and I have certainly been disposed toward cynicism in recent years - might look at these charts and ponder what reality European, Canadian and emerging markets among others are reflecting that the U.S. stock market is not.
But the believer might look at these charts instead with the view that opportunities may now exist in the European, Canadian and emerging markets that have been overlooked and left behind by U.S. outperformance.
Whether the cynic or believer is proven right at the end of the day remains to be seen. But given the potential opportunity set and inspired by a comment on one of my recent articles, I will be posting on Seeking Alpha a drilldown look into selected individual stock markets outside of the U.S. to explore the potential opportunity set that may exist today if at all across these regions that have trailed relative to the U.S. stock market in recent years. For investing without borders may offer the potential to provide superior returns versus a U.S. stock only allocation in the coming years.
Disclosure: This article is for information purposes only. There are risks involved with investing including loss of principal. Gerring Capital Partners makes no explicit or implicit guarantee with respect to performance or the outcome of any investment or projections made. There is no guarantee that the goals of the strategies discussed by Gerring Capital Partners will be met. The author is long XLU, PFF, TLT. I am long stocks via the SPLV as well as selected individual names including REITs. I also hold a meaningful allocation to cash at the present time.