Yesterday, investors were treated to a puzzling downgrade from Nomura in which the analyst cited CCAR as a reason to pull the buy rating from Bank of America (NYSE:BAC) shares. The analyst stated that the required capital from the CCAR process would cause BAC's return on equity potential to fall to 13% from his previous estimate of 14.2%, thus reducing the bank's earning potential. In cutting his price target to $17, the analyst fails to understand fully what even his own estimates would mean and BAC's historical earning potential versus today. In this article, I'll attempt to debunk this analyst as I believe he is 100% incorrect in his assessment of BAC following the recent capital raise.
Before we get started, all data for this article were pulled from company SEC Filings and the charts were constructed by me for the sole purpose of this analysis.
To begin, I'll be looking at the analyst's chosen metric, return on equity. But before we do that, I wanted you to see the components of ROE from the past 10 full years for BAC. The below chart depicts common equity and net income from 2004 to 2013.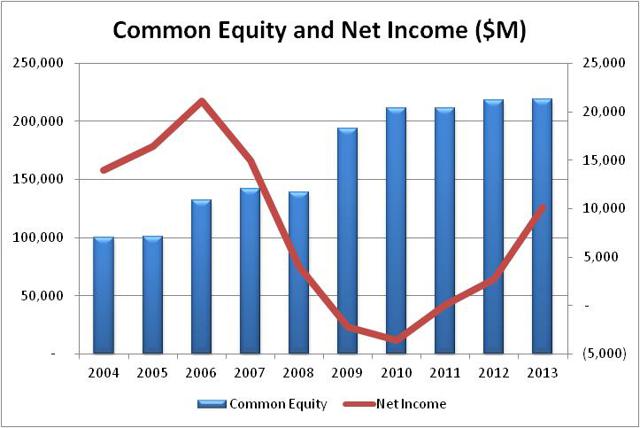 Click to enlarge
As we can see common equity spiked during the crisis due to dilution from BAC selling shares to raise emergency capital. Since then, capital has continued to tick higher, as you'd expect, and was $219 billion at the end of last year. We also see net income take a wild ride in the years leading up to the crisis, peaking at a whopping $21 billion in 2005 before turning negative in 2009 and 2010. Since that time BAC has ramped earnings sharply and last year, earned a little over $10 billion.
After having seen that data you can probably guess what the ROE chart looks like but keep in mind BAC's capital base is much larger than it was in the early years of the 2000s.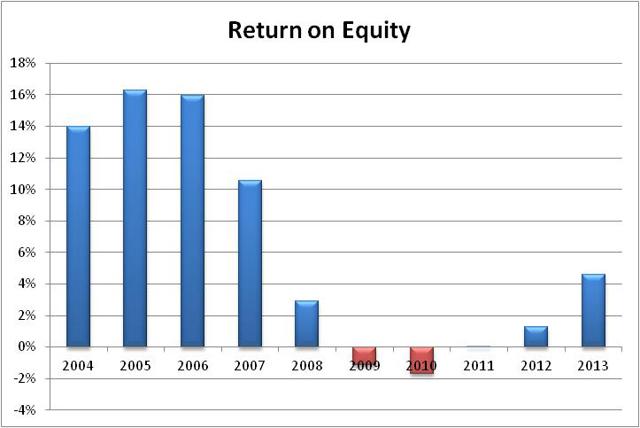 Click to enlarge
We can see that ROE was in the 14% to 16% range before the crisis began to take a toll on earnings and since then, has failed to recover even to 5%. The important thing to note here is that BAC is rapidly increasing its ROE and although the 4.6% number from last year looks quite small in comparison to historical data, it is the highest since 2007 when the effects of the crisis weren't yet known. Yes it looks bad, but focusing on the improvements BAC has made paints a pretty bright picture of the future.
Now, back to the downgrade from earlier this week. Nomura reckons that BAC can "only" earn 13% ROE going forward due to CCAR. I find this a bit confusing because CCAR has been around for years now and yet, Nomura seems surprised that the bank has to hold more capital because of it. It also somehow excludes the other mega banks from the downgrade as though those banks don't have to hold additional capital. I don't get it; I'm not really sure what the analyst's line of reasoning was here.
However, for the sake of this analysis, let's just assume the analyst is correct and BAC can only earn 13% ROE going forward. This would represent the low end of BAC's "normalized" earning potential from before the crisis so the number seems very achievable. If we take BAC's equity base of $222.56 billion, as reported on the bank's second quarter 2014 10-Q, and multiply it by Nomura's lowball estimate, we get net income potential of $28.93 billion. That's not a typo; 13% ROE is nearly $30 billion in earnings and if we take BAC's current share count of 10.5 billion, EPS of $2.76 is implied. Does that sound like a $17 stock to you?
Nomura's downgrade is ill-timed and wrongheaded. The analyst cites lower ROE yet publishes a target that would more than double the bank's current earnings. And by the way, when BAC hits 13% ROE, even if it only gets an earnings multiple of 10, it will be trading for $28, not $17 as the analyst proclaims. Please do yourself a favor and ignore the clueless downgrade from Nomura as this analyst will cost you money if you listen to him. BAC's ROE is ramping and will continue to do so until it reaches the mid-teens and the bank is earning tens of billions in profits. Don't sell your shares for $16 when you can wait and, in my view, likely get double that in a few years.
Disclosure: The author is long BAC.
The author wrote this article themselves, and it expresses their own opinions. The author is not receiving compensation for it (other than from Seeking Alpha). The author has no business relationship with any company whose stock is mentioned in this article.