At the end of last year, students at the Ross School of Business, which manages about $280,000 for the University of Michigan's endowment, pitched a stock for the fund. The stock they picked was Ocean Rig (NASDAQ:ORIG).
The students gave an interview to Forbes magazine, detailing why they chose the company, and below are some of the best bits. The full interview can be found here.
Why do you like it [Ocean Rig]? "ORIG has been punished for Dryships' ownership overhang, however we believe that there will not be any liquidity issues for DRYS for most of 2014. The company has very stable revenue generation…

What catalysts might help the stock? "We are expecting the refinancing or renegotiations of two note issuances currently restricting issuance of MLP/dividends. One restricting senior secured note is callable in April 2014, for which ORIG is looking to refinance/alter the covenants for its senior secured notes…"

Do you have any concerns about the company? "Risks…include…economic slowdown and lower day rates…the ownership overhang of the majority shareholder, DRYS…The motivations of CEO George Economou are a concern, but with his $183 million stake in DRYS and $109 million stake in ORIG make his personal wealth extremely correlated with the performance of shares of ORIG…ORIG's joint venture with OceanEnergean is something to monitor…"

Why do you like this company more than the competitors? "We like ORIG…because of its focus on ultra-deep-water drilling…100% of its assets are UDW…"

What price target do you have and how did you get it? "We currently have a target price of $28 on ORIG. We arrived at this valuation by creating a DCF - DDM hybrid model. With the DDM part of the model, we took into account 3 rigs that would continue to generate revenues at a tax-exempt status. The DCF portion takes into account the other rigs that would likely not be issued as part of the MLP. We also performed a yield-based NAV analysis to come up with a potential NAV for when the company issues dividends."
This is a great analysis of the company and really sums up all the major points that will impact Ocean Rig going forward. The main issue is Dryships, which still owns around 60% of Ocean Rig and is in a poor financial position.
Dryships
Any sale of shares by Dryships would undoubtedly put downward pressure on Ocean's share price. However, Dryships is staging somewhat of a recovery and Ocean's newly initiated dividend payout is helping.
On the debt front, Dryships has recently secured bridge, as well as longer term financing for its near term convertible debt, due within the next few months. Further, shipping rates are showing some signs of stabilization and the tanker market is recovering rapidly. Dryships' outlook is improving and liquidity should follow suit over the next few quarters. It would be reasonable to assume that the risks related to the Dryships stock overhang have dramatically fallen since the end of last year, although risk remains.
For more information about Dryships' prospects, readers should take a look at the company's second quarter earnings conference call, found here.
Strengthening the balance sheet
Ocean Rig has also been busy renegotiating its financial position. The company has refinanced a number of facilities during the past few quarters, removing the restraint on MLP creation, stretching out the debt maturity profile and lowering interest costs.
Unfortunately, refinancing has not helped Ocean's share price. Management has been updating shareholders quarterly on the progress towards MLP status and the financing requirements that go with this. On the Q1 conference call, George Economou President, Chairman and CEO, revealed that:
"…we are pleased with successful refinancing completed on May 13th, following the redemption of the remaining 9.5% unsecured notes that were outstanding as of the end of the quarter. The refinancing of the 9.5% notes due 2016 with a new 7.25% notes maturing in April of 2019 resulted in a significant reduction to our 2016 maturities, and increased our weighted average maturity to 5.1 years. Through 2016 we have no debt maturities, while our debt is expected to amortize by 438 million over this three year period…"

"…In addition I remind you that in early February we financed the short-term tranche over a Term Loan B with a fungible add-on to the long-term tranche. The entire 1.9 billion Term Loan B facility will now mature no earlier than the third quarter of 2020. Following the refinancing of 9.5% unsecured notes our next significant maturity is that of our 800 million, 6.5% secured notes in 2017 that we will most likely refinance in October of 2015. As a result of our refinancing activities over the past 18 months we have diversified our sources of debt as well as increased our dividend capacity and harmonized our covenants…"
On the Q2 call, news concerning the MLP was revealed:
"…goal to launch the initial public offering of a new master limited partnership subsidiary by the end of 2014. We are continuing to work towards achieving this objective. And as part of it, we successfully completed the refinancing of the $1.35 billion bank and ECA facility with our new $1.3 billion secured, senior secured term loan B facility…This new term loan matures in the third quarter of 2021, and among other things, it includes provisions that allow the creation of a master limited partnership subsidiary…"
So, the company has cleared the restrictions blocking the MLP on debt covenants. What's more, recent refinancing activities have pushed back the company's debt maturity profile with the next significant repayment falling due Q4 2017.
Ocean Rig's debt profile is shown below, as reported within the company's corporate presentation.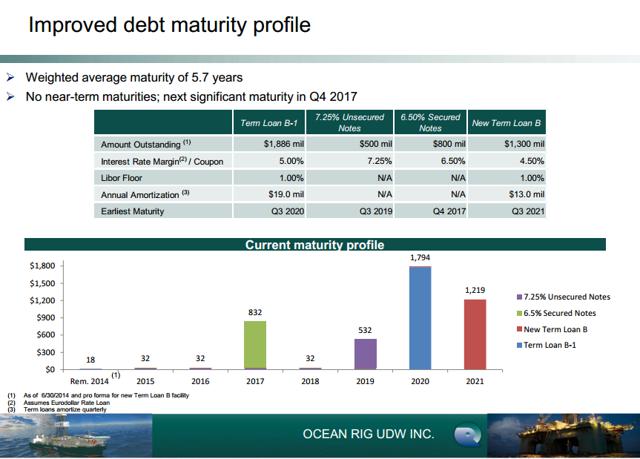 Source: Ocean Rig second quarter earnings presentation
MLP
A quick note on the MLP structure management is considering. Rig's management has made some interesting comments on this matter. As displayed within the company's Q2 earnings conference call, figures suggest that the market is placing a higher value on drilling units fixed within an MLP structure.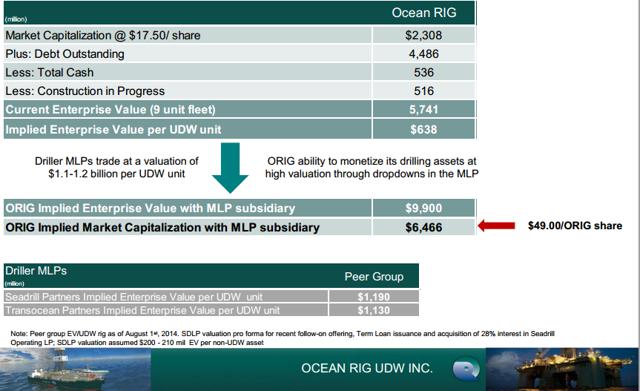 Source: Ocean Rig second quarter earnings presentation.
It would appear as if the market is valuing each rig placed within an MLP at double the enterprise value of units held within a traditional corporate structure. As the table above shows, converting a portion of Ocean Rig's fleet into an MLP would send the group's enterprise value surging. It's not clear if management intends to convert Ocean Rig as a whole into an MLP. Although the above illustration indicates the creation of an MLP subsidiary, other statements have suggested that Ocean as a whole will just flip to the MLP structure.
Whatever the case, it is likely that as a result, Ocean's market value will drastically increase and larger shareholder distributions (including those to Dryships) will follow suit. With debt under control and many of Ocean's rigs on fixed contracts through the next two years, the company is perfectly placed for the creation of a drop-down MLP which will be able to dish out cash to investors.
OceanEnergean
OceanEnergean (as mentioned above by the Ross students) is a 50/50 joint venture set up by Energean Oil & Gas and Ocean Rig for the exploration, development and operation of oil and gas fields.
There is little data available on this partnership, so I assume there has been no action on this front for some time. The JV was originally signed at the beginning of November last year.
UDW fleet
One of Ocean Rig's biggest advantages over its peers has to be the company's new, high-spec, UDW capable fleet.

The company's fleet of drilling units is young with a high UDW capability. Ocean's presentation provides some detail on how the market for offshore drilling units is currently moving.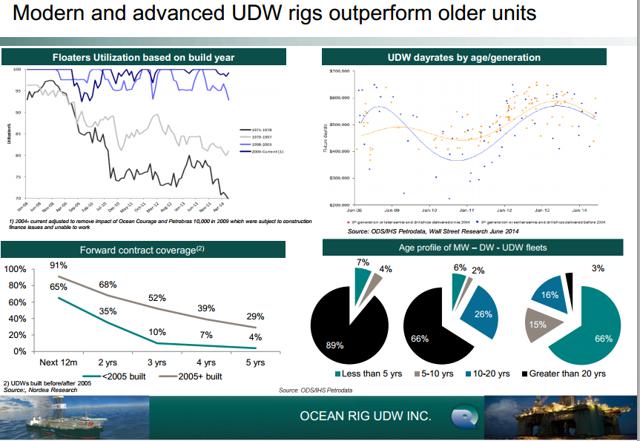 The top two charts are the most important. Top left shows the utilization of floaters by year built. The black line is units built during the period 1971 to 1978, while the grey line shows units built between 1979 and 1997. The top dark blue line is units built within the period 2004 to present. Floaters built within the past 10 years are currently maintaining a near 100% utilization rate.
The chart in the top right shows the day rate achieved by UDW drilling units based on their age and specification. The yellow line represents the trend for 6th gen drillships delivered after 2004. The blue line shows 6th units delivered before 2004. These two charts both highlight how younger, high-spec units are able to achieve the highest utilization rates with the highest day rates.
With this modern fleet, Ocean Rig has been able to contract out the majority of its fleet through 2017, avoid much of the current rig market slowdown.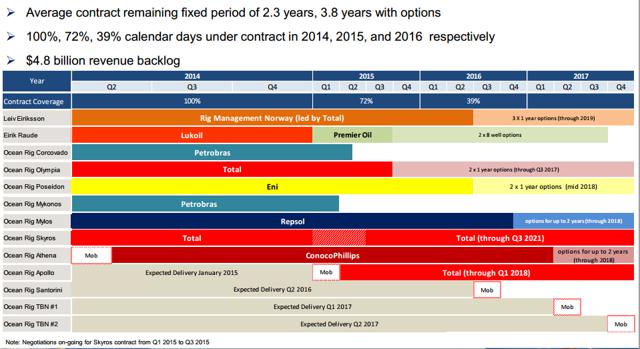 Source: Ocean Rig second quarter earnings presentation
Valuation
So, Ocean has a modern fleet of UDW drilling units, all of which are in demand. What's more, the company's debt is under control, with extended maturities and lower interest costs. The company's revenue is fixed for much of the next two years and revenue should expand as new units are delivered and come online.
But the question remains, how do you place a value on Ocean? There are several methods, as shown below all of which indicate that the company is undervalued at current levels.
Note: As mentioned above, there is some confusion about how the MLP creation will pan out. Some comments suggest that Ocean Rig in its entirety will convert to an MLP. Other comments suggest a partial MLP structure, using a drop-down arrangement, like Transocean and Seadrill. Nevertheless, the company presentation figures displayed above show an estimated $49 per share target price based on the MLP subsidiary creation, so this is the figure I will be using for MLP creation.
| | | |
| --- | --- | --- |
| Valuation Technique | Implied Valuation | Potential Upside ($18.53) |
| MLP Structure | $49.00 | 164.00% |
| Tangible Book Value | $22.90 | 23.60% |
| Graham Formula Technique | $24.44 | 31.90% |
| Discounted Cash Flow | $35.15 | 89.70% |
| Average | $32.87 | 77.39% |
**Discounted cash flow = current free cash flow of $540 million (investor presentation) conservative cash flow growth rate in line with inflation at around 3%, discount rate 15%.
These four valuation methods indicate an average 77.39% upside from current levels. The lowest, tangible book value, implies a 23.60% upside from current levels. Even for the most conservative value investors, Ocean appears to offer value at current levels.
Summary
So to conclude, Ocean Rig is an attractive investment within the deep water drilling space. The company has a modern, in-demand fleet of UDW drilling units, debt has been fixed at low rates, revenue is contracted for the next few years and the creation of an MLP structure will unlock value.
Risk wise, Ocean is exposed to the slowdown in the offshore drilling market. However, due to the fact that the majority of the company's fleet is already contracted for the next two years, Ocean's performance is likely to be slow and steady going forward. What's more, several valuation methods imply that Ocean is undervalued.
Disclosure: The author has no positions in any stocks mentioned, and no plans to initiate any positions within the next 72 hours.
The author wrote this article themselves, and it expresses their own opinions. The author is not receiving compensation for it (other than from Seeking Alpha). The author has no business relationship with any company whose stock is mentioned in this article.