Today, investing is a little different than it was a few decades ago. Access to publicly filed information is available to all investors, and it can be obtained within seconds on the internet.
That makes it very hard to gain an information edge on the market.
Despite that, I believe that I do have an edge on the market. That edge is patience.
In a world where the "experts" appearing on CNBC are willing to predict where the stock market will move in the next two hours, there is a great opportunity for the patient man to profit. While everyone else tries to frantically trade in and out of stocks, a patient man can place his bets on the best long-term opportunities and relax.
In October 2008, when almost everyone was fleeing stocks, Warren Buffett wrote the following:
"Let me be clear on one point: I can't predict the short-term movements of the stock market. I haven't the faintest idea as to whether stocks will be higher or lower a month - or a year - from now. What is likely, however, is that the market will move higher, perhaps substantially so, well before either sentiment or the economy turns up. So if you wait for the robins, spring will be over."
I think what Mr. Buffett said about the overall market back then applies to both uranium prices and uranium producers today. Both are out of favor, and have been for some time, and like Buffett, I have no idea when that will change. But I believe it will.
Uranium stocks are down 70% from the start of 2011, while the overall market is up 60%.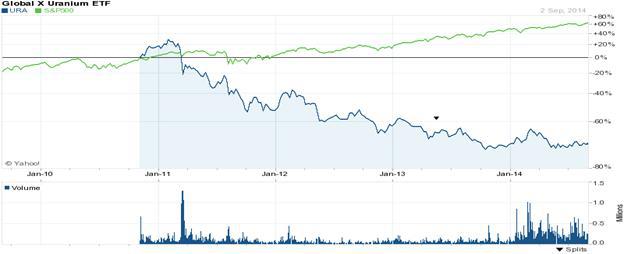 (Source of image: Yahoo Finance)
I believe it is almost certain that both uranium prices and the stock prices of uranium producers are bound to go up over the long term.
Between now and when good things happen in this sector, these uranium businesses will indeed suffer earnings hiccups, as they always have. But I believe most significant uranium companies will be setting new profit records 5, 10 and 20 years from now.
For uranium, I believe it is all about the fundamentals.
There are currently 70 nuclear reactors under construction around the globe. The World Nuclear Association believes that these reactors alone will require an additional 33 million pounds of demand for uranium on an annual basis.
The long-term plans for the number of reactors around the world is even much larger. Again, according to the World Nuclear Association, there are another 310 nuclear reactors currently proposed.

This means there is a huge increase in demand for uranium coming, and that is going to do great things for the price of uranium (and uranium producers).
The certainty of demand increasing is a reason to be bullish on uranium and uranium producers. The economics of the industry are even more supportive of the bullish case.
JPMorgan has indicated that the average uranium price needed to make a new conventional uranium project profitable is $83/lb. That is 290% higher than the spot price for uranium today.
Today, companies that are producing uranium for $70 to $80 are selling that product for $30 a pound. That is not a sustainable situation. The price of uranium has to go up, because shortages are going to develop.
According to well-known commodity investor Rick Rule, the last time uranium faced shortages similar to what I believe is coming, the price ran from $8 to $130, and shares of companies operating in the industry went up tenfold, twentyfold, and for the smallest producers, even more.
I think this near-certain big increase in uranium demand, combined with a current spot price that needs to triple just for the industry to make a small profit make this sector a long-term fat pitch.
As can be seen in the chart below, the analysts that follow the industry all agree that rising uranium prices are going to happen.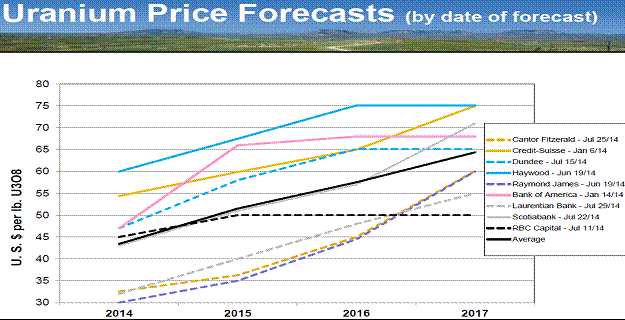 (Source of image: Uranerz Energy Corporation August Presentation)
There is good reason for the current low uranium price. There is too much supply for the current level of demand. But I encourage investors to look beyond the current and think three or four years forward.
The nuclear plants being built guarantee a significant change in demand, and once current daily supply levels are exceeded, the cost to bring on new production is significantly higher than where uranium prices sit today.
I believe uranium prices are a bit like a coiled spring. The longer they stay low, the sharper the inevitable rise will be.
Uranerz Energy Corporation - Leverage To Higher Uranium Prices
Rick Rule's comments on stock prices of small uranium producers going up by multiples in the last uranium bull market has me looking for opportunities amongst the smaller producers.
I think buying the bigger companies like Cameco (NYSE:CCJ) is likely a great idea (and definitely less risky), but I enjoy turning over rocks looking for opportunities where few institutions are looking.
Uranerz Energy Corporation (NYSEMKT:URZ) fits that bill. Its share price basically needs to increase fivefold to return to where it was prior to the Fukushima disaster. There is upside here if uranium prices improve.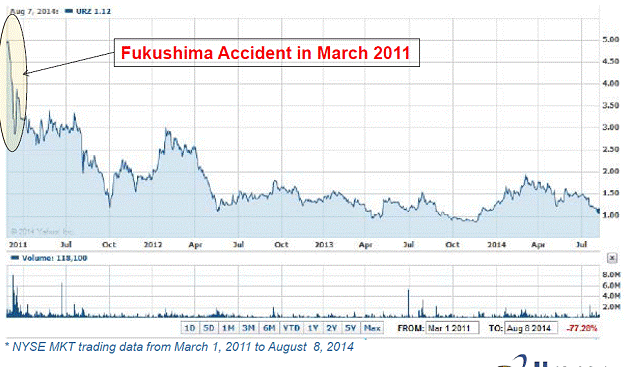 (Source of image: Uranerz company presentation)
Company History / Management
In 1998, the third-largest uranium production company in the world was the "Uranerz Group" of companies - a Germany-based group of companies that included Uranerz Exploration and Mining, Uranerz U.S.A. and Uranerz Australia.
That year, the Uranerz Group was bought out by uranium heavyweight, Cameco, the largest uranium company on earth at that time.
After the buyout, many of the company's (Uranerz Group) key management got back together at what is now Uranerz Energy Corporation.
The current CEO of Uranerz, Glenn Catchpole, has deep experience in the Powder River Basin and the state of Wyoming as a whole. He began his career 32 years ago in Wyoming, and worked for both the prior Uranerz and Cameco.
Dennis Higgs is the chairman of Uranerz and the founder of the company. He was involved in the founding, financing, initial public listing and building of several companies, including Arizona Star Resource Corp., which was acquired by Barrick Gold for $18 per share in 2007, and BioSource International Inc., which was acquired by Invitrogen Corporation for $12.50 per share in October 2005.
For me, having a management with a documented background with significant credible experience is essential when looking at a smaller company. This doesn't guarantee success, but it certainly lowers the risk involved for an outside investor.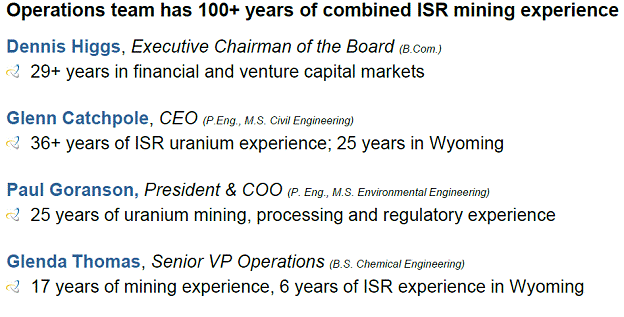 Assets
Uranerz operates an ISR, or in-situ recovery, mine at Nichols Ranch in the Powder River Basin of Wyoming. The company owns over 79,000 acres, with six primary uranium projects and up to 30 potential prospects under exploration and research.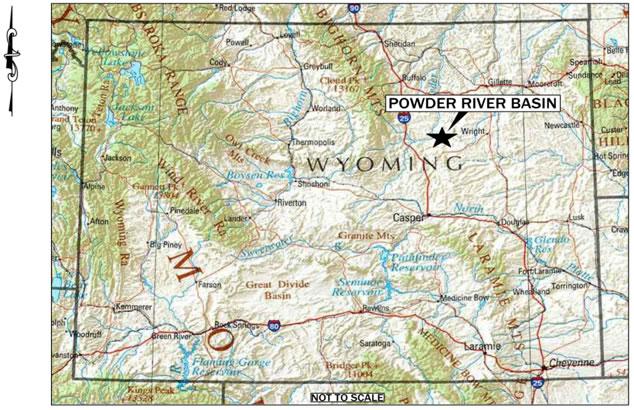 (Source of image - Uranerz Energy Corporation 10k)
Other companies owning property in the neighborhood include Cameco and Uranium One (OTC:SXRZF).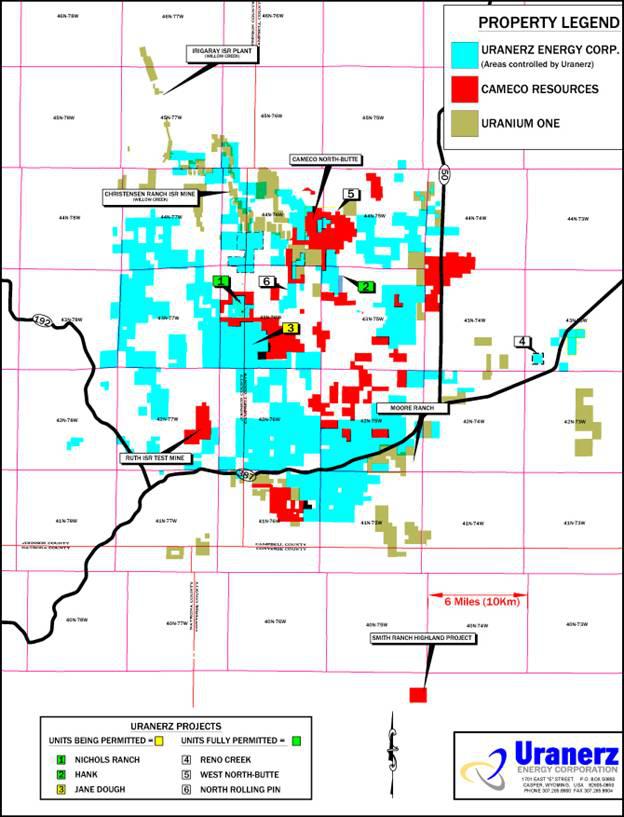 (Source of image: Uranerz Energy Corporation website)
In-situ recovery (ISR) in North America involves leaving the ore where it is in the ground, and recovering the minerals from it by dissolving them and pumping the pregnant solution to the surface, where the minerals can be recovered.
Consequently, there is little surface disturbance and no tailings or waste rock generated. However, the orebody needs to be permeable to the liquids used, and located so that they do not contaminate groundwater away from the orebody.
ISR uses the native groundwater in the orebody, which is fortified with a complexing agent, and in most cases, an oxidant. It is then pumped through the underground orebody to recover the minerals in it by leaching. Once the pregnant solution is returned to the surface, the uranium is recovered in much the same way as in any other uranium plant (MILL).
Uranerz just completed delivery of its first uranium that was produced by the Nichols Ranch. 36,000 pounds was delivered to the ConverDyn's Facility in Illinois for subsequent transfer to one of its utility customers.
Uranerz signed its first long-term uranium sales agreement in 2009 with Exelon Generation Company, LLC, and signed its second sales agreement with another major U.S. utility later that same year. This first delivery will satisfy a portion of Uranerz' existing long-term sales contracts, and the company expects to make its next shipment of uranium later this quarter.
The Nichols Ranch production facility, which was commissioned on April 15, 2014, is actually the newest uranium mine in North America.
For me, the fact that these assets are located inside the United States is a huge plus. The country is the world's largest uranium consumer, using 50 million pounds per year, while it produces only 5 million pounds. That nearness to market has to be a cost advantage over time.
Valuation Thoughts
Now this is where this gets a little bit tricky, because I'll admit there is no margin of safety when it comes to buying shares of Uranerz today.
The production costs for Nichols Ranch are estimated to by $35 per pound when all royalties and taxes are included.

At current uranium prices, production from this facility isn't going to make any money, and that doesn't factor in the cost of running the business, which is outside of operating costs.
I should note that at $35 per pound, Uranerz is actually one of the lower-cost operators, so it isn't like the project isn't attractive relative to competitors. Yes, this is an industry experiencing a lot of pain.
You basically need to look back to mid-2012 to see a time when uranium prices were high enough that producing uranium for $35 per pound is an attractive proposition.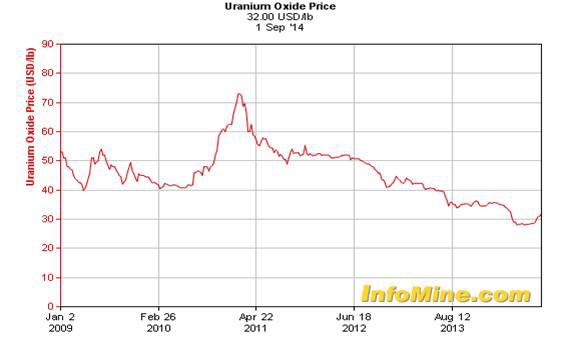 But I'm not looking back, I'm looking forward. A long way forward, where I believe we are going to see uranium prices return to pre-Fukushima levels and perhaps higher.
That is when Uranerz and other small producers are going to give shareholders big leverage to that price increase.
Simply put, if uranium prices five years from today are still at current levels, owning shares of this company and pretty much every uranium producer is going to be painful. But if uranium prices double, we are looking at a multi-bagger (the share price was five times higher pre-Fukushima).
With 96 million shares outstanding and a share price of $1.20, Uranerz has a market capitalization of just under $120 million.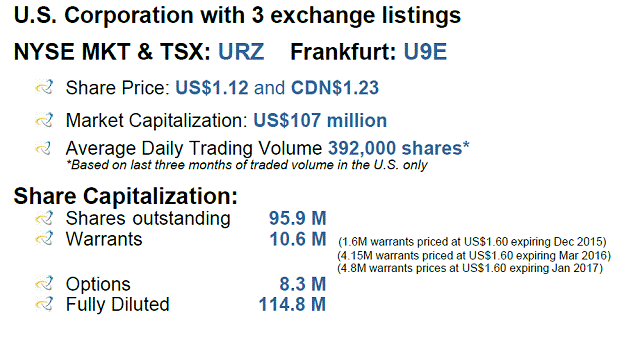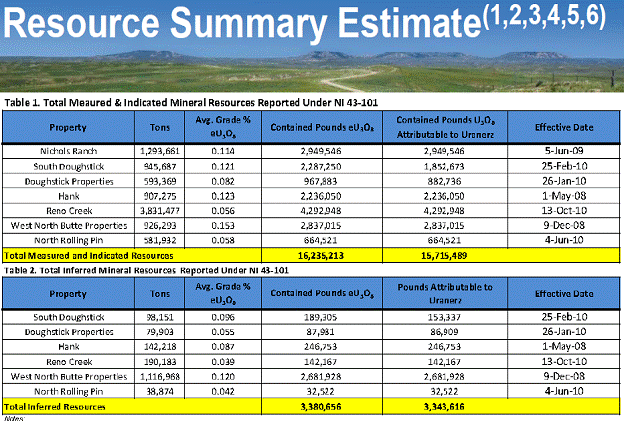 Risks
What I envision is owning a basket of these smaller uranium producers. That would greatly lessen my specific company risk, and instead make this more of a leveraged bet on uranium prices improving.
I would expect that even a basket of these companies would be very volatile and require a lot of patience and ignoring of short-term noise.
By itself, Uranerz would be very high risk, given that it has just commenced production and is going to have very little operating cash flow in the near term, perhaps none if uranium prices are $30 and under.
But that is what I'm looking for. Leverage to uranium prices. At current prices, things don't look so good. At higher prices, these companies are going to get re-valued.
For Uranerz specifically, another risk is that an extended continuation of low uranium prices would likely mean dilution at some point, as the company would need to keep cash flowing in. That is not a risk for the foreseeable future, though, as the company just raised capital in July of 2014.
Note: Unless specifically noted, images are from the Uranerz investor presentation of August 2014.
Disclosure: The author has no positions in any stocks mentioned, and no plans to initiate any positions within the next 72 hours.
The author wrote this article themselves, and it expresses their own opinions. The author is not receiving compensation for it (other than from Seeking Alpha). The author has no business relationship with any company whose stock is mentioned in this article.