The Global Macro (Hi)Story
Historically, August tends to be a quiet month characterized by lackluster trading and/or an overall decline in prices, sometimes precipitously in both areas. There is one exception however, depending on the macroeconomic health of the US economy. For many years now, two constants have manifested in the month named after Augustus, Emperor of Rome. This analogy seems apropos because Rome was significantly expanded and strengthened during the reign of Augustus.
In financial trading, August can either strengthen the trend preceding it, especially in the case of cyclical bull markets, or August can paint a bleak picture of what's to come. Within global macro circles, index fund inflows for August, combined with overall market behavior, are examined to get a pulse on the 3rd and 4th quarters. While it's understandable for volume to drop-off when most of the financial industry vacations in August because the school year is about to commence, or the horrid weather conditions in New York City, or everyone else is vacationing in The Hamptons, perhaps 'all of the above'; declining prices are neither correlated to, nor a symptom of when traders choose to vacation, as has often been suggested by the talking heads on TV. While it can be said prices tend to fall when traders are absent, logically it does not hold true that "when traders are absent, stock prices will fall." This logical fallacy has become a talking point for the media when they need to use a catch-all phrase to justify falling prices, absent geo-political events which are preferable over something as dull as "vacationing traders".
With the Bears Away the Bulls Can Play: Identifying a Cyclical Bull Market
If the overall economy is not only healthy, but firmly in the midst of recovering from the depths of a deep recession, the fund inflows should show a continued inflow of new money in index funds. Present indicators suggest the economy is firing on all cylinders. Coupled with a lack of regulatory intervention (i.e. tightening monetary and/or fiscal policies), the economy will continue to show improvements both in employment and in rising incomes. The net effect is continued capital flows into index funds, and as recent data shows, August saw significant inflows. As global macro practitioners, this little nugget of knowledge is crucial. The general health of the stock market, even as far back as the Dow Theory, depends on a healthy economy that's creating jobs and raising incomes. If a bull market is genuinely cyclical, the correlation between vacationing traders in August and declining stock prices would be severed. It's been a while since this little qualifier has materialized, but recently released numbers for August inflows presents bulls with a strong case for a cyclical bull market in stocks. Keep in mind however that "cyclical" is a long-term view while traders are more often concerned with the short term picture. As the late John Maynard Keynes once said, "In the long-run, we're all dead". Moreover, were he alive to opine on "flash crashes", I'm sure he would find a way to correlate them with his other famously remembered quote: "markets can stay irrational longer than we can stay solvent".
We certainly did see a substantial drop in overall volume for the month of August. Combined with strong fund inflows into index funds, and as you'll read below, massive Chinese household buying of US Treasuries, stocks may have actually experienced an exaggerated rally due to a lack of short selling, a practice most often employed by Wall Street Hedge Funds and generally taken for granted by Main Street as either "un-American" or "anti-capitalistic behavior". Although an upward push in August is good news for the bulls, it should raise alarms in the short term, especially with volatility at extreme lows. A potential counter-move or correction going into October would be healthy, though the degree of any correction depends on the move preceding it. In this particular case, a decline could be so sharp that we may witness another "flash crash", a neo-contemporary phenomenon of market behavior almost guaranteed to re-occur as long as the same micro-structure market regime remains firmly in place. Behavioral finance played an important role in the October crashes of past. It seems to be an accepted truism that markets will fall, often precipitously, in the month of October. This assumption manifests itself into reality compliments of the herd and behavioral economics.
What will happen in this era of algorithm induced market chaos caused by automated market making? Will there be a reversion to the archaic practices of 1987 when market makers refused to answer their phones as the stock market went into freefall (itself triggered by a 'new' instrument called portfolio insurance sold by the banks as the latest and greatest snake oil of the time)? Much like market makers refusing to answer their phones in 1987 as the Dow was cascading, automated market making driven by algorithms that decide to pull their quotes right when the market is depending on them the most are, for all intents and purposes, exactly the same thing. Pulling quotes is no different than market makers refusing to answer their phones. The intent, whether manual or algorithmic is the same: they don't want to trade. Thus a vacuum is created and the move is exponentially greater. This creates both opportunity and risk. To offset this risk, let's put on some cheap Black Swan insurance while the VIX is near historic lows using deep-out-of-the-money puts. To exploit the opportunity, should it present itself, make sure you have plenty of cash ready in the event panic takes over and there's blood on the street.
The Proof is in the Pudding
Proof the economy is firing on all cylinders and the Fed is not rushing to tap the brakes, the dollar jumped to its highest level this year against the yen on Tuesday following strong U.S. economic data coupled with lackluster volume. Concurrently, the yield on 10 year Treasury's rose following the same news. To add insult to injury, Direxion, the name behind those double and triple leveraged and inverse ETFs, in July released the "Triple Bear NYSE 10 yr. Index ETF" (NYSEARCA:TYO). Designed for short-term trading, TYO will produce the inverse of 300% of the day's move in the NYSE 10 yr. Treasury Index. Since the index is based off the "price" and not the "yield" of 10 Year Treasury's, if yields go up, the index falls and TYO should in theory rally 300% of the amount of the decline for the day (e.g. index is down 0.52%, then TYO should be up 1.56%). TYO is not meant to be used for long term investing according their website, although I'm not exactly sure as to why they say this. On the contrary, if the economic recovery were to continue, employment continued to pick up, incomes continued to rise, and the deficits continued to shrink, a rise in yields by a few hundred basis points from their historical lows is a given. In which case, TYO could rally to the stratosphere although the lack of any real historical data prevents us from making any projections. All I can say is: remember SKF and FAZ during the financial crisis in 2009? SKF printed $200 and FAZ printed $300 before collapsing.
Markets are disregarding any geo-political risks stemming from Russia and her standoff with Ukraine, as well as beheadings in the Middle East by insane religious fanatics. The real picture was influenced by concerns demand from Europe and China is declining as their economies are growing more vulnerable to a recession. However, the general trend in crude remains up. Rising crude prices, or even sideways prices at these levels can be more effective at taking money out of the system because the effect is almost immediate whereas adjusting the short-end of the curve takes one or two quarters to produce results. This may be why the Fed remains sidelined and isn't worried enough to take any action yet. Should a catalyst push crude towards $150 or higher, it would actually threaten the recovery. In this writer's opinion, the Fed is staying on the sidelines because geo-political tensions are rising in the Middle East and in Eastern Europe. Event with demand from Europe and China declining, as we approach the winter months, refinery output will shift from petroleum to heating oil.
There's also the strengthening US dollar, which could keep a lid on crude prices to offset any geo-political premium. In other words, we may see order through chaos.
Geo-Politics, Declining Demand in China and Europe, Fund Flow Data
With all this as a backdrop, investors were net buyers (+$6.1 billion) of equity fund assets (including conventional funds and exchange-traded funds [ETFs]) for the last week of August. Taxable bond funds (including ETFs) saw net inflows of $3.0 billion, while money market funds witnessed net inflows of $13.3 billion. The municipal bond funds macro-group (including ETFs) witnessed net inflows of $446 million (for a sixth consecutive week of net inflows), but the flows were down from the previous week's $648 million.
Equity funds (ex-ETFs) had net inflows (+$415 million), following the previous week's inflows of $1.3 billion. Equity ETFs witnessed positive net flows of $5.7 billion! This is proof that investors are attracted to the lower expense ratios provided by index ETFs compared to mutual funds. Non-domestic equity mutual funds (excluding ETFs) had positive net flows (+$864 million), while non-domestic equity ETFs also had net inflows (+$2.1 billion) for the second week in a row. Domestic equity funds (ex-ETFs) had negative flows (-$449 million), following the previous week's positive flows (+$380 million), while domestic equity ETFs saw net inflows (+$3.6 billion) for a third consecutive week.
A sign that smart money may be taking some money off the table, Lipper's Large-Cap Growth Funds (excluding ETFs) had net outflows (-$497 million), following the previous week's positive net flows of $220 million. Prior to that week, the classification had witnessed 16 consecutive weeks of net outflows. Small-Cap Growth Funds continued to see net outflows (-$256 million) for a twenty-third week in a row.
SPDR S&P 500 ETF (NYSEARCA:SPY) had relatively small net positive flows of $410 million. iShares MSCI Emerging Markets (NYSEARCA:EEM) also had net inflows (+$145 million), while iShares MSCI EAFE (NYSEARCA:EFA) had modest net outflows of $4 million.
Taxable bond funds (including ETFs) had $3.0 billion of net inflows. The Barclay's U.S. Aggregate Bond Index rose 0.38% for the week and has climbed 4.67% so far for 2014. The bond market experienced gains as investors believed the timing of future Fed rate increases will not be moved forward despite the release of positive economic data. Surprised? Not at all. Uncertainty surrounding Ukraine and falling European sovereign yields also contributed to bond price increases, not to mention ECB concerns of a continental recession. The benchmark ten-year Treasury yield began the week at 2.43% and ended at 2.37%.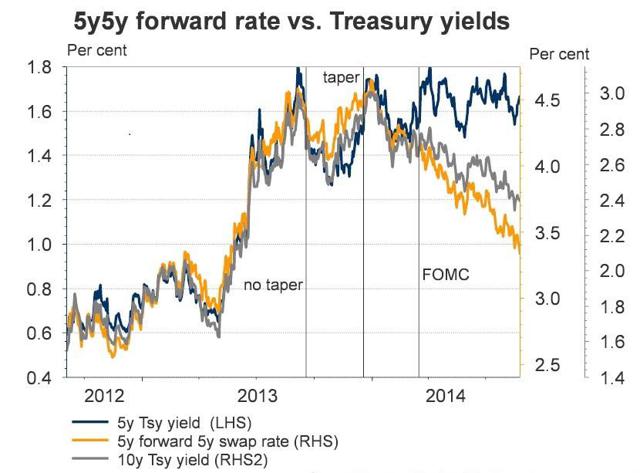 Click to enlarge
In early July, the yield on ten-year US Treasury's was around 2.55%. Yields have fallen further, to around 2.40% at the time of writing, continuing a trend in place since the start of the year, and one which is expected to continue through year-end. US Treasuries are likely benefiting from safe-haven demand. Rising geo-political tensions make US Treasuries an attractive alternative to bunds. Ten-year bunds are currently yielding well under 1%, resulting in record spreads so wide traders are driving trucks through while they can. However, the idea that investors are entering a "risk off" mode would be at odds with the pricing of most other asset classes coupled with measures of implied volatility in particular.
The Variant View
An alternative explanation focuses on other types of flows. It turns out that the reduction in FOMC purchases has not been the only cooler talk. Faced with a slowdown in economic growth, the Chinese have been pushing the renminbi lower during the first half of the year. This has added to foreign demand for US Treasuries if anything. Net purchases of US Treasuries by Chinese residents have been stepped up dramatically in 2014, currently running close to $30 billion per month. Moreover, the US federal government deficit has narrowed dramatically over the past few years thus the net supply of US Treasuries are significantly less now than they once were.
Net Net of it All
The reduction in 10 year US Treasury yields over the past two months has been a surprise, but if employment and inflation continue to firm, then in our judgment 10 year US Treasury yields are more likely to rise than to fall. Until the Fed is well into a tightening cycle, expect stocks to continue what we believe can be defined as a cyclical bull market.
Disclosure: The author has no positions in any stocks mentioned, and no plans to initiate any positions within the next 72 hours.
The author wrote this article themselves, and it expresses their own opinions. The author is not receiving compensation for it (other than from Seeking Alpha). The author has no business relationship with any company whose stock is mentioned in this article.