Vertex Energy, Inc. (NASDAQ:VTNR) is a Houston-based alternative energy company that was founded in 2001. Vertex is a leader in recycling and repurposing distressed hydrocarbons. Vertex operates three divisions: Black Oil, Refining and Marketing, and Thermal Chemical Extraction Process (TCEP) Technology. Through these divisions, Vertex is able to supply customers with a variety of products from raw used oil to refining feedstock. Vertex is in a great expansionary phase in which recent strategic acquisitions are delivering exceptional revenue. Vertex is also doing a phenomenal job increasing growth organically.
Benefits of Re-Refined Oil
Advances oil independence from foreign oil.
Oil is reused instead of dumped in a landfill, helping the environment.
It takes one-seventh the energy to re-refine used oil as opposed to virgin crude.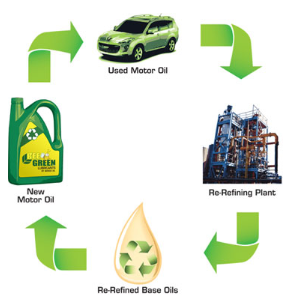 Source: Bangonv.com.
Black Oil
Vertex's black oil division purchases used oil at attractive prices and then delivers them to large consumers. Vertex has built strong relationships with used oil collectors and is able to access the necessary quantity and quality of used oil for its consumers. The black oil division also acts as a market maker for used oil. It provides feedstock to companies that blend the product and ship it to other countries where natural gas is not an option. The acquisition of Omega Vacuum Gas Oil has also helped drive Vertex's black oil division, resulting in a 150% increase in revenue over Q2 2013.
Thermal Chemical Extraction Process Shows Huge Growth Opportunities
TCEP is a propriety process in which VTNR purchases used oil and then re-refines the oil into higher grade refining feedstock or diesel replacement. This re-refined oil can be used for all grades of fuel blend. This cleaner, more sustainable form of oil generation fits in line with the United States' green initiative and the movement toward oil independence. The TCEP process was able to increase per-barrel margins over the same quarter of 2013 by 218% due to increased production. Improving margins should continue due to expansionary acquisitions recently closed. TCEP is on the cutting edge and is primed to deliver great growth for VTNR in the future, as described by the CEO in the conference call:
TCEP, which is a business unit within our Black Oil Division, generated $22.9 million in revenue for Q2 2014 vs. $10.2 million in Q2 2013. This 124% year-over-year increase was driven by strong volume growth of over 117% compared to Q2 of last year. For the first six months of this year we realized a 68% increase in revenue as sales of finished product increased from $25.4 million to $42.6 million.
Huge Expansion in the Right Markets
On May 2, 2014, Vertex completed the initial closing of Omega Refining. Omega was already shown as a revenue driver, supplying two months of positive revenues immediately following the purchase. The first Omega plant, the Bango facility, is already online in Nevada and producing about 5,300 barrels a day. The second Omega plant should come online in Q4, increasing VTNR's expansion. The company's estimates for the annualized revenues for this acquisition are about $100 million.
VTNR is also in the process of purchasing Heartland Group Operations of Columbus, Ohio. Heartland is a used oil collection and re-refining company with a large footprint in Ohio, Kentucky, West Virginia, and Pennsylvania. This strategic acquisition will provide Vertex with a stepping stone in the Midwest and on the East Coast, along with about 16 million gallons of base oil at its current production levels.
Second-Quarter Financial Highlights
Revenue increased by 105% relative to the second quarter of last year, to $72.1 million.
Gross profit increased by approximately 248% relative to the same quarter last year, to $8.9 million.
Overall volumes of product sold increased by 84% for the second quarter of 2014 vs. the second quarter of 2013. This was primarily a result of further increases in TCEP production, as well as vacuum gas oil production from the facility formerly owned by Omega Refining and acquired in May 2014.
Earnings per fully diluted share reached $0.28 for the second quarter of 2014, compared to $0.10 per fully diluted share in the second quarter of 2013.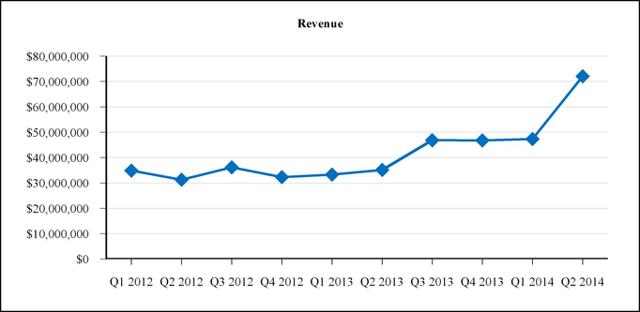 Source: Vertex 10-Q.
Financial Comparisons and Valuation
The best comparison to VTNR is Heritage-Crystal Clean (NASDAQ:HCCI). HCCI is about $100 million bigger than VTNR in terms of market cap. HCCI focuses on the collection and re-refining of used oil as well as the collection of other hazardous materials. Both companies have a price-to-sales ratio of around one, but that is where the similarities end. Based on other metrics, VTNR is a far superior company with much greater potential for growth.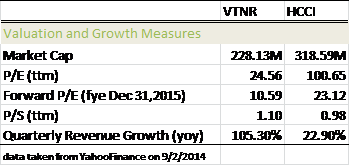 Source: Created by author.
Peer Comparison Shows VTNR Is Worth Over $30/Share
Based on growth and price-to-earnings ratios in comparison to HCCI, we feel that VTNR is heavily undervalued and deserves a price target of $30, or triple its current share price.

Source: Created by author.
Risks
The largest risk for Vertex is falling oil prices. Falling oil prices will reduce the margins at which Vertex can resell its re-refined oil that has already been purchased. Vertex tries to minimize this risk through bulk purchases at bargain prices. However, this risk cannot be completely nullified. Rising oil prices will also negatively affect the shipping of Vertex's products via trucking.
Conclusion
We believe that VTNR is greatly undervalued. The company's strategic acquisitions and organic growth will continue to drive revenue, leading to exponential growth. VTNR is positioned well as America tries to "go green" and searches for more eco-friendly, sustainable forms of energy and recycling. VTNR is undiscovered, and we believe that these growth drivers will send the share price significantly higher to our price target of $30.
Disclosure: The author is long VTNR.
The author wrote this article themselves, and it expresses their own opinions. The author is not receiving compensation for it. The author has no business relationship with any company whose stock is mentioned in this article.