While some names in this market may make you think otherwise, it is a fact that stocks do not go up forever. Wednesday's trading session proved that for shareholders of technology giant Apple (NASDAQ:AAPL). Shares of the name fell more than 4% on the day, its worst non-earnings fall in about a year. The decline in shares wiped out a couple weeks of gains, and put shares back under $100 a share, as you can see in the chart below. Perhaps a pullback from an all-time high was inevitable, but some may believe it is something more. Today, I'll discuss some reasons for the decline, and determine whether or not Apple investors should be concerned.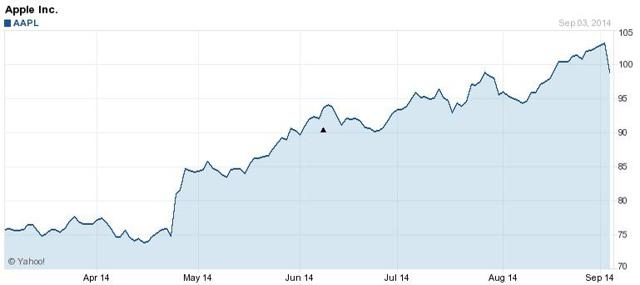 (Source: Yahoo! Finance)
The negative analyst note:
One of the major reasons for Wednesday's decline was a note out of Pacific Crest where it was recommended that investors in Apple should take profits. With the stock trading above the firm's $100 price target, analyst Andy Hargreaves believes further upside is limited, especially after the iPhone 6 buzz wears off. There are two major quotes from the article linked above that are important. I've put them below:
"We recommend investors begin to take profits in AAPL. The stock is currently trading above our $100 price target and we believe prices in the vast majority of potential upside from the iPhone 6 product cycle. We are maintaining our Outperform rating until we see detail on new products and services at Apple's Sept. 9 event. However, if the announced products and services do not suggest massive incremental profit opportunities, we are likely to downgrade our rating for AAPL."

"We expect a new payment partnership and entrance into the wearables category to be Apple's most significant new product launches in the next six months. Based on the work we have done, we do not expect either new segment to drive incremental profits that are meaningful at Apple's scale in the near to medium term. However, we are open to being wrong on this and believe investor confidence in the iPhone 6 cycle will support the stock through the coming event. Consequently, we recommend holding some position in AAPL through the Sept. 9 event in the hope of getting clarifying detail on the profit potential of new products and services."
The part in bold was in bold in the article, and seems to be the basis for the majority of Hargreaves' argument. Personally, I disagree with his statement, because I do believe new products/services will contribute to the bottom line. But I also disagree heavily due to the power of Apple's buyback, which I think is a major storyline for Apple's fiscal 2015 period. As Apple continues to get its share count down, not only will earnings per share be helped, but the supply of shares is reduced. Additionally, it is possible that Apple could be added to the Dow 30, which would seem to push shares even higher.
Hack attack and security:
Everyone has heard by now of this weekend's hack attack, so I won't spend a lot of time discussing the situation. Of course, the Apple bear camp states that this will lead to a negative impact on sales of Apple devices going forward, but that is unclear at this point. Security will be a major issue going forward, and it was something I discussed in a recent article about potential takeover targets for Apple. I do believe that Apple will look at making an acquisition or two perhaps in the security space, even if for no other reason of just showing it is concerned about the matter. Apple has a large cash pile, and the company will put some of those funds to work. I won't speculate on any more names at this point, but I wouldn't be surprised if we see some security related acquisitions in the next year.
A pullback could be beneficial:
Did you really think Apple was going to go up forever? A pullback was likely at some point, and it does provide a couple of benefits. First, for investors looking at entering the name, you get a better entry price. Additionally, you get a higher dividend yield with the stock coming off its highs. For Apple, the decline in shares makes the buyback more powerful, and it will help to reduce the share count even further. With shares racing higher and higher, the company probably was looking for a pullback to step in and repurchase more shares. This could be that opportunity.
Bears grasping at straws?
Since I cover Apple quite a bit for this site, I often read a number of articles on the name. Fellow SA contributor Michael Blair recently published his latest article on the name, and on the face of it, investors might see some concerns. Mr. Blair notes how competition may be strengthening, and this might be a big concern for Apple. The following quote is one of his conclusions near the end of the article:
If I am right, Apple's days of blistering growth and outsized profit margins are bygone days and its future will be one of limited growth and declining profit margins.
Now, those who are active on this site know that Mr. Blair is a notorious Apple bear. He's held a short position in the name at times. In fact, one of his early articles where he said that he was short Apple was in June 2013, when Apple was at a split and dividend adjusted $61 a share. Everyone knows that the stock has risen tremendously since then, but Mr. Blair's short thesis has continued. Some may not take him that seriously when it comes to Apple, given his recent track record.
But let's go back to that quote above. I think it shows a lack of understanding when it comes to Apple, and I believe it is statements like these that show the bear camp is grasping at straws. We already know that Apple's growth has slowed tremendously, and part of that has to do with the law of large numbers. It's hard for a company to grow substantially when it gets this large. In fiscal 2011, Apple had revenues that were more than $108 billion. Just three years later, Apple is expected to do more than $180 billion in revenues. Even so, the current analyst estimate is for just 5.4% revenue growth this year, and 9.4% growth in the following fiscal year. Growth estimates are in the single digits already, and I don't know anyone that's totally realistic that is looking for 20% or 30% yearly revenue growth anymore. Investors are fine with that though, because some level of growth is fine, especially when you have a dividend and such a strong buyback. As long as Apple can grow a little bit, it hopefully can boost its cash flow and return more money to shareholders.
Now let's focus on the second point, and that is margins. In Apple's fiscal 2012 period, the company had a net profit margin of 26.67%. In the following fiscal year, fiscal 2013, Apple was down 500 basis points to 21.67%. This was fueled by a 625 basis point drop in gross margins, thanks to a new form factor iPhone and the iPad mini. Through the first nine months of fiscal 2014, as seen in the most recent 10-Q filing, Apple had a net profit margin of 22.07%. That's actually down about 6 basis points from the prior 9-month period. Apple's margins have already taken a huge hit in recent years, so they are not bloated anymore like some make them seem.
I don't see any worries here when it comes to Apple. We know that revenue growth is going to be lower in percentage terms. That comes when you approach $200 billion. Anyone that knows technology knows that over time, margins can fall. Look at Google's latest yearly statement as its profit margins have fallen in recent years. When looking at Apple, you have to be realistic, and most that truly follow Apple are. Nobody is expecting Apple to be growing at extremely fast rates or expecting margins to rise to new highs anytime soon. Investors are fine with a moderate level of growth, which combines with a strong capital return plan through a rising dividend and a buyback that continues to reduce the share count.
Final thoughts:
The recent hack attack and a negative analyst note led to Apple shares falling more than 4% on Wednesday, the stock's worst day in quite some time. This comes just days ahead of Apple's expected launch of the iPhone 6 and perhaps other new products/services. In the end, Apple shares are back below $100, and that pullback may provide an opportunity for both shareholders and the company. Apple had been off to the races, so while the single day decline may have been a bit severe, I do think a pullback was inevitable. At this point, I don't think investors should be concerned, because I think the iPhone 6 will be well received. The company still has a fair amount of growth ahead, and investors are being rewarded with a strong capital return plan. The fall in Apple shares might get the bear camp excited, but you sometimes need to fully analyze what that side says. It would not surprise me if we see a further pullback in Apple, especially if the market decides to take a breather. However, as I detailed in my fiscal 2015 Apple preview, I think this stock goes higher in the long run.
Disclosure: The author has no positions in any stocks mentioned, and no plans to initiate any positions within the next 72 hours.
The author wrote this article themselves, and it expresses their own opinions. The author is not receiving compensation for it (other than from Seeking Alpha). The author has no business relationship with any company whose stock is mentioned in this article.
Additional disclosure: Investors are always reminded that before making any investment, you should do your own proper due diligence on any name directly or indirectly mentioned in this article. Investors should also consider seeking advice from a broker or financial adviser before making any investment decisions. Any material in this article should be considered general information, and not relied on as a formal investment recommendation.